Burglar shot to death had lengthy rap sheet
February 18, 2009 - 10:00 pm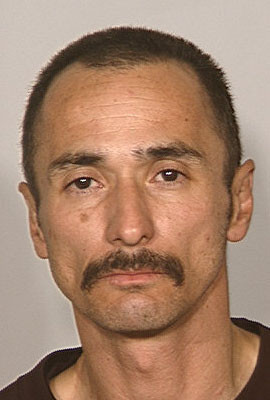 The home intruder gunned down by a northeast valley resident Sunday was a registered sex offender with a long criminal history, Las Vegas police said.
The Clark County coroner's office identified the dead man as Mark Clinton Vains, 42, of Las Vegas. Vains died of multiple gunshot wounds to the chest at a residence on the 4600 block of Crystal Peak Drive, near Cheyenne Avenue and Las Vegas Boulevard.
Resident Paul Witte returned home about 4:15 p.m. and upon entering, discovered Vains, who was carrying a pellet gun, homicide Lt. Lew Roberts has said.
Roberts said Witte's gun was registered.
Witte did not return calls from the Las Vegas Review-Journal.
He told KVBC-TV, Channel 3, that he knew something was wrong when he saw a suitcase on the floor containing his possessions. He chambered a round and fired at Vains, who rushed him holding what appeared to be a .45-caliber handgun. Witte didn't know it was a pellet gun until police told him later.
"I didn't create the situation," Witte said. "I reacted to his actions. I have no remorse whatsoever."
Vains died at the scene. Police said charges against Witte would not be sought.
Las Vegas police spokeswoman Barbara Morgan said Vains had a lengthy local criminal history that included numerous arrests on burglary and possession of stolen vehicles and property charges. He was arrested in 2004 for lewdness with a minor under 14 and convicted.
Morgan said Vains' most recent offenses include an arrest on an attempted burglary charge in December and run-ins with officers earlier this month, when he was arrested on charges of possession of a stolen vehicle and felony failure to report his change of address as a convicted sex offender.
"Looks like burglary and car theft were his main occupations," Morgan said.
Neighbors made several complaints about Vains to management at the Desert Winds Mobile Home Park, where he lived with his wife and teenage son. The park is on Nellis Boulevard, south of Las Vegas Boulevard
Desert Winds Manager Judy Sanders said neighbors knew of his sex offender status and criminal history and were uncomfortable with him. He lived there for about 17 years. Sanders said he spent many of those years in and out of jail.
Vains was seen taking electronics and computers into his home in years past, Sanders said. Late last year, Sanders said people from a neighboring mobile home park reported he had burglarized a home there.
"He wouldn't stay out of trouble," Sanders said.
On Jan. 14, Sanders got a court order barring Vains from returning to Desert Winds.
Sanders said she hadn't seen Vains in the area recently and wasn't surprised by the way he died.
"It was kind of sad, but I could kind of see it coming."
Contact reporter Maggie Lillis at mlillis@reviewjournal.com or 702-383-0279.