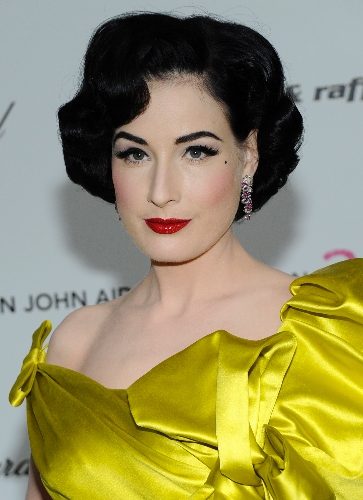 Burlesque star Dita Von Teese excused herself from a photo opportunity Tuesday at McCarran International Airport when Virgin Atlantic Airlines' Richard Branson walked up with a bottle of Bombay Sapphire Gin.
It was nothing personal, nor is she a teetotaler. It was all about business.
Branson was preparing to present Las Vegas Mayor Oscar Goodman with his favorite bottle of gin during a celebration marking Virgin Atlantic's 10-year anniversary of its nonstop flights to Las Vegas.
Von Teese endorses a competing gin, Quattro, so she disappeared.
REMEMBERING FINOCCHIO'S
Boy, oh boy, does David de Alba have some classic tales to tell about his long run as one of the premier female impersonators at San Francisco's legendary Finocchio Club.
De Alba, who performed as Judy Garland and Liza Minnelli, among other entertainment icons, for years at the Finocchio, is booked at the Summerlin Library Theater on June 27.
One night in the 1970s, a group of men dressed in black — "some type of clergymen," he said — came in with Bibles in their hands.
"I guess they came to pray for us guys going to hell dressed in drag," he recalled.
On another night, in marched a group of nuns. But they weren't there to raise Cain.
"Very sweet ladies with no Bibles in their hands," de Alba said. "One of them came backstage to say hello to me after the show, and I told her: 'Sister, if I knew you were coming tonight, I would have performed some songs from "The Sound of Music." ' "
"Oh no, that's OK," the nun said. "We hear those songs all the time. What you did was just fine!"
What de Alba had just finished was a medley from the randy film "Irma La Douce," the 1963 hit starring Shirley MacLaine as a French prostitute and Jack Lemmon as a bribe-fighting police officer.
One evening after finishing a tribute to French icon Edith Piaf for a group of French tourists, de Alba said a man with a beret "came to see me upstairs in the dressing room."
He told de Alba that Piaf would be very proud of the performance. The man said he was Piaf's piano player for many of her shows.
In the late 1970s, de Alba mentioned to the crowd that he had stopped at KFC to take advantage of a strawberry pie promotion. In fact, he joked to the crowd that his lovely feather boa came from Kentucky Fried Chicken.
"To my complete surprise a tall man dressed in white, like an apparition from heaven, stood up … Colonel Harland Sanders himself, and he said to me: 'Boy, if you ever come to Kentucky, I will give you not one but two strawberry pies.' "
"David de Alba's Finocchio's Backstage Memoirs," which starts at 2 p.m., will conclude with a two-song set as Minnelli.
THE SCENE AND HEARD
MGM Mirage's switch to MGM Resorts International isn't the only major name change in the works locally. Rumblings continue that KVBC-TV, Channel 3, is going another direction. …
The premiere of Holly Madison's reality show "Holly's World" scored stellar ratings on Sunday, with a 1.56 rating while attracting nearly 1.9 million viewers. That nearly doubled the prior four-week benchmark while also more than tripling the E! network's 2010 primetime delivery.
SIGHTINGS
Siegfried Fischbacher, celebrating his 71st birthday amid hundreds of his German countrymen at the Hofbrauhaus on Sunday. They were watching Germany's 4-0 World Cup romp past Australia. … A case of mistaken identity: That was not Elaine Wynn at Mundo last week at the Las Vegas Design Center.
THE PUNCH LINE
"The White House says that BP is moving up its timeline for containing the oil by two weeks. They said they'd get it done even if they have to work six hours a day, four days a week." — Jimmy Fallon
Norm Clarke can be reached at (702) 383-0244 or norm@reviewjournal.com. Find additional sightings and more online at www.normclarke.com.