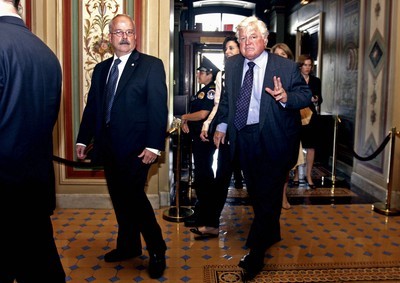 WASHINGTON — In a clear victory for the Bush administration, the Senate last week passed an overhaul of electronic surveillance laws.
Senators ended a protracted partisan battle and voted 69-28 for the bill, which provides legal immunity to telecommunications companies that participated in the Bush administration's warrantless wiretapping program.
President Bush for months had sought a rewrite of the Foreign Intelligence Surveillance Act. It expands government power to spy electronically on residents of foreign countries who communicate with people in the United States.
Under the new law, pending lawsuits would be dismissed against telephone companies that participated in earlier eavesdropping conducted without warrants. Companies would be required to submit "substantial evidence" they received written assurance the program was legal and authorized by the president.
Bush and Republicans said a stronger FISA law would help fight the war on terrorism.
Democrats were concerned the expanded spying power may infringe on Americans' civil liberties. Many lawmakers who had been opposed to the bill eventually relented.
Congress faced an August deadline before a temporary surveillance law expired.
Sen. John Ensign, R-Nev., voted for the bill. Sen. Harry Reid, D-Nev., voted against it.
SENATE VOTES TO RESTORE MEDICARE PAY RATES
The Senate voted to head off payment cuts for doctors who treat patients enrolled in the federal Medicare program.
A 10.6 percent cut in Medicare reimbursement rates was to take effect Tuesday.
Customarily, lawmakers have waived annual cuts to the program. This bill gives physicians 18 months of consistent payments.
The bill passed by voice vote.
Republicans and Democrats agreed Congress should avert the cuts but disagreed over how to go about it.
In the end, the bill slashes nearly $12.5 billion in payments over five years to private Medicare Advantage plans.
Bush has threatened a veto because of the Medicare Advantage reductions.
Advocates for the stable Medicare rates said physicians might stop accepting Medicare beneficiaries if the reimbursement cut is implemented.
Sen. Edward Kennedy, D-Mass., at the Capitol for the first time since being diagnosed with a brain tumor six weeks ago, cast the deciding vote to break a procedural stalemate and advance the bill.
Nine Republicans who voted against the measure last month changed their vote.
The tally was 69-30 on the procedural vote to move forward.
Reid voted to advance the bill. Ensign opposed it.
BILL TO HELP HOMEOWNERS MOVES THROUGH SENATE
The Senate was on track to pass a housing bill intended to help struggling homeowners.
Senators voted 84-12 to move forward with the bill to add $300 billion to insurance programs run by the Federal Housing Administration. The money would help Americans in danger of foreclosure to refinance their mortgages.
Additionally, the measure calls for a regulatory overhaul of lending giants Freddie Mac and Fannie Mae.
Bush opposes the bill because it contains $3.9 billion for states and municipalities to buy and renovate foreclosed property.
Reid voted to proceed with the bill. Ensign voted no.
HOUSE SETS E-MAIL STANDARDS
The government's archivist would be required to set new regulations for tracking federal e-mail records and ensure the White House meets those guidelines under a bill approved by the House.
The measure stems from Democrats' objection to Bush administration officials using Republican National Committee e-mail accounts for government business.
It passed 286-137.
Bush threatened to veto the bill, saying current guidelines are good enough.
The bill's chief sponsor, Rep. Henry Waxman, D-Calif., said federal agencies' e-mail preservation practices "are antiquated and woefully inadequate."
Nevada Democratic Rep. Shelley Berkley and Republican Reps. Dean Heller and Jon Porter voted for the bill.