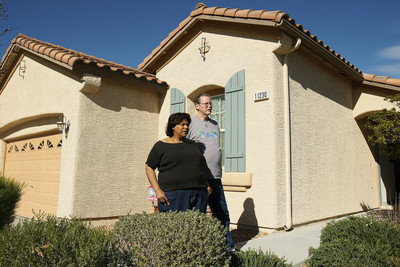 Bob and Jacqueline Harrigan never thought their quaint, upscale neighborhood in Summerlin could be targeted by burglars.
But between 9:30 a.m. and 12:45 p.m. on Jan. 2, burglars broke through the front door of the Harrigans' home and stole $15,000 worth of possessions, including a flat-screen television, jewelry, computer monitor and fax machine.
"I don't feel safe anymore," Jacqueline Harrigan said. "I feel violated."
The number of people who know how she feels grew significantly in the valley last year. The 2007 annual total for burglaries was up in Henderson and in the Metropolitan Police Department's areas of jurisdiction of Las Vegas and unincorporated Clark County, according to statistics released Tuesday.
Henderson's 1,789 burglaries was 12 percent more than the preceding year's total.
For Las Vegas police, the 3 percent increase in burglaries last year was just the latest in a string of consecutive annual increases. From 2003 through 2007, burglaries in their jurisdiction increased 39 percent.
North Las Vegas police said they were unable to provide a total for 2007, but if the trend there continued, the number of burglaries also was higher in 2007 than in 2006.
Officials with all three of the valley's police departments said the increases in burglaries can be attributed, at least in part, to the population boom.
But according to population estimates provided by the county, the percentage increases in burglaries in Henderson and Las Vegas since 2003 were greater than the percentage increases in the populations of those cities. The same is true for North Las Vegas through 2006.
Henderson police spokesman Keith Paul said the increase in burglaries throughout Southern Nevada can be attributed partly to the increase in methamphetamine addicts. "People are looking for money," Paul said. "They are looking for something to steal or sell quickly so they can get more meth."
Despite the large annual percentage increase in burglaries in Henderson, Paul said there are no new efforts under way to combat burglaries differently in Henderson.
But for Las Vegas police, the ones dealing with the largest number of cases by far, reducing the number of burglaries and improving investigation of them will be a focus this year, Sheriff Doug Gillespie said Tuesday. It's a priority because the sheer volume — nearly 18,000 in 2007 — indicates it's a crime that statistically could impact anyone, he said.
Las Vegas police are nearly doubling the department's number of property crime detectives and will disperse them across the valley over the next few months. Until recently, about 20 detectives — who investigate larcenies, burglaries and vandalism — were housed in the department's office at Oakey and Decatur boulevards. Their ranks are to grow by 17 and are to be spread among the seven command centers throughout the valley, where they'll work side-by-side with patrol officers.
"It's probably the biggest redeployment of detectives we've ever done," Lt. Robert DuVall said.
Victims will be able to go to their area command centers to speak with a detective instead of trekking to Oakey at Decatur. Two area command centers — southeast and south-central — already have the detectives in place. All of the command centers are to have them come April.
The detectives will be able to work hand-in-hand with their command centers' patrol officers, who take the initial reports about burglaries.
The changes are intended to make detectives more accessible to the public and more effective at solving crimes.
The Harrigans said that, based on their experience, Las Vegas police have a lot of improving to do.
Bob Harrigan estimated that it took police eight hours to arrive at his house, near Alta Drive and the Las Vegas Beltway, in a neighborhood where the value of houses ranges from $300,000 to $500,000.
"They kept telling me they had other priorities," he said.
Gillespie and Stavros Anthony, the police captain in charge of the financial crimes section, said taking eight hours to arrive at a burglary is unacceptable.
The Harrigans also complained that the investigating officer never took fingerprints and was in the house for only about five minutes. The officer was in his car for about 30 minutes filling out the report before he left, the Harrigans said.
When a neighbor heard of the Harrigans' break-in, he used the Crimeview multimedia feature on Las Vegas police Web site, lvmpd.com, to discover how many burglaries had occurred in the neighborhood. He was alarmed to find so many in what generally is considered one of the valley's least crime-ridden areas.
On Tuesday, the Web site indicated there had been 45 burglaries during the past 60 days within a one-mile radius of the Harrigans' home.
Carlos Rosales lives three doors down from the Harrigans. His home was burglarized April 16. Someone got into his home through a rear window while he was at work, between 6:30 a.m. and 4:30 p.m.
About $3,000 worth of valuables were stolen, in addition to a possession that was priceless — one of his two dogs, a Maltese named Cassidy. "Me and my wife can't have children," he said. "Our dogs mean more to us than other people."
He said police were responsive and arrived within 15 minutes and appeared to do a thorough investigation. But they have yet to solve the case, and he hasn't been able to find his beloved pup.
He now worries every time he is away from his home. "I feel like it's Russian roulette leaving your house," he said.
Contact reporter Antonio Planas at aplanas@reviewjournal.com or (702) 383-4638.
HOW TO AVOID BEING VICTIMIZED
To prevent your home from being burglarized, police suggest that you:
Keep shrubbery near doors and windows trimmed so it doesn't provide cover for burglars.
Keep porch and patio lights on at night.
Keep all windows and all doors, particularly the back and side ones, locked.
Keep garage doors closed at all times.
Lock the door leading from the garage into the home even when the garage door is closed.
Keep cars locked in garages even when the garage door is closed.
Get a watchdog.
Secure doggie door entrances.
Get a home alarm system.
Although alarm systems, locks and dogs can be effective, neighbors who are willing to keep an eye on each other's homes are the most effective burglary deterrent.