Buyers line up for Olympic Garden strip club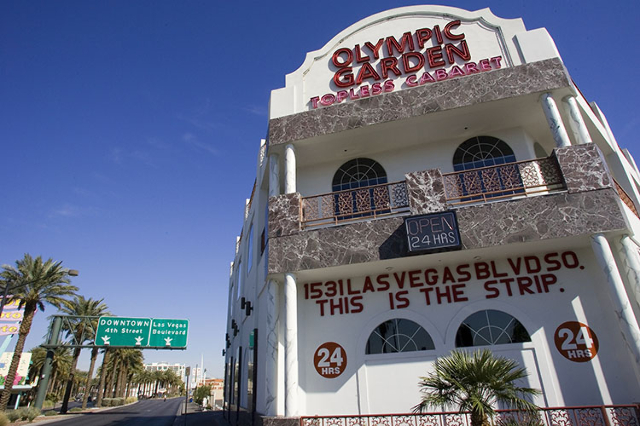 Despite its undeniable notoriety, the Olympic Garden Gentlemen'€™s Club topless cabaret on Las Vegas Boulevard South is for sale and has no shortage of suitors.
It'€™s easy to see why. On a busy night, the place is packed with tourists and locals angling to catch a glimpse of the bumping and grinding bodies in G-strings. Run efficiently, Las Vegas topless joints generate millions. The Olympic Garden certainly paid big dividends for Pete Eliades and his offspring until their private family battles spilled into the courts and the public eye.
According to documents filed in a nasty litigation between the elder Eliades and oldest daughter Dolores Eliades, two competing purchase offers are being entertained with deadlines approaching. One is a $12.5 million cash deal from Sterling Entertainment Group LV, a limited liability company that according to the Nevada Secretary of State'€™s office earlier this year listed attorney Vernon Nelson as resident agent and Dashon Goldson, a Washington Redskins football player, as managing officer. Christophe Jorcin, the senior vice president of food and beverage for Wynn Palace in Macau, was listed as an inactive officer.
Down at the city of Las Vegas, CJOG Operating Company LLC, has submitted its completed application for the appropriate business licenses to operate the club and its subsidiary businesses. Jorcin is listed as the managing officer, Nelson as resident agent, and Goldson is nowhere on the paperwork. Repeated calls this past week to Nelson's office seeking clarification were not returned.
The club's court-approved receiver, attorney Doug Gerrard, said the Sterling offer was expected to be completed. He also said he wasn'€™t familiar with Goldson'€™s name in association with the sale.
"We just refer to them as the Sterling Group," Gerrard said. "€œThe Sterling Group made the offer approved by the court."€
But it'€™s always nice to have a backup plan. The second offer is a $12.4 million bid, with $8 million paid in cash at close of escrow, from 1531 LVBS, LLC, which lists a generic resident agent and Kevin Melly as managing officer.
But whoever ends up in control, it's hard to imagine the Olympic Garden without Pete Eliades.
A cab company owner rarely far from a bevy of young women, Eliades has long been an active campaign contributor. Notorious or not, politicians appreciate the generosity of "Pete the Greek."€
Eliades more recently made news with his curious business friendship with former Midnight Entertainers outcall service operator Emmanouil "€œManny"€ Varagiannis, who in January was sentenced to 15 months in prison for tax evasion. Varagiannis, caught evading more than $230,000 in taxes on his 2009-2011 returns, was reputedly one of the more active pimps servicing the Strip. He was hired at the Olympic Garden even after becoming the focus of an IRS criminal investigation.
And, of course, a big reason the club was up for sale in the first place stems from the 2007 fatal auto accident involving Afroditi Eliades-Ledstrom, who was behind the wheel of a vehicle driving the wrong direction when it hit and killed motorist Michael Ponzio, a 26-year-old college student. Although a civil case resulted in a judgment against Eliades-Ledstrom that with interest was well in excess of $10 million, she fought paying and declared bankruptcy instead. The case was settled in for a fraction of the original amount despite court-appointed trustee Lenard Schwartzer'€™s accusation that Eliades-Ledstrom "€œengaged in significant fraudulent asset transfers –€" including a 'sham' divorce –€" in a deliberate attempt to shield nonexempt assets."
All things considered, it appears selling the lucrative but notorious topless club is the smart thing to do.
John L. Smith'€™s column appears Sunday, Tuesday, Wednesday, Friday and Saturday. Email him at Smith@reviewjournal.com or call 702-383-0295. Follow @jlnevadasmith on Twitter.