Cable fees pay city TV station's costs
December 13, 2009 - 10:00 pm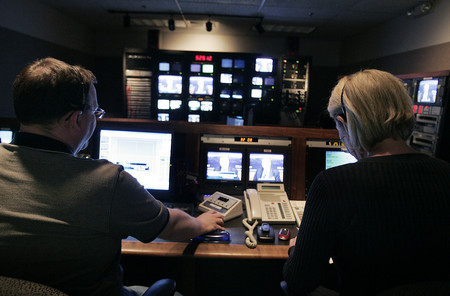 Las Vegas' television station, KCLV-TV, Channel 2, has a bigger budget and more staff than Clark County's, but its budget is covered by franchise fees charged to cable customers, not general tax revenues.
The station's budget this year is $1.4 million for salaries, benefits, supplies, professional services and equipment, said city communications director David Riggleman. About $1.2 million is for personnel expenses. The budget covers 12 full-time positions.
That figure has increased about 35 percent over five years, although most of that growth occurred in budgets passed in 2005 and 2006. From last year to the current fiscal year, personnel costs went up 1.7 percent, and the city is pondering wage cuts.
In Las Vegas, cable subscribers pay a 5 percent franchise fee on the cost of their subscription.
Of that, 3 percent goes to the city's general fund and 2 percent pays for the channel's operations.
Cox subscribers can watch the channel, and programming is also streamed on the city's Web site.
The channel was launched in January 2000.
The franchise fees that fund the station are thriving. The department expects to run a $215,000 surplus that probably will be diverted to meet other needs, most likely in the general fund, which is suffering from depressed tax collections.
"Our goal was never to try to replace the media outlets," Riggleman said. "It was to try to fill a void that media outlets aren't filling.
"Nobody's going to show a council meeting unedited, gavel to gavel. We do. Same with the Planning Commission."
Those meetings are shown live and then rebroadcast at later times.
There are actual shows, too, including "Las Vegas Town Hall," a live call-in program with Mayor Oscar Goodman and City Manager Betsy Fretwell.
On "Access City Council," individual council members answer constituent questions; "City Beat," with features on local people and places; and "Las Vegas City Scene," presents features on city personnel and services.
"The news outlets may not be interested in a new dog park, or a new set of tennis courts, but the people who live there want to know," Riggleman said.
However, government channels do have their critics, who say the broadcasting service takes resources that could be better used elsewhere.
Under state law, elected officials cannot appear on programs when they are running for re-election, except for normal meeting broadcasts. Otherwise, officials are free to present their views on issues.
"They want to promote an open government," Riggleman said. "They want to have the opportunity where not only can the city communicate information, but people can communicate back to us. It's not just a one-way dialogue."
Las Vegas does an annual survey to gauge community awareness of the channel and take input on what people think of the programming.
Determining how many viewers the station has is difficult without doing more extensive, and expensive, market research, Riggleman said. But the most recent survey found that 58 percent of respondents were aware of the city's broadcasting arm.
With Cox reaching 410,000 households, the potential audience comes in at about 237,800 homes countywide, not counting Internet viewers.
A Cox Communications executive said the company has never studied how many people watch government access channels in any part of the country but the viewership is limited.
In November, 39,712 viewers watched city programming online, according to the city's figures. That includes people who watched live streaming video, prerecorded shows and city video that was posted on YouTube.
The station won its first regional Emmy award this year for a community affairs program called "Las Vegas Gangs: Not Our Kids." It looks at the reality of gangs in Las Vegas and discusses programs that are in place to combat the problem.
Contact reporter Alan Choate at achoate@reviewjournal.com or 702-229-6435.
Watch the video
ON THE WEB
Shows and public meetings covered by KCLV-TV, Channel 2 can be seen on the city of Las Vegas' Web site
KCLV-TV, CHANNEL 2
WAGES, BENEFITS*
2010 $1,252,836**
2009 $1,231,738
2008 $1,163,726
2007 $1,074,915
2006 $926,579
*2010 FISCAL YEAR ENDS JUNE 30
** THIS NUMBER COULD GO DOWN IF A PROPOSED WAGE ROLLBACK PLAN IS IMPLEMENTED.
SOURCE: CITY OF LAS VEGAS