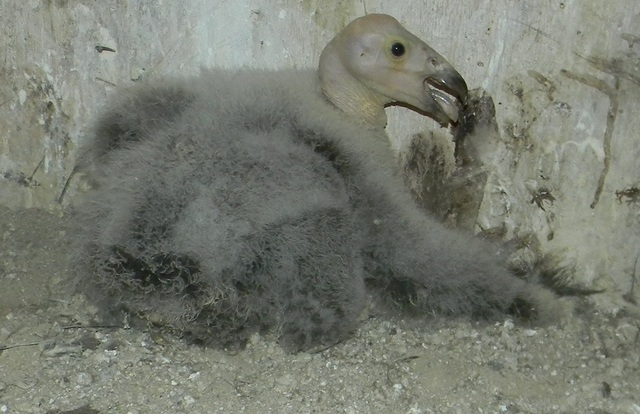 A California condor chick hatched this year in the cliffs of Zion National Park, and the baby bird has biologists buzzing.
The chick is one of only about 73 wild California condors currently living on the Colorado Plateau, which encompasses Northern Arizona and Southern Utah and abuts Nevada. It is the first observable wild condor that's hatched in Utah in the last hundred years, a sign that one of the the world's largest birds is continuing its slow comeback.
The approximately three-month-old chick's first confirmed sighting was June 25, in a small cave about 1,000 feet above a remote Zion canyon floor, said Fred Armstrong, chief of resource management and research for the national park. The young condor's exact location will not be disclosed in order to minimize human influence.
"We need to give these animals every chance that they have to develop in a near-natural area without unnecessary disturbance by humans," Armstrong said. "The last thing we would want is the adults to feel threatened or to abandon the chick because they feel there is too much disturbance going on."
California condors are an endangered species, and conservation efforts started after the population hit an all-time low in the 1980s, when only 22 wild birds remained. Chris Parish, condor project director for the Peregrine Fund, a private non-profit that works to conserve wild birds of prey, said condor relocation efforts were focused on Northern Arizona because the area had originally served as crucial habitat before the population drop.
Since the birds are only released in Arizona, Parish said the condor population in Utah — including the chick's parents — traveled there on its own.
"That in and of itself is a great sign of success," Parish said.
The pair of birds that produced the chick were first-time parents, Armstrong said, which is significant because condors don't typically hatch an egg successfully the first time. Parish said the Peregrine Fund was tracking the two birds, and when they started exhibiting nesting behaviors, biologists trekked to the potential roosting site.
When the baby bird peeked from the edge of its rock-cavity nest in June, the scientists knew they were right.
A condor chick is full-grown at six months, which is also when it starts flying. Condor parents continue to care for the chick for another six months. Because it takes a year to raise a chick, condors only go into breeding cycles every two years, so Armstrong said the chick's parents will not be able to breed again until the winter of 2016.
"We're really excited because, No. 1, the thought of having an endangered species actually self-selecting and raising a chick in an area that is remote — national park lands are some of the most natural areas left on the planet — this is probably one of the best opportunities for a successful outcome of this chick growing to adulthood," Armstrong said.
Condor numbers dwindled in the 20th century because of poaching, habitat loss and lead poisoning, which condors can contract from lead bullet fragments scattered within the guts of game that people hunt and the birds scavenge. Hunters in the area are advised to use copper bullets, Armstrong said, to prevent the problem.
Parish said condors prefer steep cliffs and vertical reliefs to accommodate their nearly 10-foot wingspans. Though Nevada's mountain ranges could serve as potential perches for the condor, its small population isn't expected to relocate to the Silver State any time soon.
"Are there other areas that might be suitable habitats? Yes, but I think they're in their primary area," Parish said of relocation efforts.
Contact Rachel Crosby at rcrosby@reviewjournal.com or 702-387-5290. Find her on Twitter: @rachelacrosby.