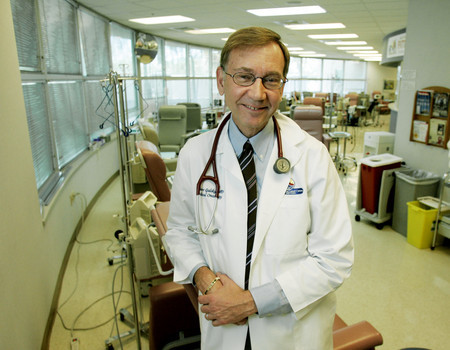 Dr. Nicholas Vogelzang waves to patients in the crowded waiting room inside the Comprehensive Cancer Centers of Nevada on Eastern Avenue, greeting nurses as he makes his way to his new office.
Stacks of unopened boxes greet the new developmental therapeutics medical director for U.S. Oncology, the medical consortium that provides care to thousands of cancer patients nationwide and does business locally as Comprehensive Cancer Centers.
A huge going away card, signed by employees from the Nevada Cancer Institute, rests behind his computer chair. Glancing at it, he says: "I thought I'd end my career there."
That he didn't, he admits, felt a little like taking a punch to the stomach.
"But I'm over it now," the internationally renowned researcher in oncology says. "I've got too many things to get done."
Although it's still open to debate whether replacing the 59-year-old Vogelzang as director was a smart move by the Nevada Cancer Institute, there appears to be no debate about what his decision to remain in Las Vegas means to Southern Nevadans.
"He's brilliant," said Heather Murren, founder of the Nevada Cancer Institute and its former CEO. "His coming here was a watershed event in medicine for Las Vegas. We're fortunate that he's staying here."
When Murren and the board of directors hired Vogelzang in 2003, the institute was still an empty patch of land. Vogelzang, meanwhile, was the head of the University of Chicago Cancer Research Center, where clinicians have been honored with everything from the Nobel Prize to the Lasker Award for Basic Medical Research.
"The people are very, very fortunate to still have Dr. Vogelzang in Las Vegas," said Dr. David Alberts, director of the University of Arizona Cancer Center. "As an oncologist with knowledge of urological cancer, he has no peer in the world. He is on top of his game in that area."
Alberts heads a medical institution that, like the University of Chicago Cancer Research Center, is one of only 40 in the United States designated as a comprehensive cancer center by the National Cancer Institute.
That special designation, which Murren badly wants for the Nevada Cancer Institute, means that a center focuses not only on basic science research and clinical (patient-oriented) research, but also on prevention. In addition, through outreach and educational activities, comprehensive centers serve an active role in their communities.
When she hired Vogelzang, Murren said she expected him to lead the institute's research side to the designation.
That would have come in four or five years, Vogelzang said.
It was his reputation that helped bring Dr. David Ward of Yale to the Nevada Cancer Institute. He is now the first active member of the prestigious National Academy of Sciences to work in Nevada.
Vogelzang said the suffering economy slowed the hiring of research faculty.
Dr. John Ruckdeschel, who took over the reins as CEO and director of the Nevada Cancer Institute in June, said recently he thinks he'll lead the institute to the designation in about the same time frame that Vogelzang predicted for himself.
During a decade as director and CEO at the H. Lee Moffitt Cancer Center and Research Institute at the University of South Florida in Tampa, Ruckdeschel helped transform the center from a small university hospital to one of the world's leading cancer centers.
"Dr. Ruckdeschel is also great at hiring top researchers," Murren said.
Ruckdeschel wanted both the CEO and director positions in Las Vegas, saying this is the best approach. He said having a CEO who cares more about dollars and cents than patients can hurt a center's medical delivery system.
That wasn't the case when Murren, a former Wall Street financier, was CEO, Vogelzang noted.
"She cared about patients as much as anybody," he said.
But Murren wanted to step down as CEO and Vogelzang only wanted to direct the research side. "I don't like the business side," he said.
And that fact, though Vogelzang said it was never specifically spelled out to him, appears to be the reason he lost his directorship at the institute.
"Typically, the CEO and director's position are combined," Murren said.
Vogelzang, a Hodgkin's disease survivor, acknowledges that the combination of leadership roles at cancer centers "has become the more popular business model." It said it took him a while to come to grips with the decision that cost him his position as director at the institute.
"I started blaming myself, and my wife said, 'You were working 18 hour days there. You couldn't have done any more.'"
The position that he was offered at the institute, head of the genitourinary cancer section — which deals with the reproductive organs and the urinary system — wasn't broad enough in scope, he said.
Recruiters contacted him about posts around the country, including leadership roles at Stanford University in Northern California and Cedars-Sinai Medical Center in Southern California, he said.
But when he looked into U.S. Oncology, which has 200 locations throughout the country, he saw a way to stay in Las Vegas and still lead a major research effort.
More than 60 percent of cancer patients in the Las Vegas Valley receive their treatment through Comprehensive Cancer Centers.
"My wife and I love Las Vegas," he said, stressing that the community reached out to the family when their daughter died in a 2006 automobile accident.
When he left the Nevada Cancer Institute on July 2, it didn't take him long to get back in the game. He began at Comprehensive Cancer Centers on July 6.
The number of clinical trials for new cancer-fighting drugs open to Las Vegans at Comprehensive Cancer Centers' eight local locations is 109, he said. That includes opportunities through UCLA and U.S. Oncology's national network.
The Nevada Cancer Institute currently has fewer than 35 clinical trials open, Vogelzang noted.
"We're just much bigger on the clinical side," he said, adding that he will still see patients two days a week in his new position.
Since 1999, U.S. Oncology's research network has contributed to the development of 36 of the latest cancer-fighting drugs approved by the FDA.
Unlike the Nevada Cancer Institute, however, basic research is not done at Comprehensive Cancer Centers in Las Vegas. But this research is being done at other U.S. Oncology labs around the country, Vogelzang said.
It is that basic research done at the Nevada Cancer Institute, which also works on early detection and prevention, that Murren hopes will one day provide Nevadans with cutting-edge treatments.
"As a patient, you want both the Nevada Cancer Institute and Comprehensive Cancer Centers to be successful," Murren said.
"You want as many options as possible. Believe me, Dr. Vogelzang no longer being with us is bittersweet. But I do think the way this worked out, Nevada is better off."
Contact reporter Paul Harasim at pharasim@reviewjournal.com or 702-387-2908.