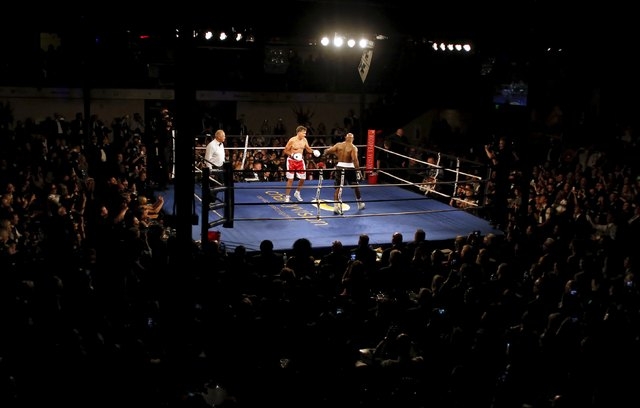 Sergio Delpino opened his front door Wednesday afternoon to find a presidential candidate standing on his front stoop.
It was New Mexico Gov. Bill Richardson, who is seeking the Democratic nomination.
Richardson, who is Hispanic, entered the Mexican-born Delpino's house and talked to him in Spanish.
Delpino was sold. The 54-year-old Las Vegan agreed to support Richardson and to volunteer for his campaign.
"What can I say about a man who is running for president who comes to my house?" Delpino said.
He said it was the American political system that made him want to become a citizen, which he did about five years ago.
"What inspired me was the fact that one of the senators of the state of California came up to me and shook my hand," he said. "That would never happen in my country. This is real politics. This is real people."
Richardson's canvass of a street in downtown Las Vegas was a dramatic illustration of the up-close-and-personal attention Nevadans are getting from presidential candidates in light of the state's move to an early position on next year's primary calendar.
It is also the way Richardson is hoping to claw his way to the top of the polls and win the nomination.
"I outwork everybody," he said.
Richardson had a full schedule in Southern Nevada on Wednesday, speaking at a North Las Vegas elementary school, a union hall and a local gay rights group's meeting, in addition to the brief canvassing effort that had him knock on two people's doors.
He also had two fundraisers, one of them hosted by Phil Peckman, former president of the Greenspun Corporation; his wife, community activist Maureen Peckman; and Cisco Aguilar, lobbyist for Southwest Gas.
At Reynaldo Martinez Elementary School, Richardson took questions from an audience of schoolchildren. One asked him what his chances were of winning the presidency.
"According to me, the chances are very good," he said, holding the young girl under her chin and pressing her to his side. "According to those that are polling, not as good. But I am moving up. I'm in double digits in Iowa and New Hampshire."
He said he thinks he has plenty of time to catch up with the other contenders. "I'm not worried about being behind right now," he said. "America likes underdogs. America likes fighters."
Richardson was asked how many hours he would work as president — he said 70 to 80 hours per week — and how much money he would make. He didn't know the presidential salary, which is $400,000; he guessed $250,000, which was still enough to make the students gasp.
The school, named for the man who is Richardson's campaign chairman, is 80 percent Hispanic, and all of the students receive free breakfasts and lunches, officials said. The school also provides the children with clothes and health care.
Touring a couple of classrooms, Richardson saw kindergartners sing a song called "Slippery Fish" and practice reading skills.
"Do you remember what he's trying to be?" kindergarten teacher Sarah Holliman asked her class. "What does he want to be?"
"A president," the class responded.
Speaking to a group of about 100 community members at the school, Richardson said he would be an "education president."
"I believe that's the fundamental issue that we are not talking about in this campaign," he said.
Richardson called for universal preschool and full-day kindergarten; more civics, language and arts instruction in schools; a $40,000 minimum wage for teachers; and a reform of the No Child Left Behind legislation. He said he would propose a "universal scholarship" to help every student attend college or vocational school.
The union event was sparsely attended, by about 40 people. Nevada AFL-CIO leader Danny Thompson said that was because of poor scheduling: The union's Central Labor Council had a meeting elsewhere at the same time.
"All of the candidates are going to be pro-labor," Richardson said. "They're all going to say the right thing. But then I want you to look at the record: What have you done to fulfill what you say?"
Richardson defended having backed the North American Free Trade Agreement. But, he added, "I wish we'd had stronger labor agreements, stronger environmental protections." He touted his plans for universal health care and renewable energy.
On immigration, he said he didn't support the bill that recently failed in Congress because the guest worker program it proposes lacks labor protections and because the system it would implement to decide who comes to America legally "divides families."
Richardson previously told the Review-Journal that he would vote for the bill if forced to choose, but he said in an interview that he made that statement before he knew about the details of the bill.
He told the union group he didn't think voters would base their decisions on the immigration issue. "I've been doing this issue for 20 years, and there's no votes in it, so just do the right thing," he exhorted Washington.
By the time he got to the day's last public event, a speech at the Flamingo Library to the Stonewall Democrats of Southern Nevada, an audience member had to remind Richardson that France is a member of the U.N. Security Council. He told the group he supported allowing domestic partners of American citizens to immigrate.