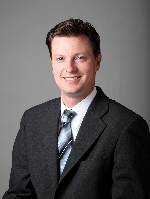 When voters in Henderson head to the polls in the coming weeks, it should make for a quick trip.
There is only one race on the ballot for the June 7 municipal election in Nevada's second largest city, and the two candidates for the four-year post insist the choice is clear.
Henderson Planning Commissioner Sam Bateman said he is the right choice to replace three-term incumbent City Councilman Steve Kirk because he knows the city well and can bring a "new and fresh perspective" to its issues.
Former Henderson Police Chief Mike Mayberry said he is the best candidate for the Ward 4 seat because he has experience and institutional knowledge of the city without being "beholden to anyone."
Mayberry said he has lived and served in Henderson since the mid-1970s, so he was there to see the city develop into what it is today.
"I have the wisdom that a 33-year-old guy just isn't going to have. He was in high school when we were the fastest growing city in the United States of America."
Bateman, who has served on the Planning Commission since 2007, said his expertise lies in where Henderson is today and where it is headed.
"This race is a clear choice between the future or the status quo," he said. "I can start on Day One knowing exactly what's going on in the city."
Early voting begins today and lasts through June 3.
CAMPAIGN BARBS
Bateman and Mayberry have exchanged blows in a series of campaign mailers.
Earlier this week, Bateman renewed his attack on Mayberry, whom he accuses of collecting disability pay on top of his city pension, even though he's not disabled.
The new flier features pictures pilfered from Mayberry's own Facebook page that show him playing guitar and deep-sea fishing.
Bateman said his opponent still hasn't adequately explained why he is "collecting full disability while perfectly healthy and having the time of his life in retirement."
But Mayberry insists he has answered Bateman's claims. He retired as police chief because his doctors told him he would die at his desk if he continued in such a pressure-packed job. Serving on the City Council doesn't compare in terms of stress, he said.
"That son of a gun. I can't believe that he hacked my Facebook page," Mayberry said. "Since I retired, I've gone fishing two times.
"What am I supposed to do, lay in bed the rest of my life?"
Mayberry has responded with a mailer of his own accusing Bateman of some conflicts of interest, mostly involving his job as a deputy prosecutor and part-time lobbyist for the Clark County district attorney's office.
Bateman denies any conflict and said the flier contains numerous inaccuracies.
Bateman finished first and Mayberry second out of six candidates in the April 5 primary. Three of the four candidates who were eliminated in that election have since thrown their support behind Mayberry.
Kirk, who can't run again because of term limits, has endorsed Bateman to replace him on the council.
Turnout for the election could be very low. Only about 12 percent of the city's roughly 125,000 active voters took part in the primary, and that ballot featured three races for City Council and one for municipal judge.
CANDIDATE BACKGROUND
Bateman has lived in Henderson for 11 years and served on the city's Planning Commission since 2007.
He has worked for the district attorney's office since 2004. He also represents the office as a lobbyist in Carson City, though he said he doesn't receive any additional pay for that work.
If elected, he plans to discontinue his lobbying activities. This is his first run for elected office.
Mayberry is a Las Vegas native who spent almost 30 years with the Henderson Police Department, including more than five years as chief, before stepping down because of serious heart problems in 2005.
He ran for mayor in 2009 but lost in the primary.
The City Council is a nonpartisan position, and Bateman's and Mayberry's party affiliations only tell part of the story.
Bateman is a Democrat, but he boasts endorsements from Kirk, a Republican, and traditionally GOP-friendly groups such as the Las Vegas Chamber of Commerce and the Greater Las Vegas Association of Realtors.
Mayberry is a Republican, but he formerly served as president of Henderson's police union and is now being backed by that and other public safety labor organizations.
Contact reporter Henry Brean at hbrean@reviewjournal.com or 702-383-0350.