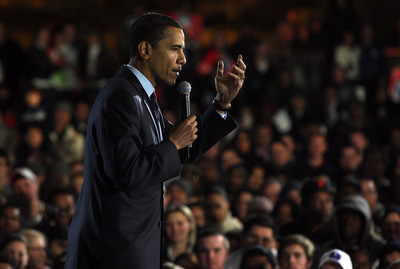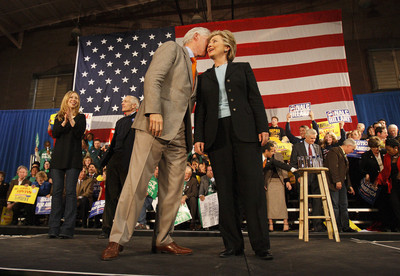 'Twas the day before caucus, and all through the state, candidates were telling voters they were first-rate.
Three Democrats and one Republican made their final pitches to Nevadans on Friday, in the final hours before today's Republican and Democratic caucuses.
John Edwards stood in the bed of a pickup.
Hillary Clinton packed a suburban middle-school gym and had her famous husband make the rounds.
Barack Obama fired up a screaming crowd of college students.
Mitt Romney, the Republican competing almost alone for the GOP caucuses, spent the day in Reno and Elko.
Today, Nevadans attend precinct caucuses to make their selections for their parties' nominees.
It is the third contest for the Democrats after contests in Iowa and New Hampshire, and they have battled intensely for the state.
Because Nevada has never had a nominating contest so early in the schedule before, it is considered especially unpredictable. Even as they worked furiously to mobilize their supporters, the campaigns sought to hedge against the possibility of a loss by pointing out their opponents' strengths.
For Clinton, that meant highlighting what her campaign considers an unfair advantage for Obama — the controversial special precincts for Strip workers, most of whom are members of the Culinary union that has endorsed Obama — even as she sought to turn Culinary members her way.
Obama's campaign, meanwhile, has been emphasizing Clinton's lead in most polls to suggest it would be a feat for him to come in a close second.
Edwards appeared outside his Las Vegas campaign office on Friday morning, urging his supporters not to give up on him even though he was leaving the state for good after that event.
"We have about 24 hours now, and we need every one of you in this cause," he said, squinting into the sun at the enthusiastic crowd.
Dwayne Chesnut, a retired chemical engineer and major local Democratic grass-roots activist, was there in a "Kerry-Edwards" hat leftover from 2004. He had covered up Kerry's name with blue tape.
"I think recycling is the way to go," he quipped.
Chesnut happens to be one of the plaintiffs in the lawsuit that unsuccessfully challenged the special Strip caucuses. His support for Edwards complicates the widespread assumption that the lawsuit was a Clinton campaign-driven machination.
Asked to rate his candidate's chances, Chesnut said it all depends who shows up.
"Right now, the thing that's hardest to predict is the turnout for this caucus," he said.
Edwards spent most of the rally trying to distinguish himself from the others by singing the virtues of his plans for universal health care and green energy.
He called Clinton a "paper-shuffler" and Obama "someone who can make a speech," and said he was the only candidate who could deliver real change.
He also noted his strong ties to organized labor and encouraged working men and women to caucus for him regardless of whom their union bosses are backing.
After the rally, Edwards headed for South Carolina and some of the many states scheduled to have nominating events on Feb. 5.
Obama, after stumping in Northern Nevada, came to the chilly courtyard of the UNLV Student Union on Friday evening.
A line of students waiting to get in stretched across the campus before he arrived.
"It's Friday night in Las Vegas," he said. "I know normally people might be having some fun on a Friday night, but I know everybody is going to be in bed at a reasonable hour tonight because we've got some work to do tomorrow to change America."
Obama noted that "change" has become everybody's buzzword in the current campaign, but "we've been talking about change from the beginning. … That's OK, too. We want everybody on the change bandwagon."
He ridiculed Clinton and Edwards' answers to a question in Tuesday night's Las Vegas debate about what they considered their biggest weakness.
Obama said he had a messy desk and tended to misplace paper.
"Then one of them says, 'My weakness is, I'm just so passionate about helping poor people,' " he said, referring to Edwards.
"And the other one says, 'My weakness is, I get so impatient about bringing about change in this country' " — that was Clinton.
"I'm sorry, I thought the question was your biggest weakness. … That's what happens when you're in Washington too long. You no longer speak English."
He would be a different kind of leader, one who would speak his mind, Obama said, before ending his half-hour speech with his now-signature "Fired up! Ready to go!" chant.
Jatera Mayo, 32, said she had taken a while to warm to Obama.
"My family, we're strong Democrats, and we were really pulling for Hillary," she said. "But we started listening to his message more, and we decided we're ready for that change. Hillary represents the old Washington, and we need something new."
Mayo said she would definitely be caucusing for Obama: "We're all going, my whole family, my whole neighborhood," she said. "My mother's a precinct captain."
Clinton on Friday morning hosted an intimate discussion with employees of A&B Printing in Las Vegas.
She gave a scratchy-voiced, 15-minute speech focused on the economy.
"The other day, in Las Vegas, I met with a group of people whose homes are being foreclosed on," Clinton said. "It's heartbreaking. These are people who get up every day and they work hard."
Small businesses, she said, need help to "keep delivering on the American dream."
President Clinton made the rounds in Southern Nevada while his candidate wife hit Northern Nevada.
The man who hopes to become "first gentleman" walked through the employee area of a casino on a Strip Friday afternoon.
Bill Clinton's gape-mouthed smile was fixed in place as he waded through a crowd that filled the wide hallways and the aisles of the cafeteria behind the scenes of Bellagio.
Wearing khakis and a neon-orange tie, he herded excited workers of all ages into place for cell-phone photos with a practiced hand.
Most of the workers were members of the Culinary union, which has endorsed Obama and is airing anti-Clinton ads that have lent a vicious undercurrent to the rivalry between the two. Followers of Nevada politics have long known that Culinary plays hardball.
A union shop steward followed Clinton with bright-yellow Culinary fliers, English on one side, Spanish on the other. "We win when we stick together," was the headline, followed by a list of strikes and contracts in which the union has prevailed.
Also following the former president was daughter Chelsea, with an armful of pro-Clinton "Vote Your Choice" leaflets.
Carlos Santos, a 55-year-old porter, was wearing a black T-shirt reading, "I support my union, I support Hillary."
Rounding out President Clinton's entourage were longtime adviser James Carville, in a hooded sweatshirt, and state Assemblyman Ruben Kihuen, D-Las Vegas, who hopes to help deliver the Hispanic vote for Clinton.
Cocktail waitress Malinda Reynolds, 30, could be overheard telling a co-worker she wanted to get close enough to say one thing to President Clinton.
"I just want to tell him I'm voting for his wife, not Obama," she said. "I'm not going to let the union tell me who to vote for."
Obama has mustered plenty of cheering Culinary crowds of his own. The Clinton campaign is hoping to convince union members not to follow their leaders.
"I am against what they say, because I came from a country where they have power over us, to come to a free country," said Esperanza Gallardo, a 59-year-old housekeeper from Mexico who became a U.S. citizen 20 years ago.
"When it is time to vote, we have to be free to do what we want to do," she said. "We have to do what is better for us, not what is better for somebody else."
Hillary Clinton was back in Southern Nevada late Friday for a mega-rally with her husband at Greenspun Junior High School in Henderson. The crowd filled the parking lots of nearby churches and the sides of nearby roads; people parked far away and walked long distances. More than 5,000 were crammed into the gymnasium. Many were turned away.
The rally had a triumphant note. Clinton thanked her top Nevada lieutenants as if she were giving a victory speech.
Clinton's speech alluded to Obama just once, when she referred to a comment he made saying Republicans in the past had been the party of ideas.
"I think they're the party of bad ideas," she said.
"Las Vegas was a dream," Clinton said. "It was an idea. And year after year people came and made it real."
They did it not by hoping but by working, she said, "and that's what we're going to do together."
Review-Journal writers Henry Brean, Lynnette Curtis and Carri Geer Thevenot contributed to this report. Contact reporter Molly Ball at mball@reviewjournal.com or (702) 387-2919.