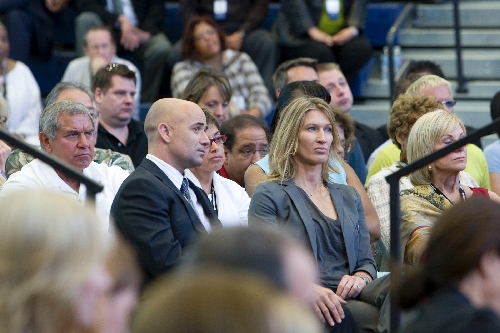 Rory Reid can fire zingers with the zest of a Vegas lounge act, and Brian Sandoval can stay as cool as a professional poker player.
Whether either man seeking to be the next governor of Nevada can really deliver meaningful education reform without spending more tax­payer money still isn't clear, even after their first debate on the subject Sunday evening.
Reid, the Democrat, was the aggressor throughout the 60-minute event while Sandoval, the Republican, kept cool despite being called a weak leader and being compared to Gov. Jim Gibbons and U.S. Senate candidate Sharron Angle, two of Nevada's most un­popular politicians, according to polling.
"Brian Sandoval is a nice man, but he is a weak leader. Brian says he is for education, but his budget proposal would cut our schools more than Jim Gibbons ever did," Reid said. "He even supports Sharron Angle, who would abolish the Department of Education."
Reid's cracks set a feisty tone for his delivery and were among the most memorable moments of the event. But they didn't appear to bother Sandoval, who smiled, called his opponent "Mr. Reid" and maintained a pleasant demeanor.
"I think there is one thing my opponent and I do agree on, that education is incredibly important," said Sandoval in opening remarks that focused on his experience as a legislator, attorney general, gambling regulator and federal judge.
"Our education system is in peril, I think that we need to do something tough, we need to challenge the system, we need to shake up the status quo," Sandoval said.
Neither Reid nor Sandoval appeared to change the dynamic of the gubernatorial race, according to observers.
That's good news for Sandoval, who polls show is the favorite among Nevadans by double-digit percentage points.
Still, even without a knockout punch, Reid did manage to land jabs on a couple of issues that could help him gain ground on Sandoval later.
"It was rehearsed, it was structured; really in the end I don't think it changed the landscape of this race," said Robert Uithoven, a Northern Nevada Republican political strategist who worked on Gibbons' 2006 campaign.
Charity Stevens, director of operations for Organized Karma, a Las Vegas-based political consulting firm that works with Democrats, said the debate lacked substance.
"I think both candidates did well; they obviously hit the points they wanted to make," Stevens said. "But I really feel like there was a lot of sticking to their talking points."
Early in the debate, held in the gymnasium at Andre Agassi College Preparatory Academy, Reid used a black marker to write $533 million in large, thick print on a yellow legal pad and held it up to the cameras and Sandoval.
"If this isn't the right number, how much would you cut?" Reid asked Sandoval.
The Republican responded, "Rory, I read your plan, and you don't know your own budget plan because it seeks to cut education as well."
Reid based his accusation on Sandoval's stated plans to seek salary reductions from all state workers, including teachers, to balance a budget that could be $3 billion in the red for the 2011-13 biennium, according to budget analysts.
Sandoval based his accusation on Reid's plan to balance the budget without raising taxes, a plan that includes extending furloughs for state workers, a group Sandoval said would include university and school personnel.
Uithoven said the candidates' determination to stick to rosy campaign budget assumptions and wishful education goals didn't do much to enlighten viewers about how either would grapple with the looming budget shortfall and the costs and obstacles associated with improving the state's troubled schools.
"Some people's eyes might have glazed over a little if they were able to stay tuned for the entire thing," he said. "Rory is saying Brian's numbers don't add up. Brian is saying Rory's numbers don't add up. Neither of these guys know exactly what the budget situation is going to be."
David Damore, a political science professor at the University of Nevada, Las Vegas, said both candidates accomplished their stylistic goals but didn't do much to prove to voters they can achieve lofty education goals in the face of a drastic budget shortfall.
"I think it undermines the credibility for both of them. Where is that money coming from?" Damore said. "But you don't win elections promising tax increases."
One of the moderators, Dave Courvoisier of 8NewsNow, also noted the lack of any new substance.
"You both said, 'Let's be very specific,' but none of you have," Courvoisier said at one point.
Still, the debate had its moments.
Uithoven said Reid raised questions about Sandoval's school voucher proposal that the Republican will have to answer.
Reid said that by offering money to parents to pay private school tuition, Sandoval would be diverting about $100 million in taxpayer money to benefit the 4 percent of Nevada students who attend private school.
"The Sandoval task going forward is coming up with a better answer to the political question of: 'If it is good enough for a select few, why isn't it good enough for everybody?' " he said.
Stevens said the front-runner Sandoval "didn't go off point and say anything that is going to come back to haunt him."
She added that Reid did a good job emphasizing his promise not to cut education funding. But she doubted voters would believe such a promise could be kept without increasing revenue from taxes.
"I don't see how either one of them can stand up there and say they can accomplish anything and not raise taxes," she said. "I don't think that is a valid argument, and I think they need to be honest about that."
The debate was sponsored by 8NewsNow, the Review-Journal, Vegas PBS and the Andre Agassi Foundation for Education.
Retired tennis champion Andre Agassi had high hopes for the event.
"By the time we leave here tonight, I expect we will all have a clear idea of how each of these men will answer those questions," Agassi said.
Not many observers said it lived up to Agassi's high hopes.
"They're refusing to talk about the revenue, and the people asking questions didn't push them on that," Damore said. "They know that is disingenuous."
Review-Journal writer Laura Myers contributed to this report. Contact reporter Benjamin Spillman at bspillman@reviewjournal.com or 702-477-3861.