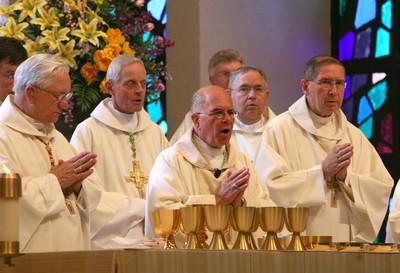 Catholic Church leaders gathered in Las Vegas on Friday for an annual Mass and fundraiser to benefit Catholic University of America in Washington, D.C.
Five U.S. cardinals were joined by Archbishop Pietro Sambi, the Vatican's ambassador to the United States, for events expected to raise $1 million in scholarship funding.
The 18th annual fundraiser was preceded by a Mass at the Shrine of the Most Holy Redeemer just off the Strip. Bishop Joseph Pepe of the Diocese of Las Vegas presided. Catholic University President Rev. David M. O'Connell was to deliver a homily about conversion.
"We will still encounter hostility and opposition in the world because of what we believe and in whom we believe," O'Connell said in prepared remarks, telling the congregation to look to Jesus Christ as a model for overcoming obstacles.
Five of the seven cardinals serving as archbishops of U.S. dioceses were scheduled to attend the events, including Cardinals Edward Egan of New York, Roger Mahony of Los Angeles, Sean O'Malley of Boston, Adam Maida of Detroit and Justin Rigali of Philadelphia.
The Mass was to be followed by a fundraiser at the Four Seasons Hotel, where the Catholic Charities of Southern Nevada would be honored and awarded $10,000. The university says the annual event has raised more than $21 million.