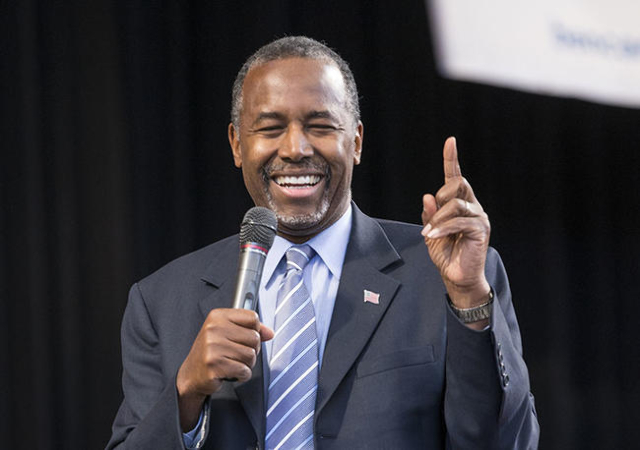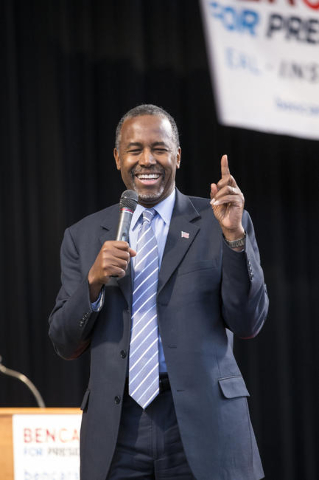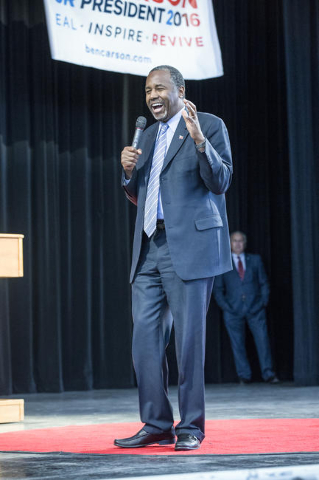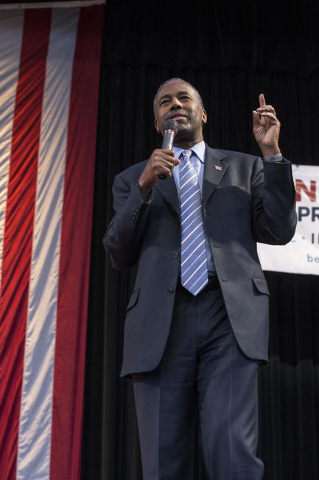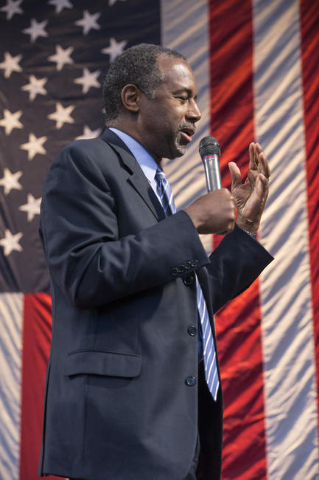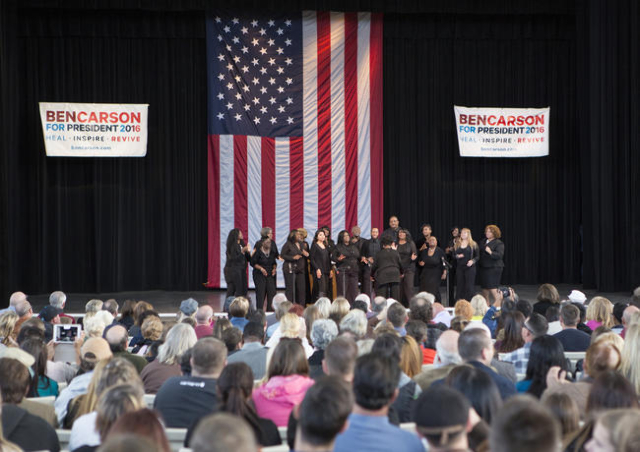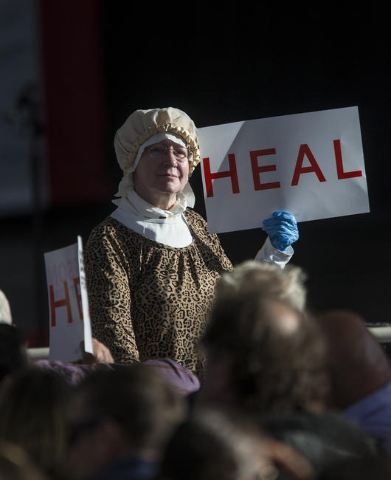 HENDERSON — Republican presidential candidate Ben Carson told an audience in Henderson on Sunday that last week's terrorist attacks in Paris are a grim reminder of the threats facing the U.S.
More than 2,000 gathered to hear Carson speak at the Henderson Pavilion, a visit that came while Carson is polling high in a crowded Republican field.
"If we don't fight the global jihadist movement over there in the Middle East, we will be fighting it here," Carson said.
Carson said France is the "oldest ally" in the U.S., adding it's important to support allies.
"It's something that we must learn how to do once again and that is to support our friends around the world," Carson said.
In describing himself, Carson said, "I am not politically correct." The line drew thunderous applause.
"It is possible that I might offend someone," he said. "It would not be done on purpose, but I do not spend every waking hour trying to figure out whether I can say this or that."
To that end, Carson criticized the "secular progressive movement," denying that its adherents support rights for all.
"They only look out for your rights if you agree with them," he said.
At times, Carson's message blended themes of medicine and faith, while telling the crowd to pursue their talents.
"If you have a normal brain, there are very few things you can't do," Carson said.
Carson added: "We were made in the image of God. … He gave us these sophisticated brains with these big frontal lobes for a reason."
The candidate, who has a famous reputation for being soft-spoken, still employed colorful but everyday word usage. He poked fun at speculation he must have had some kind of government assistance, given his rise from poverty to success.
"That's a bunch of crap," he said.
Speaking to reporters afterwards, Carson said a president is probably "not going to be a world-class expert" on anything and it's important to have advisers. He said no one has the type of experience that is "ideal to become president of the United States." Carson said he is briefed regularly by experts, and spoke extensively last week to Henry Kissinger, a former national security adviser and secretary of state.
Nevada is an early voting state with February caucuses that play a key role in determine who gets the Republican and Democratic nominations for president. Carson, a retired neurosurgeon, and billionaire businessman Donald Trump, both candidates without elected experience, have polled at or near the top of a Republican field with about a dozen candidates.
An ABC News/Washington Post poll released last week found that both have high popularity among Republicans. Some 71 percent of Republicans polled had a favorable view of Carson, while 69 percent of the same group had a favorable view of Trump. Those two had the highest popularity among Republican voters polled.
Carson also spoke earlier
Sunday
at the International Church of Las Vegas, giving his life's story, which included going from being a student with poor grades to a voracious reader who rose to the top of his class after his mother prodded him to read and limited his television watching. Carson became director of pediatric neurosurgery at John Hopkins Children's Center in Baltimore and gained fame for his work in separating a pair craniopagus twins and other complex surgeries.
This is a developing story. Check back for updates.
Contact Ben Botkin at bbotkin@reviewjournal.com or 702-387-2904. Find him on Twitter: @BenBotkin1