Casa Rosa tenants can begin moving with federal aid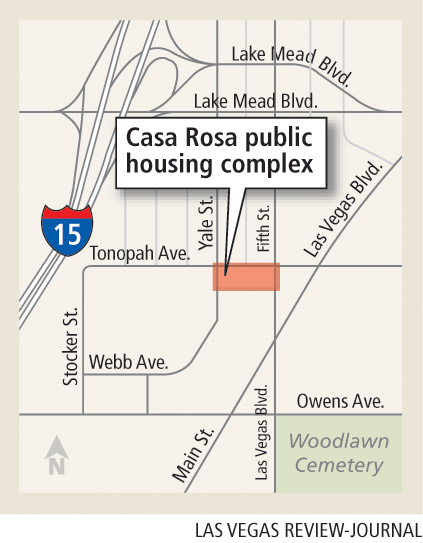 Dozens of poor families still living in the crumbling Casa Rosa public housing complex in North Las Vegas soon get the means to begin moving out in the next several weeks, an official said Friday.
Federal officials have approved housing vouchers for the families, said Carl Rowe, executive director of the Las Vegas Housing Authority. The Section 8 vouchers allow residents to rent housing elsewhere.
"I'm just ready to go," said Linnet Clark, a mother of four who has become an unofficial spokeswoman for Casa Rosa residents. "It's been a long journey."
It's been more than four months since officials decided to demolish the decades-old complex at East Tonopah and Fifth Street, and more than five months since a North Las Vegas building inspector found substandard conditions including mold, failing stairways, rotting rafters, broken windows, wiring and other problems there.
Nearly two dozen families have moved because of unsafe conditions caused by water or sewage that had been leaking for an unknown length of time.
At least 50 families remain at Casa Rosa.
The inspection was done after the Las Vegas Housing Authority contacted the city about long-standing problems it found at the complex. His agency took over management of the property in mid-2008 after officials with the U.S. Department of Housing and Urban Development found the property had been mismanaged by the North Las Vegas Housing Authority.
The city of North Las Vegas has since assumed management of the housing authority, which has faced myriad administrative and financial troubles in recent years, including failing to use millions of dollars in public money meant to house poor people.
Rowe said he expected most of the remaining residents to be moved in the next 30 to 60 days.
Contact reporter Lynnette Curtis at lcurtis@reviewjournal.com or 702-383-0285.