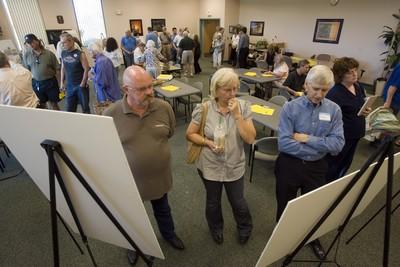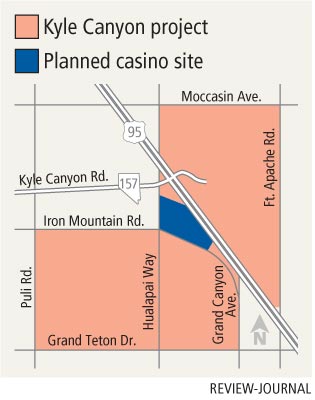 Maybe Las Vegans do want a casino in every neighborhood.
Or maybe 38 notices mailed out about a meeting on a proposed casino aren't enough to pack in the opponents.
About 70 people came out Tuesday night to talk with representatives of Focus Property Group, which is proposing a casino at the gateway to Kyle Canyon and Mount Charleston.
The reaction at the meeting was mixed.
There were some who were against the casino and the development, which will be made up of 16,000 housing units on 1,712 acres.
June Fiedler, who lives near the site, pointed to two schools nearby and said she worried about the increase in cars in the area.
"Children and traffic don't mix," Fiedler said.
As for the gambling, she said, "we have enough casinos."
Todd Schwartz, president of the Spring Mountain Ranch Homeowners Association, said there was "casino fatigue" with gambling in so many neighborhoods.
But there were also those — who turned out in about equal numbers to their counterparts — who saw the plan for new neighborhoods and a new casino as the march of Las Vegas prosperity.
"We're growing and we're going to keep growing," said Jeremy Amar, who was at the meeting with his wife and their 2-month-old daughter.
"I like that the casino is tucked into the corner," he said.
"I'm all for a casino in the area," said Mike Holland, who has lived in northwest Las Vegas, near Interstate 95, for three years. "That's jobs for the area."
The meeting, required under state law, was held in a small room at Mountain Crest Community Center.
Residents perused blown-up maps and posters that depicted the plans for the project.
They also were able to question representatives of the Focus Property Group.
Attendees then filled out comment cards, which Mark Fiorentino, senior vice president of government affairs for the Focus Property Group, said he would summarize and submit to the Las Vegas City Council and the city's Planning Commission.
Fiorentino said the format is "much more productive. People can ask questions, then sit down, and we can get their real thoughts."
But some said the format was inadequate.
"I think this meeting is a sham," said Schwartz, president of the homeowners association. "There's no way to offer alternatives, to have neighbors know what each other is thinking. This project is being shoved down our throats."
As for the attendance, Focus Property officials could view it as a sign that residents aren't as outraged as opponents might think.
But those opponents point out that only 38 property owners nearest the property were notified about the meeting.
The list of property owners that Focus notified included Focus itself.
Fiorentino said state law requires the notification of everyone within 2,500 feet. But since no one lives within 2,500 feet, Focus was required to go out until at least 30 property owners were included.
That meant notifications were sent to those within 2,700 feet, Fiorentino said.
Notifications were also sent to homeowners associations; and Councilman Steve Ross sent out a meeting notice in his newsletter, though his office initially had the date of the meeting wrong.
Fiorentino, though, said that coupled with media coverage and activists in the area, the public has been informed.
"Everybody who lives anywhere near this project knows about it," he said.