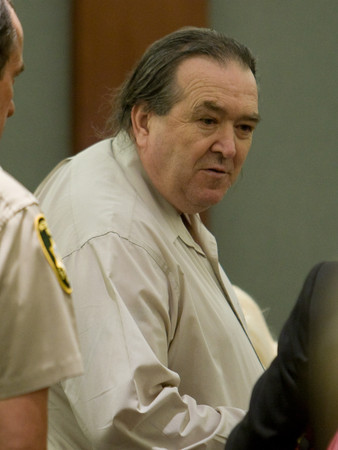 The man accused of wounding four people after opening fire inside the New York-New York in 2007 was found guilty of dozens of charges Monday night.
A District Court jury convicted Steven Zegrean of 51 of 52 charges, including attempted murder with a deadly weapon, assault with a deadly weapon and battery.
The jury deliberated about 41/2 hours.
Zegrean, 53, sat next to his defense attorneys and a Hungarian translator as a court clerk read the verdicts. He stared straight ahead and showed little emotion.
During the weeklong trial, Zegrean's public defenders argued that he never meant to kill anyone when he opened fire inside the crowded casino.
They said Zegrean was suicidally depressed over losing his wife, house and job. He fired a 9 mm handgun into the casino to draw police fire, they maintained.
Deputy Public Defender Lynn Avants said he will appeal Zegrean's conviction.
"Obviously he's disappointed," Avants said of Zegrean. "He never intended to kill anyone. He always maintained that."
Zegrean, a former house painter, was facing 17 counts of attempted murder with a deadly weapon.
The charges represented each time Zegrean fired, or tried to fire, his handgun on July 6, 2007.
The jury found him not guilty of one charge of attempted murder with a deadly weapon. Jurors acquitted him of that charge because of identity issues involving the intended victim, lawyers for both sides said.
Deputy District Attorney Ravi Bawa said Zegrean should spend the rest of his life behind bars. District Judge David Barker will sentence Zegrean on Aug. 31.
"We're very pleased with what the jury came back with. We believe it's an appropriate verdict," Bawa said.
Prosecutors told the jury that Zegrean walked into the casino with a loaded 9 mm handgun, five loaded pistol magazines and dozens of loose cartridges.
In all, he had 249 rounds of ammunition on him when he began firing into the crowded casino.
"He didn't go there to have dinner," said county prosecutor David Schubert. "He went there with an intention."
Dozens of tourists scattered after Zegrean opened fire inside the casino. Some ran to exits while others sought shelter behind slot machines.
At the end of the shooting, four people were wounded, including a 13-year-old boy from California and a dance instructor from Pennsylvania.
During his closing argument, Schubert showed jurors photos of the casino in the aftermath of Zegrean's shooting. One photo showed the casino's gaming floor littered with spent shells. Another showed several of the victims with bullet wounds.
Zegrean didn't testify during the trial.
Avants said Zegrean didn't go to the New York-New York to murder hundreds of tourists. Zegrean, who immigrated from Hungary more than 20 years ago, opened fire to cause a panic with the intention of forcing police to shoot and kill him.
Avants conceded that Zegrean's actions were misguided, reckless and dangerous. He even told the jury that they should find the defendant guilty of burglary, carrying a concealed weapon and discharging a firearm into a structure.
But he said Zegrean wasn't guilty of the most serious charges — attempted murder, assault and battery — because he never intended to hurt people.
After his arrest, Zegrean told police that he waited several hours before shooting inside the casino because he didn't want to hurt any children. He also asked police if he hurt anyone immediately after he was arrested.
"He didn't have any intent to kill," Avants said.
Bawa said Zegrean should have pulled out his gun at a police station if he wanted to commit suicide-by-cop, not a crowded casino.
Bawa also dismissed Zegrean's suicidal depression as a justification for the shooting.
"You can't commit crimes because things aren't going well for you," he said.
Contact reporter David Kihara at dkihara@reviewjournal.com or 702-380-1039.