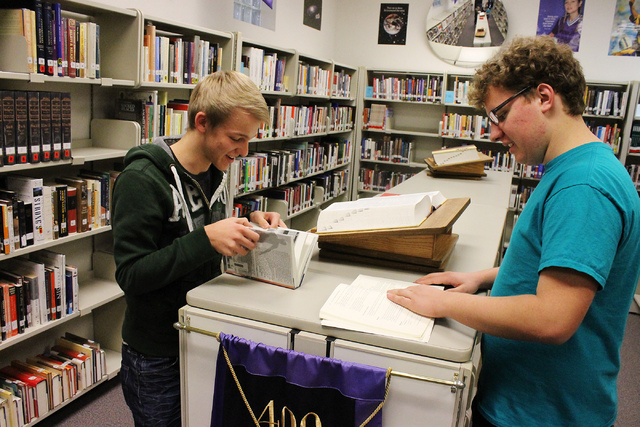 Graduation requirements for Clark County School District students were changed Thursday to eliminate the High School Proficiency Exams and the certificate of attendance given as consolation each year to about 1,000 seniors who failed the tests but passed their classes.
Also, seniors who haven't completed all graduation requirements will no longer be allowed to walk at commencement. The changes are effective for this year's freshman class.
The Clark County School Board un­animously agreed to the policy changes Thursday without debate or discussion because they have little choice. The district had to update its requirements to reflect new state rules passed by the Nevada Legislature in 2013.
The Legislature decided to phase out the four proficiency exams — in math, reading, writing and science — criticized for being out of alignment with curriculum.
Four new exams that will be required for graduation will be developed, but Nevada students aren't quite yet done with the old exams. The Nevada State Board of Education decided in June that students who were freshmen, sophomores and juniors in 2012-13 must still take and pass the existing proficiency exams to graduate.
The rationale: It's bad policy, perhaps illegal, to change students' graduation requirements midway through high school.
"You have to maintain the rules for them," Jhone Ebert, the district's chief innovation and productivity officer, told the School Board on Thursday.
The proficiency exams are a historical roadblock. Less than a third of Nevada students pass the proficiency exams on their first try as sophomores. Some students take the tests as many as four or five times, going so far as to take semester-long courses geared toward passing the exam.
The exams are supposed to show that students are college or career ready. However, one-third of Nevada high school graduates, having passed the exams, still aren't ready for college, according to the Nevada Department of Education. The state can tell this because 33 percent of high school graduates who stay in Nevada need remedial, non-college-credit courses as college freshmen.
When the transition is complete, all high school students must pass two end-of-course exams in English language arts and two end-of-course exams in math designed to be in line with the recently adopted Common Core Standards.
Contact reporter Trevon Milliard at tmilliard@reviewjournal.com or 702-383-0279.