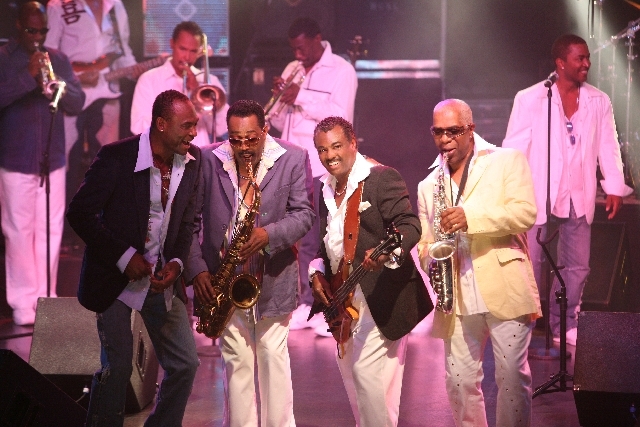 Robert "Kool" Bell is only 62, but his soul is so old, his godfather was Thelonious Monk — and Kool's father stopped Miles Davis from boxing his music career away.
That's a crazy story, right? Here it is:
Kool's dad, Bobby, was a Top 10 featherweight boxer who lived with Monk in a New York apartment building where Lincoln Center sits now.
"When I was born, he (Kool's father) asked Monk to be my godfather, which he accepted," Kool says. "And then Miles Davis used to come down to the gym," which was near the apartment building.
"Miles Davis wanted to be a boxer at one time too. And Thelonious and Miles, and all those guys, hung out in the gym with my father," Kool says.
"Miles came around to my father and said, 'Man, let me spar with you.' My father said, 'You better stay out of the gym. If you mess your hip up, you won't have a career!' Haha."
Kool was so young, he doesn't remember meeting Monk. He ran into him again only once, years later.
And Kool stepped in his dad's ring but once.
"I boxed one year, at about 9 years old," Kool says, and he laughs at the brevity of his fighting career: "Three rounds."
At age 14 or so, Kool and his brother Ronald formed a jazz band, which later morphed into a funk and R&B group named Kool & the Gang.
Yes, Kool & the Gang, the classic band performing at the Cannery casino Saturday with a nation of hits: "Jungle Boogie," "Hollywood Swinging," "Get Down On It," "Ladies' Night," "Too Hot," "Fresh," "Cherish," "Joanna" and, of course, "Celebration."
Kool & the Gang celebrate their 50th anniversary next year.
"The (Rolling) Stones did it this year, so we're right behind them," Kool says.
What has his band been up to?
They're putting out their first holiday album this year and an album of originals next year.
Ronald lives in Vegas off and on. And here's something weird: Kool & the Gang spent the past year opening for rockers Van Halen and Kid Rock on tour.
How did that happen?
"I was with (Van Halen singer) Diamond Dave right before the tour last year," Kool says. "He said, 'When we were coming up in L.A., Van Halen used to play your songs — "Funky Stuff," "Jungle Boogie," "Hollywood Swinging."  '
"He said, '60 percent of my fans are ladies, and you guys wrote the song, 'Ladies Night' — so let's go out and party!"
Kool says Van Halen fans were perplexed until they actually saw Kool & the Gang.
"When we got to 'Ladies Night,' that crowd of hard rockers were gettin' down on it. Yeah."
Then Kid Rock (already a noted Kool & the Gang fan) saw one of those 48 Van Halen/Kool shows, and asked Kool to open for 10 Kid Rock shows.
The crazy thing about Kool & the Gang is they have so many hits in so many subgenres, people don't always know that the band that made "Celebration" is the same band that made "Jungle Boogie."
"We played Canada a couple of years ago, and a little kid came up to us — about 9 or 10 years old — and he said, 'I like that new song you guys did, that "Jungle Boogie" song,'  " Kool recalls. "I said, 'Haha, OK, you weren't even born when we cut that record!'  "
To be fair to that kid, many of us weren't born when Kool & the Gang formed.
Doug Elfman's column appears Mondays, Tuesdays, Thursdays and Saturdays. He also writes for Neon on Fridays. Email him at delfman@reviewjournal.com. He blogs at reviewjournal.com/elfman.