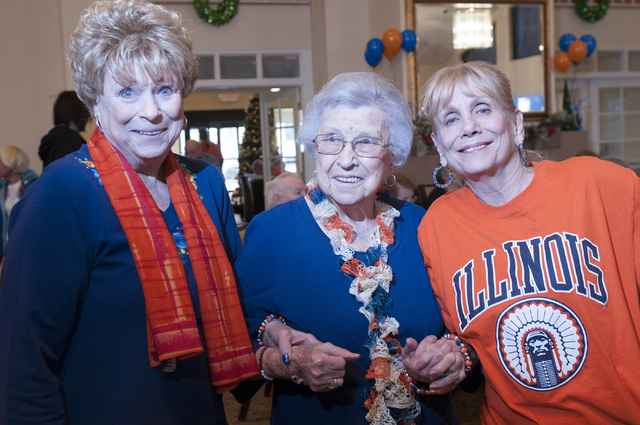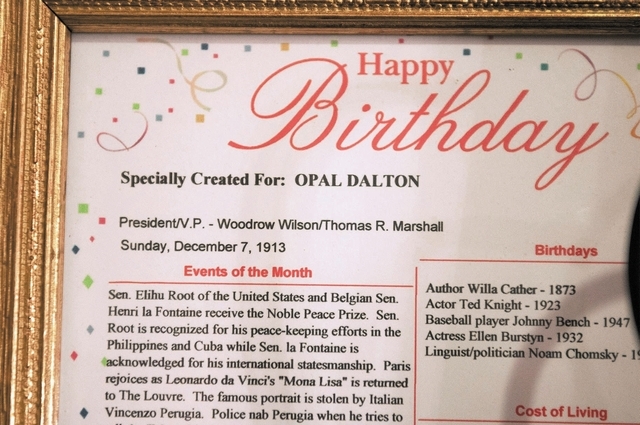 When Opal Dalton was born on Dec. 7, 1913, Woodrow Wilson was president, gasoline was just seven cents per gallon, and it was only five years since the Chicago Cubs won their last World Series.
With a million-dollar smile on her face and her family by her side, Dalton stole the show Friday at her 100th birthday celebration at the Desert Springs Senior Living Center on Flamingo Road and Jones Boulevard.
Judy Barger, Dalton's 74-year-old daughter, wasn't surprised at all to see her mom celebrating her 100th birthday.
"I'd like to say it's surprising, but it's not," Barger said. "It's good genes and a lot of work. Mother has been very physically active."
Dalton's mother was 96 when she died, and Dalton continues to be physically active in her living community. In April, she broke her hip line dancing.
"I'm not as agile as I was when I was 99," she joked.
She was born in a small town in southern Illinois, 35 miles east of St. Louis by U.S. Highway 50. She walked a mile and a half to school everyday in the snowy, subzero Midwest winters and her family had a phone that she described as "a little bit of a pipeline to the outside world."
"It was a pretty isolated area," Dalton said. "But come to think about it, most places were pretty isolated back then."
Dalton grew up on a farm and ate organic food throughout her childhood. Her friends said it's one of the reasons she is lived so long.
"Her health is perfect," said Trudy Myer, who has known Dalton for the last 15 years. "She always said you have to eat something green everyday."
Dalton attended the University of Illinois-Champaign and studied business. She always stayed true to her university, and blue and orange cups, plates and table cloths were used during her birthday celebration.
She wore a navy blue shirt with a white, blue and orange lei as she made the rounds to give hugs and kisses to those who celebrated with her.
Dalton was passionate about her alma mater and even talked about her displeasure when the university decided to remove its mascot, Chief Illiniwek in 2007.
"It was a very sad day for the fans," she said.
Dalton was married for 42 years, but lost her husband in 1977 at the age of 65. She has two daughters and eight grandchildren, but three have died.
Dec. 7 marks Dalton's 100th birthday, but it's also a date that President Franklin D. Roosevelt said "will live in infamy" after the Japanese attacked Pearl Harbor in 1941.
"I remember exactly where I was when it happened," Dalton said. "I was at home with my family. We were just shocked, scared and fearful."
In Champaign,Dalton worked as an office manager in a mental health facility and in the nursing health center for the state of Illinois.
She moved to Las Vegas in 1998 to be with her two daughters after 46 years in Champaign.
"The thing that impresses me most about her is that she is always dependable," Barger said. "If she tells you she's going to do something, you can take it to the bank."
Dalton also loves Frank Sinatra and Bing Crosby.
"I'm an ol' fashioned type of gal," she said.
Her radiant smile could be felt throughout the room, and everyone grinned when she spoke about her life and cracked jokes.
Dalton reminisced in her speech and spoke of the thick mud she was forced to walk through as a kid with her sister.
She talked about growing up without a television or radio, and how she was shocked the first time she saw an automobile.
"She is the best person I've met in my whole life," Myer said. "Everybody just loves her."
Dalton blew out her candles, continued to speak about her long life, but didn't want to take up too much time.
"I think I better shut up now," she said.
Contact reporter Steven Slivka at sslivka@reviewjournal.com. Follow @StevenSlivka on Twitter.