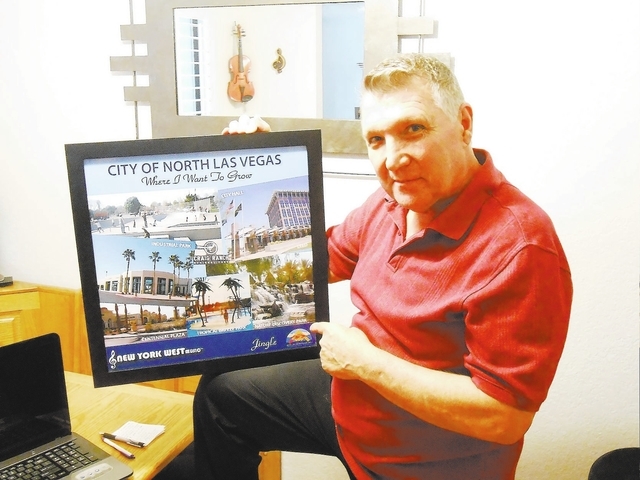 Writing jingles is an art.
Even acclaimed avant garde composers such as John Zorn have expressed "a very great appreciation" for those able to pack an original musical composition into the confines of a 30- or 60-second commercial radio or TV spot.
For Centennial Hills resident Brian Thomas, who has written and recorded five jingles for everyone from First Friday to Buffalo Wild Wings, it's an art that takes about two weeks.
Thomas said he needs only moments to identify what should go into a jingle — "who you are, when your'e open, what your specialty is" — but a half-month before he can fit those facts into words and musical notes on the page.
His latest jingle, a rock-infused jazz number to promote this month's opening of North Las Vegas' 170-acre Craig Ranch Regional Park, was no different.
Thomas nods toward a number of city touchstones in "NLV: The City For Me," including references to the city's Leadership in Energy & Environmental Design-certified City Hall and the Apex Industrial Park off Interstate 15 and the 215 Beltway.
The idea, he said, was to promote a city he feels has received a bum rap.
"A lot of people don't know this about North Las Vegas, but the taxes are low, the services are great, and they've got one of the best police departments in the state," Thomas said. "What I like about (Craig Ranch Regional Park) is the location. There's businesses on Craig Road; there are bus lines; people can get there.
"They brought in a world-renowned architect to do the skatepark. They're going to have live entertainment. … I could go on, but it's just going to bring so much business to the city."
A lifelong musician and drummer for seven-piece soul act New York West, Thomas has played everywhere from Santa Fe Station to Town Center Lounge in the nine years since he moved to Las Vegas.
The 65-year-old Buffalo, N.Y., native said he and the band are doing fine financially. That's good news, said city spokeswoman Juliet Casey, because city officials can ill afford to keep him on retainer.
Casey said she loved an unfinished version of the jingle that came across her desk a few months ago and recently reached out to offer Thomas' band the next best thing: a paid gig at Craig Ranch's grand opening.
"I unfortunately don't really have a budget for (jingles)," Casey said. "But I really liked it, and I thought it was so refreshing to meet someone who's does something because it's the right thing to do.
"(Thomas) has a big heart for North Las Vegas. … It's good to know that there are people like that in the community, who are willing to emphasize the positive and see the good we have to offer."
As the group's promoter, Thomas said he's happy to book another gig.
As self-appointed promoter for the city, he's already angling for a bigger stage, starting with a hoped-for appearance on Channel 13's "Morning Blend" alongside first-term Mayor John Lee.
"It's just about doing something for people and caring about people," Thomas said. "That (Craig Ranch Regional Park) is going to be a blockbuster park, and I just want to help make it something people love."
Thomas and New York West are set to join 'Nuff Said and Richard T and the Stereo Band at 6 p.m. Oct. 25 in the new amphitheater at Craig Ranch Regional Park, 628 W. Craig Road.
For more information on the group, call Thomas at 702-622-8672 or visit newyorkwestmusic.com.
Contact Centennial and North Las Vegas View reporter James DeHaven at 702-477-3839 or jdehaven@viewnews.com.