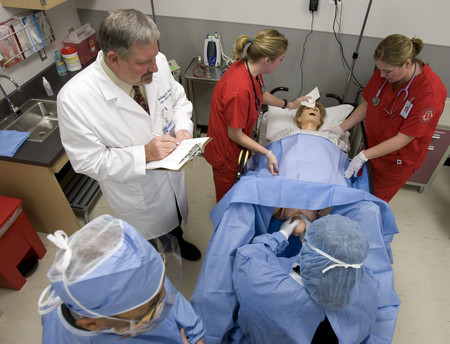 Over here, we have a plastic baby, half born. Its soon-to-be mother is screaming. Nurses hover. They comfort. They urge more pushing.
In there, a feverish child, who stops breathing, whose lips turn blue, whose overacting mother passed annoying several rants ago. "Oh my God! Do something!" she is screaming.
Around the corner, a guy with a broken leg, suffering a heart attack. Procedures are performed. The victim's wife, whom the nurses call Mrs. Smith, is ushered from the room.
Down the hall, a virtual colonoscopy, a virtual gall bladder removal, all inside a virtual hospital with virtual patients and real consequences in the real world.
This is the new Clinical Simulation Center, a training facility for future nurses and doctors from UNLV, Nevada State College and the University of Nevada School of Medicine. The 31,000-square-foot facility's grand opening was held Wednesday.
"We can kill these people 1,000 times a day and it won't matter," said Lance Baily, the facility's director. "We just push reboot."
These people of whom he speaks are state-of-the-art mannequins, which can show all sorts of symptoms and have all sorts of procedures performed on them. They can even have babies.
UNLV nursing student Lindsey Barron helped deliver a plastic bundle of joy Wednesday as the TV cameras rolled.
She is a first-year nursing student, though she worked as a cardiovascular technician before going back to school. She said this facility — which opened this semester — provides better training than classroom work alone. It lets the students practice without the risk of messing up on actual patients.
And it also lets the nursing students and the medical students get to know one another, which she said was a rarity before.
The facility, located on UNLV's Shadow Lane campus across the street from University Medical Center, is part of the state's Health Sciences System. It is designed to mimic a hospital. It's got winding hallways and patient rooms, much of it viewable on television and computer screens that faculty can monitor for teaching purposes.
Carolyn Yucha, dean of UNLV's nursing school, said the facility came about after she and the nursing dean from Nevada State were chatting while sharing a cab ride after a conference in Washington, D.C., three years ago.
Neither school had a facility like this, and both needed one.
They got together later to figure out how to do it. Although the College of Southern Nevada declined to join in because that school already has a training facility, the School of Medicine jumped aboard. Until this new facility opened in August, medical students had to go to Reno to get training such as this.
Yucha said the facility also gives faculty from the nursing schools and the medical school a chance to work together, which they rarely did before.
"I think the benefits of this are going to be far beyond the space," she said.
The facility was paid for with $16 million from the state, a $5 million gift from the Lincy Foundation, and $2 million in federal funding.
Contact reporter Richard Lake at rlake@reviewjournal.com or 702-383-0307.
Clinical Simulation Center slide show