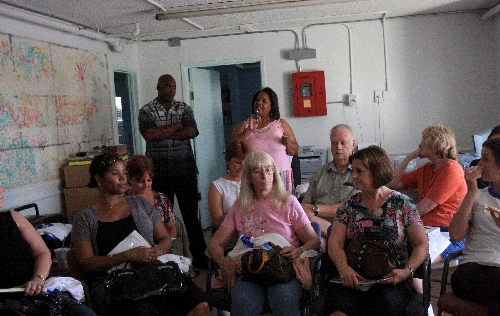 They are strangers brought together by death.
They talk about burying their loved ones: grandparents, parents, siblings, children or friends who died too young or too suddenly. They weren't prepared to say goodbye, they say.
Some confess they need closure and help in dealing with their own grief.
So they are volunteering at the Adam's Place Center for Grieving Children and Families, which hasn't even officially opened its doors yet.
Some work as nurses, social workers, teachers, dentists and bus drivers. Others are unemployed.
But tonight they are joined by a box of Kleenex passed around the room. Tear-streaked faces and glassy eyes search for comfort as each tells a story of loss.
Every tale ends with a strong desire to let others know they are not alone in their sadness.
Parents tell of pulling a daughter off life-support because she had been in a coma for three years and doctors declared her brain dead. A mother tells of a baby who drowned and her struggle to get the older siblings to seek professional help to cope.
Kelly Thomas-Boyers, who founded the nonprofit Adam's Place, stammered through her own tears as she recounted her son Adam's tragic car accident in 2007. She struggled to thank the dozen or so volunteers who had gathered recently to learn about helping children through the grieving process.
Thomas-Boyers said she expected a handful of people to show up for volunteer training. There were 18 on the first day .
"Time is money. Time is a lot of things," Thomas-Boyers said. "To see people take the time to help here, especially people who work in this stuff day-to-day, they're still coming because they know how important this is and how needed it is. I'm overwhelmed."
The center will provide grief support and other free services to children ages 3 to 18 and their families. It's the culmination of a dream for Thomas-Boyers.
She has decorated the center in her son's memory with his photographs. There's a picture of a young, chubby Adam Thomas in a baseball uniform grinning for the camera. A photo of a 21-year-old Adam, an intern for a state senator's office, sits on a bookshelf near the entrance. It was taken a few days before the accident.
The center, a modest, newly renovated house that sits on South Decatur Boulevard between Desert Inn and Spring Mountain roads, is slated to open for business in September.
Alice Vaughn-Motley, a guidance counselor in the Clark County School District, said she is volunteering her time at the center to get students the help they need when dealing with death. It's a heavy topic for middle and high school students but one that kids understand, she said.
"This place is a godsend," Vaughn-Motley said. "These kids are going to have a place to go with other kids. We have a lot of people here with a lot of expertise in the school district, but this isn't an area that anyone has thought about.
"I've seen this consistently at every school I've worked at, kids dealing with grief, but I had no programs to refer them to. I had to do the counseling and help them cope just by listening."
Thomas-Boyers said she is raising money for the organization with grants and private donations.
"It is not easy to lose someone and not have resources to cope," she said. "I just want to make sure everyone feels like they can come here. Truly, if there is a seed that can be planted, it will grow. So now I'm lucky to be watching this seed grow."
Contact Kristi Jourdan at kjourdan@reviewjournal.com or 702-383-0279.
If you interested in volunteering or donating, visit online at adamsplaceforgrief.org or call 702-481-1996.