Ceremony at Nellis honors POWs, MIAs from Nevada
September 17, 2010 - 11:00 pm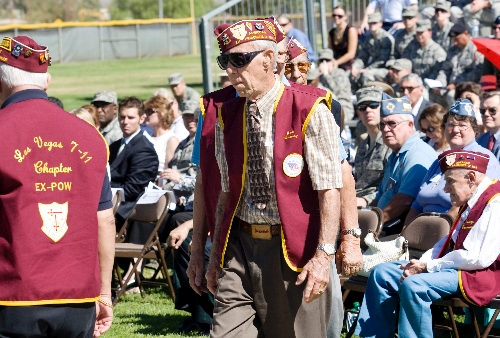 Jack Leaming remembers the helpless feeling he had 68 years ago while floating in a life raft, waiting for Japanese sailors to capture him and his pilot after their dive-bomber was shot down in the South Pacific.
"We got in the rubber boat and I started rowing," he recalled Friday, after a ceremony at Nellis Air Force Base to honor ex-prisoners of war and missing-in-action service members from Nevada.
"The airplane, I watched it go down. I can still see it and the tail disappearing in the water. … I was rowing in circles."
At 90 years old, his story about flying that last mission and ditching the plane on a calm sea two miles off Marcus Island remains fresh in his mind.
"The thing that goes through my mind the most is the sun was coming up and it looked like the clouds were on fire," Leaming said.
As a machine-gunner and radioman with pilot Dale Hilton in a Douglas scout aircraft, they were one of 18 teams from the USS Enterprise flying ahead of the ship when the Japanese attacked Pearl Harbor on Dec. 7, 1941.
While they survived that attack unlike half the teams that were shot down on Dec. 7, 1941, including some by friendly fire, their plane was crippled three months later by anti-aircraft fire while bombing the enemy's refueling stop at Marcus Island.
Soon after they were captured on March 4, 1942, they were separated and interrogated. Leaming, who retired in Las Vegas, was eventually sent to work at a prison camp at Osaka, Japan, until the camp was liberated by U.S. forces on Sept. 6, 1945.
He still has a stack of letters his friends sent him, the prisoner identification patch that he wore on his field jacket, and the mess-kit he used, blackened from cooking stolen rice while at Osaka.
He was one of about a dozen ex-prisoners of war who were recognized at the Nellis base, where National POW-MIA Recognition Day has been observed every year since Congress launched it in 1979.
Leaming called the recognition refreshing.
"When you get out of the service you're never forgotten. You do so many years, and you get a discharge and go on with your life," he said. "For the active members to remember you for what you've done and what has happened to you, it's a big 'thank you.' "
At Friday's ceremony, Brig. Gen. David Thompson, vice commander of the Air Force Warfare Center, said ex-POWs "know what it means to live with freedom. They know what it means to live without freedom. They also understand best of all what it means to have that freedom restored up their repatriation."
Unlike the families of service members who returned from the nation's wars, families of the missing-in-action don't have that element of closure, he said.
"These families experience more than others a unique heartache that does not dim, that does not begin to heal because they do not know," Thompson said.
He noted that more than 80,000 Americans are still missing-in-action from all wars going back to World War I even though more than 870 MIAs from the Vietnam War have been accounted for since the war ended in 1975. However, another 1,713 still are unaccounted for in Southeast Asia.
George W. Kielak, a Polish soldier who was held prisoner in Germany from Oct. 2, 1944 until April 17, 1945, joined Leaming and other ex-POWs in placing a wreath at the base's Freedom Park.
Kielak, who has lived in Las Vegas 26 years, was captured by German forces in Warsaw along with the rest of his division when they ran out of ammunition and exhausted their supplies. While in Stalag 11B, they often watched U.S. aircraft fly over in hopes that one day, they too, would be set free.
"We had faith we would be liberated," he said. "My only disappointment when I was liberated is that I did not return to my country."
Instead, he stayed in Germany and joined the British army before coming to the United States in 1949.
From 1950 until 1982 he served in U.S. Army infantry, special forces and intelligence units.
Contact reporter Keith Rogers at krogers@reviewjournal.com or 702-383-0308.
POW/MIA Rememberance Ceremony