Chance meeting with Las Vegas officer changes family's fortune
December 25, 2013 - 7:48 pm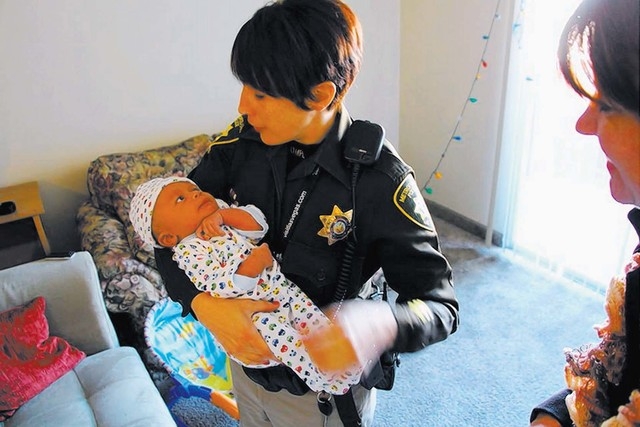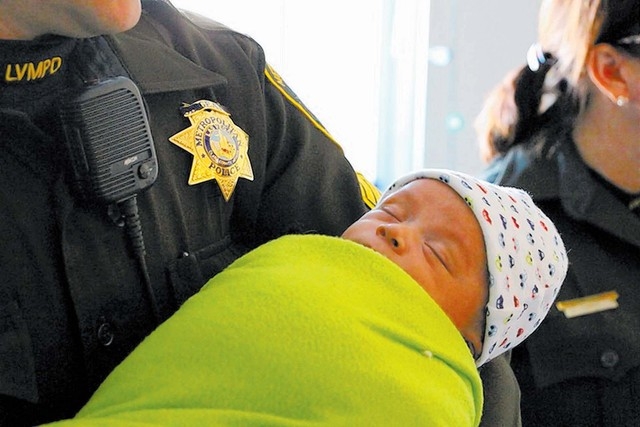 Las Vegas police Sgt. Richard Meyers didn't know he would change a young family's fortunes when he walked into a restroom at The Cosmopolitan of Las Vegas while on duty last month.
Meyers was meeting a friend for lunch on the afternoon of Nov. 17 and had gone to wash his hands when he heard a baby crying in one of the stalls.
He walked over to see what was happening.
Meyers found a father with tears welling in his eyes, struggling to change and feed his 3-week-old son.
"He was overwhelmed," Meyers said earlier this week. "He was trying to change the baby's diaper by holding him in his hand."
So Meyers, a former Marine who has been with the department for 10 years, asked the 21-year-old Las Vegas father whether he needed help.
The two talked while Meyers showed him how to change a diaper. The father told Meyers that he and the 19-year-old mother were jobless and staying in a motel near Charleston and Las Vegas boulevards. They were sharing the room with another couple. The two couples paid for the room with money scraped together from begging, the father told Meyers.
"They were really trying hard to be good parents. They were just in a bad situation," Meyers said.
Meyers and his partner, officer Jonathan McFerrin, and Community Oriented Policing officers Michelle Wilson, Lourdes Smith and Julie Wise met the family the next day at their motel room.
After some talk and some phone calls, they agreed on a plan to get the family a more permanent place to live, Meyers said.
That's where HELP of Southern Nevada, an organization aimed at helping the homeless transition into housing, stepped in at an outreach event at Cashman Center on Nov. 19.
"They were carrying everything they had walking down to Cashman," Wilson said Tuesday.
After meeting with HELP officials, the family, who had never been on assistance before, stayed the night at a Catholic Charities shelter. The next day, they were placed in an apartment of their own.
"I think that in certain circumstances, life can snowball at you," Wilson said. "For us to get that opportunity to give them a boost and get them going in the right direction, it's worth it."
The officers, with their own money, bought some baby care items, including a stroller, a car seat, food, water and some furniture items. The Police Department included the family in its annual turkey delivery to the needy before Thanksgiving.
But the help didn't stop there.
Through social media, Meyers and friends rallied other members of the community to donate necessities.
Many of those who donated didn't know specifically where the donations were going but did so simply to help out a family in need, Meyers said.
"(Meyers) and Jonathan went that extra step to help," said Convention Center Area Command Capt. Robert DuVall, who is Meyers' supervisor. "What the officers did was absolutely great."
The family is an example of good people caught up in a bad situation who just needed a little boost, Meyers said. Meyers could give only a few details about the family because of department policy.
"There're certain steps that the family has to continue to accomplish in order to stay in the program," he said. Those steps include going through job training. "Since then, they have accomplished everything asked of them."
DuVall said that officers are always out helping people, but that's something the public tends not to hear about.
"By the nature of what we do, our most basic job is to arrest criminals. All you tend to hear about what we do for a living is the negative," DuVall said. "Things like this rarely get noticed."
To McFerrin, who has three children of his own, helping people in need was the reason he became a police officer.
"I'm all in for making a difference in a little kid's life," McFerrin said. "Working on the Strip, I don't see a lot of people I deal with ever again. We actually got to see what happens with this family."
Meyers hopes that the family's story will go a long way in showing the community that police officers aren't out there just to arrest people.
"Treat people like people. That's the biggest thing I try to instill in people," Meyers said. "As police officers, we're not there to take everyone to jail. My goal is to make this the safest community in America."
Contact reporter Colton Lochhead at clochhead@reviewjournal.com or 702-383-4638. Follow @ColtonLochhead on Twitter.