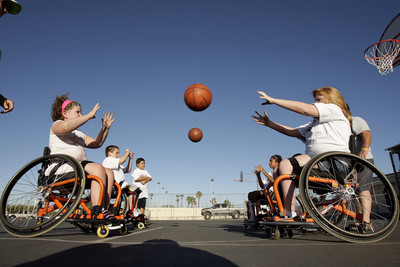 She churned her tiny arms as fast as she could, gripping and releasing the spinning tires of her wheelchair.
"Mom, I got 1:51," yelled second-grader Jessica Lindley, proudly proclaiming her time in the wheelchair slalom.
Watching from the stands, Jessica's mom, Rebecca, said her daughter did pretty well in the event that required her to weave in and out of a series of cones. But she was more pleased that Jessica — who was born with a birth defect that causes her to limp because she lacks muscle development in her arms and legs — got to interact with physically disabled students who were eager to socialize and compete with one another.
"She's excited to be around other kids who are handicapped because she's never around them at school," Rebecca Lindley said.
Jessica was one of about 30 students from Southern Nevada who participated Wednesday in the first Clark County School District U.S. Paralympic Academy at Garside Middle School.
The academy is a collaboration by the school system, Las Vegas and the U.S. Paralympics, a division of the U.S. Olympic Committee.
The event was for students who use wheelchairs because they are paraplegic or quadriplegic, or have a physical disability in one or more of their limbs, or are blind.
The school system is the only district in the country to be chosen as a host site for the event.
"The self-esteem of these kids goes through the roof when they participate in sports," said Barbara Chambers, coordinator of the district's Adaptive Physical Education Department.
Chambers' staff works with physical education teachers to help them make gym classes more accessible to students with disabilities.
On Wednesday, the students at Garside participated in wheelchair basketball and tennis, tandem bicycle riding and track for the visually impaired.
Chambers said about 300 students in the school system are eligible to participate in the academy. The academy will host similar events throughout the school year, and Chambers said she hopes all of the students will participate.
Some of the events offered by the academy will be featured in the Beijing Paralympic Games in September 2008. Chambers said the U.S. Paralympics will hold an essay contest and award a winning student and coach from Southern Nevada round-trip airfare to the opening ceremonies of the Beijing games.
But she expects some student athletes to earn a spot in the games based on their athletic prowess. Chambers said coaches and volunteers will watch for student athletes who dominate an event and guide them to regional and national competitions, where they can qualify for the upcoming games.
One such athlete is Cortney Jordan, a junior at Coronado High School. Partially paralyzed on the left side of her body, Jordan is a paralympic swimmer competing in the 100- and 200-meter backstroke.
She won three bronze medals last year in Durban, South Africa.
Jordan said she is happy other disabled students from Southern Nevada got the opportunity to compete close to home. She has had to travel around the country to find paralympic competitions.
"I think it's awesome because I didn't get to start at a young age," Jordan said. "It's really cool because it gives kids the chance to meet other kids with their disability."
Physically disabled students weren't the only participants in Wednesday's event.
Connor Likos, 11, joined his brother Carter, 9, who has spina bifida.
Connor said the event brought him closer to his brother because he got in a wheelchair and experienced what his brother does every day.
"It's pretty cool to be in a wheelchair because I get to see how every day is for him," he said.