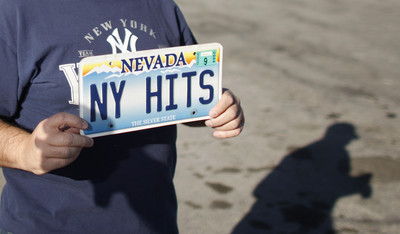 PAHRUMP — Anthony Greco is either a victim or a liar.
He's the guy who sells you a joke T-shirt from the "Godfather Protection Agency," or he's the guy who shoots you and leaves you to die in a deserted parking lot.
So which is it?
Almost nine years have passed since the FBI arrested the former casino dealer in Pahrump and accused him of carrying out a 1998 mob hit in New York.
Almost six years have passed since the charges against Greco were dropped.
Since then, the 52-year-old Greco has tried repeatedly to win back his work card from the Nevada Gaming Control Board so he can go back to dealing blackjack.
Each time, his 1999 indictment has kept him off the casino floor.
Greco thinks he's being railroaded.
"I didn't kill anybody, and I don't want anyone to believe that I did," he said. "There's no reason people should believe a lie."
Greco's latest setback came on Oct. 9, when the Gaming Control Board unanimously rejected his application for a work card.
The recommendation report that led to the vote states: "The record is replete with circumstantial and direct evidence linking the appellant not only to organized crime in general, but to the major players in the murder itself in particular."
"Accordingly," the staff report continues, "he should not resume gaming employment anywhere in Nevada."
Greco lives in a mobile home on a mostly bare dirt lot where two main roads meet near the southern end of Pahrump. It's been his home for almost 10 years. His elderly parents live in the trailer next door.
"This is the place the FBI said I was hiding," he said.
Greco moved to Pahrump from New York in December 1998, and soon found work as a security guard and then a dealer at a local casino.
In the early morning hours of Dec. 2, 1999, he and a friend were about to pull away from a convenience store about a half mile from his house when his car was surrounded by federal agents.
"They were holding my head to the ground with pistols. I couldn't believe it," he said. "I figured the convenience store had been robbed, and I was the next guy to come out."
Instead, Greco said, the agents told him he was wanted in connection with an "LCN murder in New York." LCN as in La Cosa Nostra, otherwise known as the Sicilian Mafia.
Several dozen suspected wise guys were swept up the same day, as federal authorities moved against the DeCavalcante crime family, a New Jersey outfit rumored to be the inspiration for "The Sopranos."
Greco found himself charged with murder and racketeering in connection with the Oct. 10, 1998, slaying of Joseph "Joey O" Masella, a suspected DeCavalcante family associate and a problem gambler who owed money to several mob outfits.
Authorities believe Masella was lured to a nighttime meeting in the parking lot of a Brooklyn golf course by a mob associate pretending to be someone who owed him money.
Masella was shot several times as he sat in his car, but he lived long enough to give a statement to police.
After his arrest, Greco spent 13 days in the Clark County Detention Center and one day in the North Las Vegas lockup before he was flown from the valley on a special airplane for federal prisoners.
"I was on Con Air," he said.
He was released on bail in the spring of 2000 but remained under house arrest in Staten Island, N.Y., until early 2001, when a federal judge cleared him to return to Pahrump and get a job.
He was set to start work as a security guard at the Pahrump Nugget when the Gaming Control Board rejected his application for a work card.
After that, finding work proved difficult with an electronic monitoring bracelet around his ankle and a murder charge hanging over his head.
Greco eventually hired on with a private security company, patrolling the campus of the Meadows School among other places.
"I was driving from Pahrump to Las Vegas for six dollars an hour," he said.
The job also required him to get a nongaming security work card from the Metropolitan Police Department.
Greco said the woman he spoke to at the Police Department warned him that he would have to surrender the card if he was convicted in New York. "I told her if I get convicted I won't need it. I'm getting the death penalty."
Then came the moment Greco had been waiting for: With the stroke of a federal judge's pen on Jan. 7, 2002, all charges against him were dropped.
The only surprise was that it took as long as it did, Greco said. "Of 40 people indicted, only one didn't go to jail. The rats didn't even know who I was."
The case against Greco seemed to hinge on his association with Westley "The Kid" Paloscio, who the indictment described as a bookmaker and associate of the DeCavalcante family's New York crew.
Paloscio was married to the daughter of Greco's girlfriend at the time, and the two couples lived in separate apartments at the same Staten Island address.
On the night of Masella's murder, Greco received a number of pages from Paloscio, but Greco said he had an ironclad alibi backed by about 60 witnesses.
The murder weapon was never recovered.
In the end, Greco said, all the government had to hang their case on was Masella's deathbed description of the shooter as a dark-haired man with a mustache.
"Do you realize about 90 percent of the guys in New York have dark hair and a mustache? And about 5 percent of the women probably also have dark hair and a mustache," Greco said. "They had nothing."
New York attorney George Goltzer, who defended Greco on the federal charges, did not respond to several requests for comment.
As a matter of policy, the U.S. attorney's office for the Southern District of New York does not discuss prosecutions, a spokeswoman said.
Technically, Greco's case remains open because the charges against him were dismissed without prejudice and could be refiled at a later date.
That could help explain why gaming regulators have continued to reject Greco's requests for a work card even with the charges dropped.
In early 2003, and after multiple appeals, the Gaming Commission issued a final ruling that barred Greco from working as a gaming employee for five years.
That order expired in January, so Greco applied anew.
To his dismay, he said, his application was assigned to the same investigator and hearing officer that handled it before, and their recommendation report contained the same exact information as the one from seven years ago.
"They just put a new date on it," Greco said.
He is particularly angry with Agent Bruce Yarborough, who joined the state's gaming enforcement division after a career in the FBI. Greco said the investigator is using his old contacts in the bureau to continue the government's ongoing smear campaign against him.
"This Agent Yarborough is using information from these lowlifes to keep me from earning a living in Nevada. This is corruption at its best," he said, adding of the FBI, "they need to focus on al-Qaida, not Anthony Greco."
Renee Shaffer, deputy chief of enforcement for the Gaming Control Board, said she couldn't comment on Greco's case or respond to his allegations because work card reviews are confidential.
Keith Henry, supervisor for the board's administrative division, said privacy rules also prevent board members from discussing the reasoning behind their decisions in specific cases.
Under state law, the Gaming Control Board has considerable latitude when it comes to issuing work cards. According to statute, a card can be rejected, suspended or revoked for "any cause deemed reasonable by the board."
The law goes on to list several "reasonable" causes for denying a work card, including if the applicant has been identified in published government reports as a member or associate of organized crime.
Board recommendations are subject to appeal before the five-member Gaming Commission, but work card rulings are seldom overturned.
Greco recently finished a book about his ordeal and is shopping for a publisher. For his title, he borrowed the headline from a 1999 Review-Journal account of his indictment: "Casino Dealer Triggerman: Fact or Fiction?"
At times, though, it's hard to tell how Greco wants people to answer that question.
On one hand, he is quick to blame some of his treatment by the authorities on bigotry against Italian-Americans, the sort of bigotry some say is perpetuated by mob stereotypes in movies and on television.
Yet Greco also talks disdainfully about "rats" and sports a tattoo on his left leg that reads "Death Before Dishonor." The ringtone on his cell phone is the theme from "The Godfather," and instead of hold music his voicemail gives you Marlon Brando as Vito Corleone talking about respect and family and murder for money.
For a time, Greco even drove a car with Nevada plates that read "NY HITS," a detail that wound up in the investigation report when he was first turned down for a gaming work card in 2002.
Greco said "NY HITS" is a reference to the New York Yankees, but he acknowledged the obvious double meaning.
Of course, what self-respecting hitman would drive around with vanity plates like that, right? "Exactly," Greco said.
Then there is his Web site, casinotriggerman.com, which until a few days ago offered "Godfather Protection Agency" coffee mugs and T-shirts along with autographed copies of Greco's unpublished manuscript.
Greco insists he's just trying to poke fun at the FBI's wise guy image of him.
"I'm not embracing it. I think it's funny. I'm being sarcastic. It's my strong point."
If he manages to sell some books and trinkets in the process, so much the better, he said. Since his 1999 arrest, Greco says he's barely scraping by financially.
He can't afford an attorney to represent him in his fight with the gaming regulators, and he can't find anyone who will take his case for free.
That leaves Greco to prepare his own appeal.
Greco hopes to file something within a week, though there is some question about whether he has already missed the deadline. If he has, it could be another five years before he is allowed to apply again.
In any case, Greco has vowed not to give up.
"I might not even go into the casinos, but I want my gaming card back," he said. "I'm the type of person if you tell me I can't do something I want to do it even more. I'm just thick-headed and stupid like that."
Contact reporter Henry Brean at hbrean @reviewjournal.com or 702-383-0350.