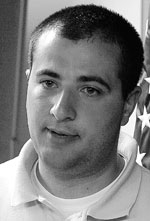 A judge in Pahrump tossed out the criminal complaint against a Nye County sheriff's detective on Monday morning, so embattled District Attorney Bob Beckett filed the charges again through his own office instead of a special prosecutor.
The second batch of charges against Detective David Boruchowitz was filed late Monday afternoon, with a request for a second arrest warrant for the officer.
The move came roughly nine hours after Pahrump Justice of the Peace Tina Brisebill struck down the first criminal complaint against Boruchowitz because she said Beckett lacked the authority to name the special prosecutor who filed it.
C. Conrad Claus filed 25 charges against Boruchowitz on Thursday, the same day the Las Vegas defense attorney said he was appointed by Beckett to serve as a special prosecutor.
Brisebill wrote that she researched Nevada law but could find "no evidence of authority for the district attorney to appoint his own special prosecutor."
Beckett said he respectfully disagrees with Brisebill's interpretation of the law, and he hopes his office will get the chance to argue the issue as the case progresses.
But if Claus is not allowed to prosecute the case, someone from Beckett's office will, the four-term district attorney said. "Either way, the case is going to go forward."
Claus and company accuse Boruchowitz of abusing his authority by smearing and harassing Beckett and two candidates running against incumbent Nye County Sheriff Tony DeMeo.
On May 5, Boruchowitz helped arrest the district attorney on more than 40 counts, including embezzlement in connection with a bank account that Beckett's office managed for more than a decade.
Beckett has yet to be formally charged.
Brisebill's order also voided the arrest warrant she issued for Boruchowitz on Friday.
The detective turned himself in to the Nye County jail in Pahrump on Friday afternoon and was released about 15 minutes later after being booked on 25 different charges, many of them felonies.
Boruchowitz was scheduled for arraignment on Monday. Instead, Brisebill ruled on a motion the detective filed Friday seeking to have the charges thrown out.
The judge wrote that Beckett was free to refile the charges under his own signature or that of a "statutorily authorized deputy district attorney."
That is exactly what Beckett did Monday afternoon.
This time around, the total number of charges has been upped to 27 and divided into two separate criminal complaints.
One of the documents is specific to Beckett's arrest. The other concerns the March 12 arrest of sheriff's candidate Ted Holmes and an April 17 incident in which officers are accused of kicking in the door of a Pahrump apartment and illegally searching a group of partying teenagers, including the daughter of sheriff's candidate Scott Cobel.
Both complaints were signed by Robert Bettinger, a deputy prosecutor in Beckett's office.
Beckett said a certain amount of confusion is understandable in a case as unusual as this one. After all, this appears to be the first time in Nevada history that a district attorney has been arrested while in office, former state archivist Guy Rocha said.
"There are a lot of legal issues of first impression," Beckett said. "There's no case law to rely upon or draw opinions from."
But DeMeo said Beckett's actions are nothing more than retaliation disguised as legal action. He said the district attorney's decision to refile the case against Boruchowitz is merely the latest example of Beckett's "scorched earth philosophy" toward those involved in his arrest.
The sheriff said he stands behind the detective, who worked his regular shift on Monday and remains on unrestricted duty.
"If I believed David Boruchowitz broke the law, totally different story," DeMeo said.
The sheriff and district attorney do agree on one point. Both said the legal fight in Nye County is far from over.
"This case might find itself going all the way to the Supreme Court, I don't know," Beckett said.
DeMeo put it another way: "Get your Dramamine out. I think this thing is going to give people motion sickness."
Contact reporter Henry Brean at hbrean@reviewjournal.com or 702-383-0350.