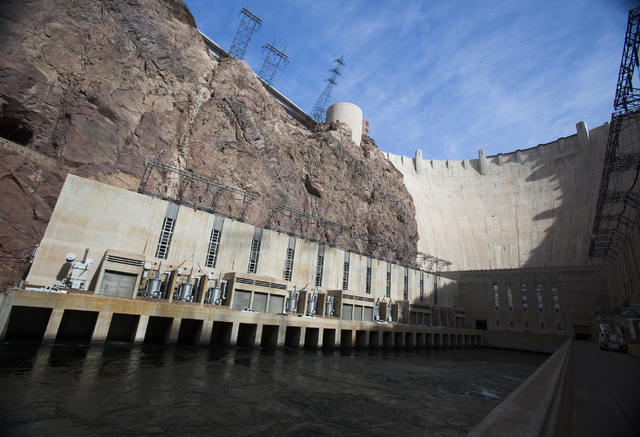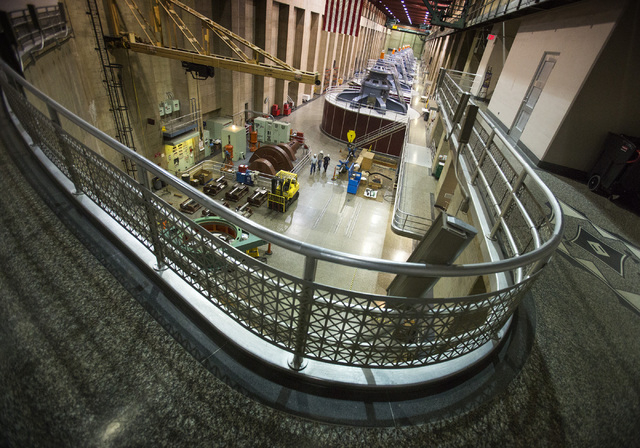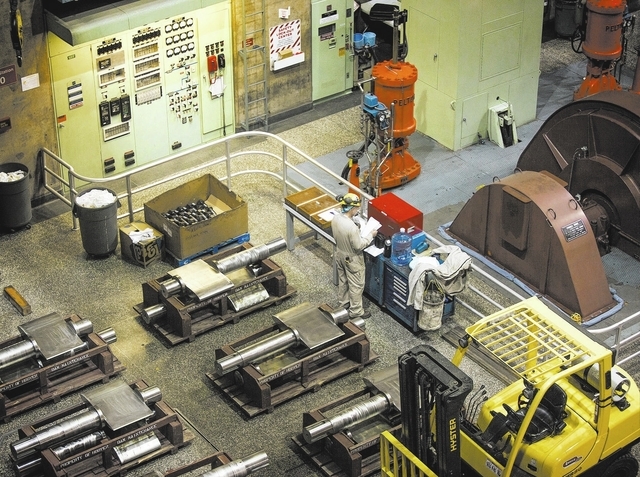 For the first time in decades, Southern Nevada businesses and public agencies are getting a chance to buy cheap hydropower from Hoover Dam.
The rare opportunity could mean tens of thousands of dollars in savings for a handful of lucky, local entities, some of them taxpayer supported.
More than 21,000 kilowatts of electricity is up for grabs in Nevada, enough to supply 4,200 homes, though it won't be used that way.
The Clark County School District, UNLV, the Las Vegas Paiute Tribe and the cities of Las Vegas, Henderson and North Las Vegas are among those that have already won preliminary approval to share in almost 10,000 kilowatts of electricity available under long-term contracts recently offered by the federal Western Area Power Administration.
Another round of power contracts totaling 11,500 kilowatts will open up in 2017, and the Colorado River Commission of Nevada is holding a series of public meetings this week that will help shape how that energy is doled out.
Ronald Reagan was in the White House the last time these contracts were available.
"Needless to say, it has been awhile," said Jayne Harkins, executive director for the state agency responsible for managing Nevada's water and power resources from the Colorado River. "This is not a common occurrence."
Hoover Dam hydropower tends to be cheaper — sometimes substantially so — than electricity bought on the open market. In 2011, Hoover Dam power was roughly three-quarters the cost of market power. In 2008, when prices were fluctuating wildly, power from the dam was only about a third of the market price.
Earlier this year the Western Area Power Administration made almost 70,000 kilowatts of energy available first to American Indian tribes and then to qualifying applicants in Nevada, California and Arizona under 50-year contracts set to start in 2017. Of that, one tribe and nine government entities in Nevada were preliminarily selected last month to share almost 10,000 kilowatts. The big winners were the Clark County School District and the Las Vegas Valley Water District with 3,000 kilowatts each.
The federal power marketing agency is expected to issue its final allocation list after reviewing all of the input it receives during a public comment period that closes Sept. 19.
The city of Henderson is in line to receive 865 kilowatts of dam power through the power administration. That's enough electricity to supply at least half of the city's major facilities, including recreation centers, police and fire stations and City Hall, according to city spokesman Bud Cranor.
He said power from the dam costs about 2 cents per kilowatt/hour versus the roughly 8 cents that NV Energy charges. "Very, very conservative estimates" peg the city's savings at about $130,000 a year, or $6.5 million during the 50-year contract, Cranor said.
Henderson plans to apply for even more hydropower when the Colorado River Commission offers up the 11,500 kilowatts made available to the state starting in 2017. First, though, the commission must establish the criteria it will use to decide how to distribute that power in a way that provides "the greatest possible benefit to the state."
Harkins said the proposed criteria now out for public review favors applicants who would use the energy for education, to support local or state government, or provide economic development in the form of large-scale manufacturing, commercial business or help for depressed areas.
The commission has scheduled three public meetings to gather input on the criteria:
■ 9 to 11 a.m. today at the Bob Ruud Community Center in Pahrump.
■ 2 to 4 p.m. today at the Nevada Department of Transportation's building B training room at 123 E. Washington Ave., Las Vegas.
■ 1 to 3 p.m. Friday at the Moapa Valley Community Center in Overton.
Harkins said the commission's goal is to establish the selection criteria and start taking applications for power over the next year or so. Officials hope to have the new power contracts in place by Oct. 1, 2016, a full year before the agreements are scheduled to take effect.
Of course, all of this assumes Hoover Dam will still be generating electricity in 50 years.
More than a decade of drought on the over-appropriated Colorado River has reduced Lake Mead to its lowest level since 1937 and diminished the generating capacity at the dam.
Improvements are underway that will allow five of the dam's 17 turbines to run more smoothly as the reservoir continues to drop, but power generation will stop altogether should the surface of the lake fall another 130 feet.
Rose Davis, spokeswoman for the U.S. Bureau of Reclamation in Boulder City, said three turbines have been retrofitted so far, and the remaining two are expected to be finished by 2016. Like most things at Hoover Dam, the work is being paid for by power customers who buy electricity from the facility.
Nevada gets a total of 377,000 kilowatts from the Hoover Dam, about 5 percent of the state's peak demand. That power is allocated by the Colorado River Commission to current customers such as NV Energy, the Southern Nevada Water Authority, Boulder City, the industrial plants at the old Basic Magnesium complex on Lake Mead Parkway in Henderson, and small power districts and co-ops in rural Clark, Lincoln and Nye counties.
Harkins said the commission has been pushing hard to get other local entities to join that group of contract customers so Nevada gets as much dam power as possible.
Otherwise, she said, "it would just go to Arizona and California."
Contact Henry Brean at hbrean@reviewjournal.com or 702-383-0350. Find him on Twitter: @RefriedBrean.