Chief of police to quit post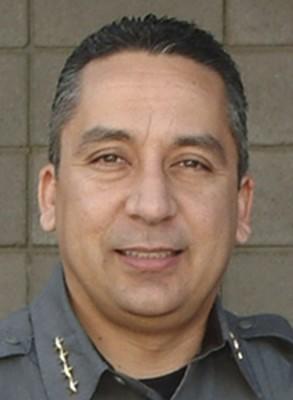 Hector Garcia has resigned as the Clark County School District's police chief so he can finish a doctorate, he said Friday.
Garcia, who has been the police chief since February 2005, said he contemplated taking a leave of absence in order to pursue his studies, but decided that wasn't in the best interest of the school system.
"It wasn't really fair to put the district on hold," he said. "They need a full-time leader."
His last day on the job will be Aug. 10.
Garcia's police command has not been free from controversy.
In late May, a complaint alleged that Garcia simulated a kick to the backside of a federal arbitrator while he was walking behind her from a bargaining session.
The complaint also alleged that Garcia said, "I can't stand that bitch. I'm going to get rid of her. I can't believe we are paying her."
Garcia didn't comment on the allegations in May, saying they were a personnel matter.
Two sources who attended that bargaining meeting told the Review-Journal they witnessed the simulated kick. One of them said he heard the remark Garcia made about the woman.
After the alleged incidents, school district officials banned Garcia from further labor talks between school police and district personnel. Negotiations are still under way. The four-year police contract expired June 30.
Garcia has been criticized by Phil Gervasi, president of the district's Police Officers Association, for his actions at the May bargaining session.
On Friday, Gervasi toned down his criticism but did suggest that Garcia's recent actions led to him being forced out of the district.
"The superintendent took the bull by the horns and made a decision that was good for the district and Hector Garcia," Gervasi said.
Garcia and Rulffes denied the incident in May played any role in Garcia's resignation.
"This was all done on his own volition," Rulffes said. "It's a positive departure. We're appreciative of what he's done."
Gervasi said he harbors no ill will toward Garcia and he wishes him well in his educational endeavors.
He said his criticism of Garcia had nothing to do with the labor talks. He also doesn't want Garcia's job, he said.
The district's police agency has about 165 officers. During the school year, two officers are placed at each high school each school day. Middle school principals with at least 1,565 students on their campus can request that an officer be stationed at their school as well.
Garcia said he will attend Argosy University in Tampa, Fla., to complete a dissertation on succession planning in the subject of organizational leadership.
He said he wants to be a college professor of psychology or organizational leadership.
Garcia has held several administrative positions at school police departments in Florida.