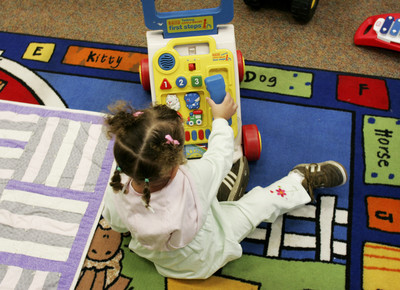 For years Nevada has been among the worst in the nation when it comes to caring for its most vulnerable residents, consistently ranking near the bottom in childhood immunizations, education funding, children with health insurance and other key measures.
"We're the best at being the worst," said Jackie Harris, a counselor who serves on the Clark County Department of Family Services Citizens Advisory Committee.
Now with a state budget crisis threatening to slice into services and a slumping economy promising to create more needy families, child welfare advocates and agencies worry that cuts to child welfare services this legislative session will hurt the state's abused and neglected children for a long time to come.
"People say it can't get much worse, but it can," said Denise Tanata Ashby, executive director of the Nevada Institute for Children's Research and Policy at the University of Nevada, Las Vegas.
She said there is a "huge fear" about taking a step backward from the progress Clark County had made since the 2007 legislative session.
State lawmakers and county officials have pumped substantial resources into the county's child welfare system since then to fix widespread problems that put children at risk, including adding more than 200 positions to reduce caseloads, one of the main problems.
"We've made good strides with the adding of resources. If you start pulling those resources back, you're eroding the safety net for children," said Tom Morton, director of the Department of Family Services.
Under Gov. Jim Gibbons' proposed budget, Morton's agency would have to cut 6 percent from employee salaries and suspend other regular raises, such as cost-of-living adjustments. Union contracts prevent the county from making such cuts, so Morton would have to leave about 30 positions unfilled to make up the shortfall, he said.
The state also plans to hold back $2.25 million in federal welfare funds, which funds about half the salary of 60 employees. The county would have to make up the shortage, Morton said.
Clark County Commission Chairman Rory Reid, who in November defied a state request to submit recommended budget cuts to child welfare, said the state must continue the commitment it started two years ago.
"Removing any resources dedicated to child welfare would erode all of the progress we have made during the past two years," he said. "We are talking about the care and protection of our most vulnerable children here, and doing anything that would endanger the gains we are making is simply unconscionable."
Yet state governments often cut services for the poor when bad economies force them to tighten their belts, said Leroy Pelton, a professor at UNLV's School of Social Work.
"We seem to shred the safety net even more in the worst economically depressed times," he said.
Tanata Ashby said state lawmakers have pledged support for child welfare programs, and Senate Majority Leader Steven Horsford, D-Las Vegas, said such programs remain a "very high priority."
"We will not allow the budget crisis to distract or deter us from the focus of trying to improve that system for all children," he said.
But even if the state maintains or increases funding for Clark County, an ongoing shortage of counseling services would stall getting families reunited and out of the system, said Harris, executive director of Bridge Counseling Associates in Las Vegas.
Local mental health service providers already can't meet the demand for parents and their children, who can wait weeks to schedule an initial visit and longer for treatment for substance abuse, behavior problems and other mental health issues, she said.
Any more cuts to the grants or Medicaid payments the providers depend on would lengthen waiting lists and threaten the process of reuniting children with their parents, she said.
"They can't get things resolved if they're referred to a waiting list," Harris said.
She knows times are tough, but that just means more of Nevada's families will fall on hard times and need the social safety net to catch them, she said.
"The passion is there. The commitment is there. The money isn't," Harris said. "We're just going to keep doing what we can with what we have."
Contact reporter Brian Haynes at bhaynes @reviewjournal.com or 702-383-0281.