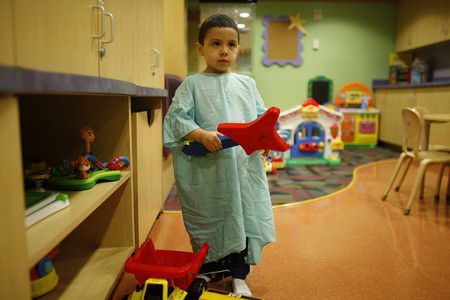 Oct. 16 isn't an easy day for Tim Kenney to remember.
And yet when he thinks about the horrific accident that day — his 8-year-old son Cooper was severely burned over 60 percent of his body — he says he also realizes how lucky he was.
"I can't tell you how thankful I am that the University Medical Center was there," the married father of four said. "You don't know what it means to be a parent to get the best care possible for his child. They acted like Cooper was part of their family. I wish we had a hospital for children like that in St. George (Utah)."
On Friday, when he learned UMC had announced it had gained membership in the prestigious National Association of Children's Hospitals and Related Institutions, which only 218 institutions qualify for nationwide, Kenney couldn't have been happier for the doctors and nurses that work there.
"They deserve it," the construction worker said in a phone call from his home in Southern Utah. "They really care about making your child better."
The UMC pediatric staff swung into action to care for Cooper shortly after he arrived by rescue helicopter from Arizona's Lake Powell.
What was supposed to be a relaxed Kenney family outing turned out to be anything but when a gas leak caused an explosion aboard their houseboat. The elder Kenney remembers his son, who was atop the compartment above the generator, flying through the air. And on fire.
As quickly as he could, Kenney got his son into the water. Soon, he had him aboard another boat. Emergency crews called a helicopter in. UMC was the destination because it has the only nearby pediatric burn care center.
Day after day, Kenney said, he tried to watch as UMC staffers changed his son's bandages. Incisions had to be made in his arms and legs so Cooper's swelling body, a reaction to his second-degree burns, wouldn't cut off circulation to his hands and legs.
"They were so professional, as gentle as they could be," Kenney said.
In a less than a month, Cooper was home. At first he had to make weekly trips back to the hospital to monitor his progress. Now it's every five weeks.
Dr. Meena Vohra, chief of pediatrics and medical director of the pediatric intensive care unit, said Cooper always goes through the hospital to thank the staff for his care.
"To give kids the best care is what motivates our staff," Vohra said in an interview at the pediatric sedation unit.
It is well past time, Vohra said, for people in Las Vegas to realize what UMC offers in pediatric care.
She rattles off some of the services that helped earn the institution its national designation: the only Level II pediatric trauma center in Nevada; the only pediatric emergency room in Las Vegas with board certified, fellowship trained physicians on duty 24 hours a day; the only hospital in the state that offers pediatric burn care and pediatric transplant service; and the only hospital in the state with a dedicated pediatric sedation unit.
All those services, Vohra said, made it possible for what had been the children's part of UMC to be officially rebranded as the Children's Hospital of Nevada.
"What we do on behalf of children should be no secret," she said.
Contact reporter Paul Harasim at pharasim@reviewjournal.com or 702-387-2908.