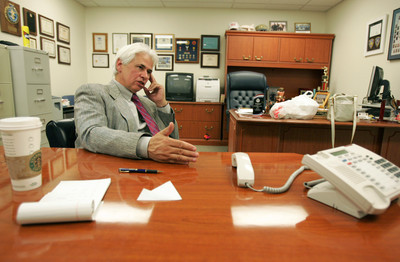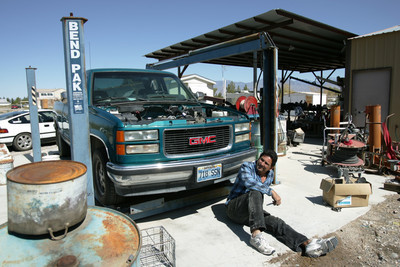 PAHRUMP — Though Nye County Sheriff Tony DeMeo tried to shackle his emotions early Saturday, they escaped.
"You don't know how we agonized over whether to release pictures to the media of that little girl," the weary 56-year-old lawman said, trying unsuccessfully to choke back tears. "People may think cops are callous and cavalier, but we're not. We believed there was a child in need of rescue.
"People may say we gambled, but I'm sure we did the right thing," DeMeo said, sipping on the largest coffee Starbucks has to offer.
Fourteen hours earlier, he had conducted a news conference to announce that a young girl who was seen being sexually assaulted in a homemade video had been found safe Friday afternoon. She was in Las Vegas with her mother.
Authorities first received the tape, described by a detective on the case as "horrifying," three weeks ago.
With food his wife Linda had brought him growing cold on his desk, DeMeo sat at a table in his office and said he is troubled by e-mails and phone calls from people questioning his judgment, people arguing that he probably "revictimized the victim."
"I'll take the heat for it," he said, closing his eyes as he ran his right hand through his thick shock of white hair. "I can sleep at night. We were in uncharted territory. We had no other choice."
There was no other way, DeMeo said, that investigators would have learned of the girl's identity from a tipster Friday if the pictures hadn't been released. He said his investigators were hamstrung by not knowing any of the subjects in the video. They didn't even know what year it had been recorded or where the crime took place.
At first, his deputies only showed photos taken from the video to administrators and teachers at schools and recreation and day care centers in Pahrump, but that effort turned up no leads, DeMeo said.
"We were getting nowhere," he said. "And all we could think about is this girl could still be in terrible trouble. We couldn't find one other police department who has had to deal with a case quite like this."
So, last weekend, Nye County officials provided the media with the photos of the toddler and the man who abused her.
Normally, neither law enforcement officials nor the media show pictures of children who are victims of child abuse.
"I'm just thankful," the sheriff said, "that the media realized there was nothing else we could do if this child was still in danger."
Releasing the photos also paid off with identification of the suspect.
On Friday, authorities named Chester "Chet" Arthur Stiles, 37, as a suspect in the case. Investigators believe Stiles, a former animal trainer for Siegfried & Roy, is the man seen molesting the child on the video. Stiles is also wanted by Las Vegas police and the FBI on an outstanding warrant for lewdness with a child.
As DeMeo discussed the investigation, he called his chief detective on the case, David Boruchowitz, and put him on speakerphone.
It was Boruchowitz, 27, who first received the videotape on Sept. 8 from 26-year-old Darrin Tuck of Pahrump.
"Anything you could imagine an adult male doing to that little girl occurs," Boruchowitz said. "It is horrifying."
It was also Boruchowitz who met with the mother of the child who was assaulted.
"The mother was crying, very distraught over what happened to her child," the detective said. "But she was also very grateful. She realizes that it's always better to find out that something has happened and to cope with that. Otherwise, she knew this could happen again because of the man involved. She did not know this had happened."
Stiles was a friend of the child's family, police said.
Boruchowitz said the 7-year-old girl, who was believed to be about 3 at the time of the attack, seemed to be in good spirits.
"She liked playing with my police stuff and I played with her toys," he said.
DeMeo said after the victim's picture was shown in newspapers and on television news broadcasts, more than 5,000 people called Pahrump, saying that they believed they knew who the little girl was.
"A lot of people now know that it wasn't their child being assaulted," DeMeo said. "Some people don't have to worry."
DeMeo said police also were concerned that by giving the child's photo to the media the child's assailant might kill her to prevent her from ever being able to testify against him.
"We had to weigh so many things," he said. "We finally decided that this kind of person might kill her at any time any way. At least this way we might have a chance of saving her if someone recognized her."
Many residents of Pahrump didn't want to talk on the record Saturday about the case that has put their town in a negative national spotlight.
But as Mike Romero, a 46-year-old salesman, worked on his pickup, he said he would have wanted his daughter's picture and name used on TV.
"I know you have to be sensitive," he said. "But people could walk right by the victim and not help her if they don't know what she looks like."
DeMeo, who retired after 25 years as a sergeant with the Jersey City, N.J., police department, said the toughest case he had ever worked before this sexual assault case involved a 4-year-old boy who was murdered by someone forcing alcohol down his throat.
"What made this sex tape case so terrible was the unknown," he said, barely able to speak. "You didn't know if she was in an emergency situation where more of these attacks were happening. I'm sorry for being emotional. But this case really got to me."