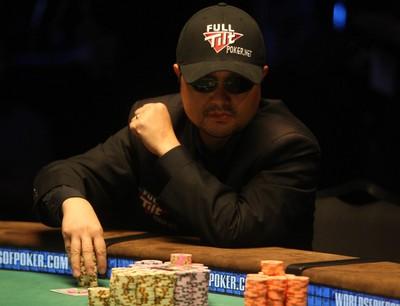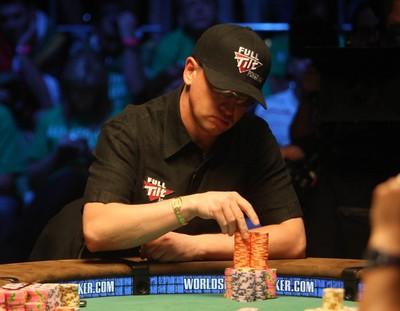 For most of Tuesday, it appeared one player was rushing to collect the world poker championship and the $8.25 million payday before the evening dinner break.
Then tradition took hold.
Shortly after 5 p.m., just four players out of the starting table of nine remained in the 38th World Series of Poker's $10,000 buy-in no-limit Texas Hold'em world championship event at the Rio.
In previous years, it took an average of 10 hours to slice the field to four. After the quick pace that saw five players gone within a 4 1/2-hour time frame, the remaining four slowed the play down, seemingly determined to bring the event to an early morning conclusion today.
Jerry Yang, a 39-year-old Temecula, Calif., psychologist and social worker, who had just two years of poker experience entering Tuesday's play, seemed to think the game was a sprint.
He turned the World Series into the Yang Show.
When the first cards were dealt just before 12:30 p.m., Yang was in seventh place with almost $8.5 million in tournament chips.
By 2:30 p.m., he was the chip leader with almost $62.5 million, more than 49 percent of the total chips in play and almost $42 million more chips than Toronto resident Tuan Lam, who entered the day in second place.
Yang built his stack steadily throughout play, with almost $72 million in chips by the 7 p.m. dinner break.
Following the 90-minute rest, however, Yang proceeded to give back about $30 million of his stack. On the second hand after the break, he lost a $20 million pot to Lam that would have eliminated his rival.
Later, Yang lost a $27.5 million pot to Alex Kravchenko of Moscow, Russia. But, he recovered somewhat to lengthen his lead.
South African Raymond Rahme was hanging on to second with about $32 million in chips.
Yang, who is married with six children, has pledged 10 percent of his winnings to three different charities – the Make-A-Wish Foundation, Feed the Children, and the Ronald McDonald House.
Yang holds a masters degree in health psychology and has been playing poker for only two years. He won a seat in the main event through a $225 buy-in satellite tournament held at the Pechanga Casino in Temecula.
Yang busted out three players in succession before 4 p.m., initial chip leader Philip Hilm, Lee Watkinson and Lee Childs. He took out a fourth, Hevad Kahn, about an hour later.
Yang, who was born in Laos, played most of the early hands, moving all in on the ninth hand of the game. He won a nearly $12 million pot to raise his stack to more than $20 million.
At one point, Yang had won three consecutive pots and 15 of the first 40 hands.
Yang knocked out Watkinson, the most experienced player at the table, with an ace-nine versus an ace-seven a few hands after eliminating Hilm. A few hands later, Yang dispatched Childs, picking up a pair of eights on the turn card.
The ousted players all seemed somewhat shell-shocked by Yang's run of good fortune.
"I had to call him because at some point, I thought he had to be bluffing," said Hilm of Cambridge, England. "He was getting great hands; kings, aces."
Watkinson, from Cheney, Wash., entered the day in sixth place. He said he was playing an aggressive game similar to Yang's and that the aggressive style was a way of getting back into the game.
"I was short-stacked going in, and I was playing to win," Watkinson said. "I can't be upset with how I played or how it ended up."
Childs had a similar reaction. He went all in with a king-jack to Yang's jack-eight.
"I made the right call. He's having a pretty good run at this moment," said Childs, who is from Reston, Va.
Within an hour, Yang, holding a pair of jacks, busted out Kahn of Poughkeepise, N.Y.
About five hours into play, Jon Kalmar of Chorley, England, became the first player eliminated not at the hand of Yang.
Kalmar lost a more than $20 million pot to Rahme of Johannesburg when he went all in with ace-king.
Rahme had pocket jacks and moved into second place at the time with more than $30 million in chips.
Kalmer won $1.25 million for fifth place. Kahn took home $956,243 for sixth. Childs won $705,229 for seventh. Watkinson earned $585,699 for eighth. And Hilm collected $525,934 for ninth.
The finalists ranged in age from 22 to 62, and hailed from five nations: the United States, Canada, Russia, England and South Africa.
THE FINAL TABLE
This is how the final nine players in the World Series of Poker main event stood as of 11:15 p.m. Tuesday:
1. Jerry Yang
Chip count: 52,100,000
2. Alex Kravchenko
Chip count: 32,250,000
3. Tuan Lam
Chip count: 26,000,000
4. Raymond Rahme
Chip count: 17,100,000
5. Jon Kalmar (out)
Winnings:$1,255,069
6. Hevad Khan (out)
Winnings:$956,243
7. Lee Childs (out)
Winnings:$705,229
8. Lee Watkinson (out)
Winnings:$585,699
9. Philip Hilm (out)
Winnings:$525,934
Winnings:$8,250,000
Winnings:$4,840,981
Winnings:$3,048,025
Winnings:$1,852,721
Jerry Yang 56,625,000
Raymond Rahme 32,050,000
Alex Kravchenko 24,350,000
Tuan Lam 14,450,000
2007 World Series of PokerNews, information
THE FINAL TABLE This is how the final nine players in the World Series of Poker main event stood as of 11:15 p.m. Tuesday: 1. Jerry Yang Chip count: 52,100,000 2. Alex Kravchenko Chip count: 32,250,000 3. Tuan Lam Chip count: 26,000,000 4. Raymond Rahme Chip count: 17,100,000 5. Jon Kalmar (out) Winnings:$1,255,069 6. Hevad Khan (out) Winnings:$956,243 7. Lee Childs (out) Winnings:$705,229 8. Lee Watkinson (out) Winnings:$585,699 9. Philip Hilm (out) Winnings:$525,934