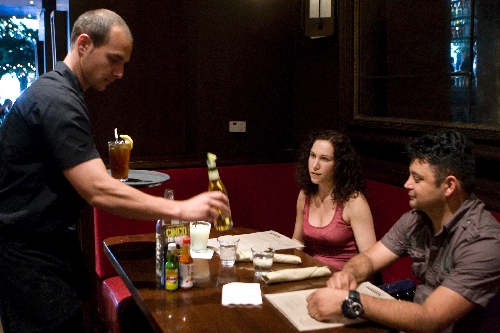 Can you say "cruda?" That's Spanish for "hangover."
You feel it from too many shots of tequila on Cinco de Mayo.
Or any other day.
Cinco de Mayo marks the Mexican army's unlikely victory over the French at the Battle of Puebla in 1862 — not Mexican Independence Day — and is by far a more popular celebration on this side of the border.
It's on a level with St. Patrick's Day and Chinese New Year, especially in Las Vegas, where the party starts at the drop of a sombrero.
"It's really an American holiday, but we use the Mexican theme and flair to spice it up," said Chris Meisner, manager of Agave, a Mexican restaurant on West Charleston Boulevard. "Americans love to drink for any reason. This gives people a reason not to feel like alcoholics."
Meisner was busy Tuesday setting up an outside party tent for the overflow Cinco de Mayo crowd expected at Agave. The restaurant is advertising $3 tacos, $3 Modelo beer and $5 Blue Agave margaritas, with live music by Acoustic Soul and Kush.
"It's going to be literally insane," Meisner said. "We're planning for three times the normal weekend business. I'd say at least 1,000 or 1,500 people."
From tequila and taco specials to "Sexy Señorita" contests and guest appearances, local restaurants are promoting events to draw business on a day that's sure to keep bartenders hopping.
"It's always been our thought process to make Cinco de Mayo our day," said Michael Heid, assistant general manager of El Segundo Sol Taqueria and Margarita Bar, a restaurant that opened in March at Fashion Show mall. "This will be the place where people will want to come. Especially at night, you're Strip-side, sitting under the trees and lights. It really makes it a special place to eat."
El Segundo Sol is serving $5 shots of Casa Noble and Corralejo tequila all day, a break from the normal price of $11 and $12, respectively, for the premium liquors. Mar y Mar plays early this evening, followed by a traditional mariachi band at 9 p.m.
At Macayo's restaurants, with three locations in Las Vegas, specials include a $5.55 dinner and $5 margaritas. The first 40 people to order a "Waborita" get a free T-shirt, manager Tonna Cantu said.
"It's going to be busier than other days," she said. "Because we're a family restaurant, it's a different atmosphere than the casinos."
That would be Bare pool at The Mirage, where the Cabana Candy Girl search was held Monday. Or LAX nightclub at Luxor, where Mexican singer, model and actress Tila Tequila will greet guests at 10 tonight.
The Patron tequila fiesta is going on at Eve nightclub at CityCenter with $10 margaritas and a "Sexy Senorita" contest to win a vacation to Cabo San Lucas. McFadden's at Rio is holding a "Sexy Senorita" contest with $500 cash prize for the winner.
The Hornitos girls will be pouring $3 shots at Stratosphere hotel pool; Efren Ramirez of "Napoleon Dynamite" hosts a party at Dos Caminos at Palazzo; and Hard Rock's Pink Taco has $2 chicken or steak tacos, $20 buckets of beer and a 12-piece mariachi band.
Heid of El Segundo Sol said everyone is looking for a deal in Las Vegas.
"This company was founded on the principle of giving people value," he said of Chicago-based Lettuce Entertain You, owner of about 80 restaurants nationwide, including five in Las Vegas. "You don't go 40 years without giving people value."
Manager Gerardo Lopez said a lot of Hispanic people will come to Lindo Michoacan restaurant in Henderson, not so much because it's Cinco de Mayo, but because of menu specialties and half-off shots of El Monte and Cadillac tequilas.
All four Lindo Michoacan restaurants will feature live music and food and drink specials, with the Centennial Center location in northwest Las Vegas bringing in the Karma tequila girls.
"It's not like that in Mexico. For some reason, it's more important for America," Lopez said of the holiday. "It's the season … Mother's Day, the weather. More people are happy for celebrations."
Cinco de Mayo is celebrated in other countries as well, including a sky-diving event in Vancouver, British Columbia; a beer festival in Malta; and guitar competition in the Cayman Islands.
Contact reporter Hubble Smith at hsmith@reviewjournal.com or 702-383-0491.