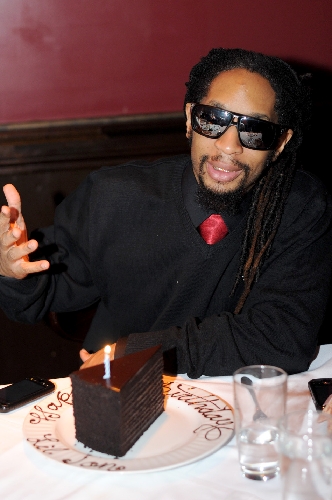 Check your pockets and couch cushions. If you can shake out a spare $1,899,999, you can buy the five-bedroom, 5½-bath mansion of Cirque du Soleil owner Guy Laliberte.
It was bought in 1994 for
$1.4 million, a "two-story mock-Mediterranean mansion" on a .57-acre lot, according to RealEstalker.blogspot.com.
If you're worried the sale may mean Laliberte doesn't want anything to do with Vegas anymore, worry not. For one thing, Vegas is a nice and uninhibited place for such brilliant libertines and brie libertines alike. For another, seven of 21 Cirque shows are here.
Laliberte tells me through publicists:
"When the home in Las Vegas was purchased, it was for corporate use only."
Traveling Cirque workers such as himself stayed in the 7,906-square-foot palace, but now they stay in hotels.
"Therefore, the house is not used for its initial purpose anymore," he says. "Cirque doesn't have a need for corporate lodging at this time, so the home has been put up for sale."
Hmmm.
News of the sale came from CelebrityAddressAerial.com, the site burglars read to scope homes of Lindsay Lohan, Paris Hilton and Orlando Bloom last year.
You can see the mansion in photos (RealEstalker.blogspot.com/2011/01/cirque-du-soleil-ringleader-guy.html), with its "eye-popping hot pink paint slathered on the floating curved staircase that dramatically ascends to a bridge that spans the great room and connects the second floor bedroom wings," as that site describes it.
Laliberte and Cirque people party hearty, and I've been around some of that, but I wish I knew the fun stories revolving around that mansion, hint hint. Tell me at Twitter.com/VegasAnonymous.
CHEESE, PLEASE
One of the great groups ever to grace a Vegas showroom — Richard Cheese and Lounge Against the Machine — used to come here all the time to perform lounge versions of "Baby Got Back" and other pop and rap songs. But the recession hit, and they played here just once last year.
So, Cheeseniks, get tickets before they sell out for Jan. 29 at Green Valley Ranch (Tickets.richardcheese.com).
Cheese told me over the weekend he's finally ready to move from L.A. to Vegas if a hotel hires the Cheese to play a showroom nightly or weekly.
SIGHTINGS
Lil Jon (who at this point is new on "Celebrity Apprentice," is one of America's top hit-makers, and is club Surrender's monthly star DJ) drank Don Julio tequila from a bejeweled glass on Sunday at Lavo, pumping up the crowd. … Ray J did up his birthday at club Vanity till 4 a.m., closing the place down. His birthday was Monday. … By the way, I love how clubs and eateries say celebs are always celebrating birthdays there. This weekend, Lil Jon had birthday cake at Strip House, though his birthday isn't until Jan. 27. "The Hills' " Kristin Cavallari was said to have done her birthday at club Bank on Saturday night. Her birthday was two weeks ago on Jan. 5. And John Legend celebrated his birthday at club Haze on Saturday. His birthday was three weeks ago on Dec. 28 . Hilarious. But stars do enjoy getting their cake and blowing it out, too.
SAY WHAT?
"I've never seen 'American Idol,' although I understand Steven Tyler, from the group Jurassic Park, is going to judge it this year." — Comedian Greg Proops in his podcast, "The Smartest Man in the World." He co-stars at MGM this week in "Drew Carey's Improv-a-ganza," which is one of the funniest showroom acts I've ever seen. I wish it was recurring all year.
Doug Elfman's column appears on Sundays, Mondays, Tuesdays and Fridays. E-mail delfman@ reviewjournal.com. He also blogs at reviewjournal.com/elfman.