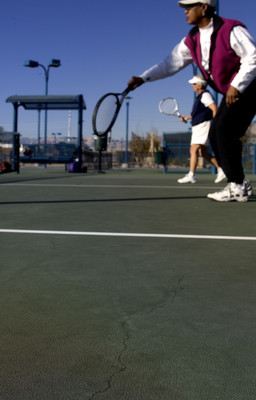 When construction delays and cost overruns beset the Regional Justice Center in downtown Las Vegas, Clark County and the general contractor went to arbitration, an alternative to suing in court that's mandated by a state statute dating back more than three decades.
Five years have passed and the case involving the justice center still isn't resolved. Final arguments are scheduled next month, with a decision expected before the end of the year.
Meanwhile, the county has spent close to $20 million on lawyers and arbitrators. It could be on the hook for substantially more if the case doesn't go the county's way — the contractor and the insurance company are seeking $93 million in damages.
The city of Las Vegas is in a comparable but less dramatic situation.
Since 2005, the city and Asphalt Products Corp. have been in arbitration over the construction of tennis courts at the Stacy and Amanda Darling Tennis Center. The city has budgeted $2.3 million for legal costs, more than twice what was originally expected, in a dispute that focuses on cracks in tennis courts.
Arbitration is not new, and it's widely touted as cheaper, faster and more final than a civil lawsuit.
But even its backers say arbitration doesn't always work the way it should in Nevada, and the city of Las Vegas wants to change the law that mandates arbitration when disputes arise in public works contracts.
"We should have the flexibility," said Ted Olivas, the city's director of government relations. Any entity that does public works — local governments, school districts, and the state — should have options, including lawsuits, to resolve disputes, he said.
"It's no different from private industry," Olivas said. "Why would local government be required to do something that private industry is not?"
Associated General Contractors was one group lobbying for the arbitration requirement in 1971. It hasn't taken a position on Las Vegas' proposal, said Steve Holloway, executive vice president of government relations with the AGC's Las Vegas chapter. But the group will probably bring something else to the table.
Now, three arbitrators — often former judges or people with industry-specific expertise — hear public works cases, each charging hundreds of dollars an hour. If only one was required, it would reduce the cost of the proceedings, he said.
"That's what we may counter with," Holloway said.
Contractors historically have preferred arbitration to lawsuits.
"It was less expensive," Holloway said. "It didn't require as much time. The discovery process wasn't as great."
He complained, though, that administrative rules complicate the process unnecessarily.
"It's become a much more involved and costly process," he said.
Jean Sternlight, director of the Saltman Center for Conflict Resolution at the University of Nevada, Las Vegas, agreed that three arbitrators makes it "three times as expensive, and also slower, because you have to work with three different people."
"For all the bad things one can say about litigation … at least the judge is free."
It's also not very common to have an arbitration requirement written into state law, she said .
"Arbitration is sometimes desirable and sometimes not desirable," she said.
It also tends to be more private, since there aren't many filings in public courts.
The reduced public access makes it controversial for governments to use arbitration, since public money is at stake. An arbitrator's decision is often also final, and appeals are tough even when they're available.
"Arbitration decisions have much more finality and are harder to reverse," Sternlight said. "It's hard to get arbitration decisions vacated.
"Sometimes parties want that."
And sometimes they don't.
"There's a lot of factors that work into whether you use arbitration or not," said Las Vegas city attorney Brad Jerbic. "We're not saying, 'Let's go to court every time.' We're saying, 'Let's have a choice.' "
The APCO case is unusual, Jerbic said. Though disputes over public works projects are common, they usually don't make it to arbitration.
Clark County would also welcome a change, said Welling.
"We would prefer the legal right to take another approach, including going to court," she said. "That's pretty much all I can say given that this process has been going on."
Holloway, though, wondered whether a handful of extreme examples were being used to justify a change in the law.
"That's very often the case in the legislative process," he said. "It's kind of like the judicial system — bad cases make bad law."
Contact reporter Alan Choate at achoate@reviewjournal.com or 702-229-6435.
REGIONAL JUSTICE CENTER
Clark County is in arbitration with AF Construction and Fireman's Fund Insurance over the Regional Justice Center, which was plagued with construction problems and delays. The contractor and the insurance company are seeking $93 million in damages. The county's counterclaim is for $41 million in damages.
STATUS: Final arguments are scheduled in September, with a decision coming within 60 days after that.
COST TO DATE: The county's spent $19.8 million on attorneys and arbitrators.
STACY AND AMANDA DARLING TENNIS CENTER
The city of Las Vegas and Asphalt Paving Co. are in a dispute over the tennis courts. The city says the courts weren't built properly; APCO says their warnings about design flaws were ignored. APCO is seeking $7 million in damages and possibly another $2 million in legal fees. The city says repairs to the cracked courts will cost about $7 million.
STATUS: The next – and possibly the last — arbitration session is scheduled in September, after which the arbitrators will render a decision. The contract contains no deadline by which they must do so.
COST TO DATE: The city has budgeted $2.3 million, up from an original $1 million estimate.
REVIEW-JOURNAL