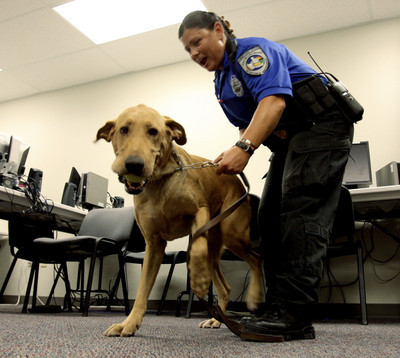 Las Vegas city marshals soon will say goodbye to some of their best friends: the city's highly trained police dogs.
The city's K-9 program, which started with one dog in 1998, is being eliminated to save money and was being scrutinized even before the city started looking for ways to trim expenses last year.
"We realized that canines are a tool, and it was a nice thing to have. But not an absolute," said Karen Coyne, director of the city's Detention and Enforcement Department.
"It's not a popular decision, but it's the best end. These animals are going to be transferred to other law enforcement agencies and continue to work as police animals."
Las Vegas had four dogs that worked with officers in the field and four that searched for contraband in the city's detention center.
The field dogs were adopted by their handlers, but the detention dogs, which are kept in kennels and aren't socialized to home life, didn't have that option.
The Metropolitan Police Department is taking one, 4-year-old Bosco. Two others, Bronco and Evita, are going to the Nevada Department of Public Safety, and the fourth, Oscar, is being evaluated for transfer.
Bronco, 8, and Evita, 9, are "on the upper end of their working life cycle," Coyne said, because most dogs are not used in the field after their eighth birthday. They still can be used for training, she said.
The program cost about $448,500 a year, including allocated overtime pay for deputy city marshals to care for the dogs outside of work. Removing the dogs and the associated duties is expected to save $190,000 in training, equipment and overtime.
The deputy city marshals will stay on the force, and Las Vegas police will provide a dog to them if one is needed.
Deploying a canine team costs about four times as much as an officer, Coyne said.
A study from July 2006 to September of 2007 found that the marshals' patrol dogs were deployed 87 times over that time period and had "positive results" on eight of those calls, Coyne said.
The Metropolitan Police Department's canine unit, which has 42 dogs, had more than 3,800 calls across the valley from July 2007 through June of this year, said department spokesman Jay Rivera.
North Las Vegas and Henderson also have canine units.
Las Vegas has taken several steps to curtail expenditures because of the faltering economy and a dip in the consolidated sales tax, which provides the majority of the city's operating revenue.
Other measures include eliminating raises and bonuses for senior staff, deferring capital projects, reducing hours at recreation centers, holding positions vacant and delaying the replacement of vehicles and equipment.
The City Council also ordered an overall review of city operations to see whether other programs can be reduced or cut. That report is due Oct. 6.
Contact reporter Alan Choate at achoate@reviewjournal.com or 702-229-6435.