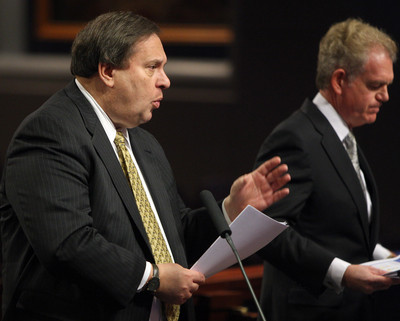 Las Vegas set the wheels in motion Wednesday to revoke the business license of a medical clinic at the center of a health alert involving tainted syringes and vials of medicine.
The City Council issued a complaint alleging that the Endoscopy Center of Southern Nevada at 700 Shadow Lane is a "public nuisance" that conducted business in "an unlawful, illegal and impermissible manner."
Mayor Oscar Goodman made it clear he wanted the matter dealt with quickly.
Jay Brown, one of the lawyers representing the center, asked for at least 30 days to prepare a defense for his clients.
"I don't want to give you 30," Goodman said. "Will 14 days be sufficient?"
"Whatever you say, your honor," Brown responded.
The lawyers got 18 days. The hearing is scheduled for 1 p.m. April 7 in council chambers.
The center's business license has already been suspended.
On Feb. 27, health officials announced that the clinic had reused syringes when administering anesthesia to patients.
That raised the possibility of contaminating vials of medicine, which were then used on other patients.
Six cases of hepatitis C have been linked to the clinic.
On Wednesday, council members Lois Tarkanian and Steve Ross and city attorney Brad Jerbic all disclosed that they had relatives who were patients at the clinic during the period investigated by health officials.
Ross and Tarkanian were still allowed to vote on issuing the complaint.