City may extend waiver for downtown liquor licenses
February 1, 2011 - 6:11 pm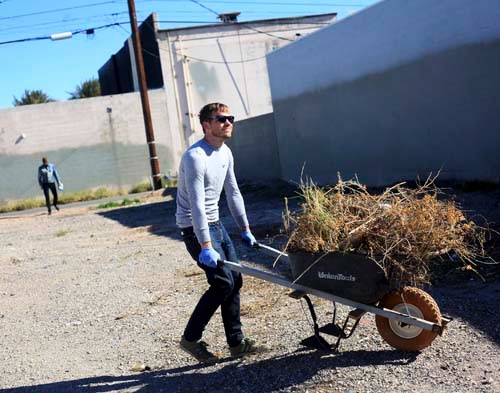 A year ago, as an experiment, Las Vegas officials waived a hefty fee for certain liquor licenses in order to encourage new nightspots in two downtown neighborhoods.
It worked well enough that city officials want to keep the fee waiver in place.
"The waiver is encouraging businesses to develop in these areas," said Mark Vincent, the city's chief financial officer, on Tuesday. "We'd like to continue it for another year."
A City Council subcommittee approved the extension Tuesday. The full council could enact it as soon as Feb. 16.
The waiver would be available for two types of liquor licenses: the "tavern limited" license, which is available only in the Fremont East Entertainment District, and the urban lounge license, available in the Arts District.
The licenses were crafted especially for those districts and are meant to encourage unique bars and clubs. There is limited gaming, or none at all, and bars can be clustered together instead of having to be a certain distance from similar establishments.
For another year, the origination fee of $20,000 for a tavern limited license and $50,000 for an urban lounge would be waived, provided the establishment opens within a year if it's in an existing building or two years if a location is built.
The license also could not be transferred or sold to a third party, the proposed ordinance states.
Jennifer Wheatley, co-owner of the Vanguard Lounge on Fremont Street, said the waiver "was key to our even coming down here as a business."
It also helped because their location, like most in these districts, is in an older building that needed upgrading.
"The spot we chose — we actually had to run plumbing to our location, so it absolutely made a difference to us to not have to pay that," Wheatley said.
Vanguard Lounge was one of eight businesses that took advantage of the waiver in the first year, Vincent said.
City records show that one urban lounge license has been issued and two more are pending.
Three tavern limited licenses have been issued and two are pending.
Those represent $2.5 million in building improvements downtown, as well as 88 construction jobs, 33 full-time jobs and 31 part-time jobs, Vincent said. That, along with the fact that once-vacant storefronts are now occupied, makes up for the lost city revenue, he said.
The waiver is "a huge tool" for enticing clubs, said Marcus Krewson, a member of the 18b Revitalization Group, which is working on improving the Arts District. The 18b designation refers to the district's original 18 blocks.
"There's a lot of stuff in the works," he said. "There are 15 or 16 applicants that we're aware of.
"A lot is going on on that side of the district that you will see start to bear fruit soon."
Mayor Oscar Goodman is sponsoring the ordinance.
"I've gotten nice letters from folks who said they wouldn't have come down there but for the waiver," Goodman said. "Success does breed success. The first one is the toughest one to get. But after you get the first person to go there, then everybody wants to join in."
Contact reporter Alan Choate at achoate@reviewjournal.com or 702-229-6435.