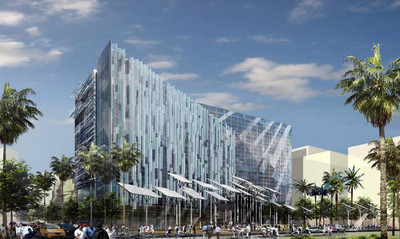 Las Vegas officials plan today to sign off on a final version of the municipal ballot that does not include two measures that were the subject of a rancorous fight between the city and the Culinary union.
But union attorney Andrew Kahn said he still plans to continue legal challenges to last week's District Court ruling that the City Council acted properly in keeping the measures off the ballot.
The union has filed notice that it intends to appeal, and that filing will be forthcoming, Kahn said Wednesday afternoon.
Kahn did not indicate when the appeal might be filed.
City Clerk Beverly Bridges set Wednesday as the deadline for finalizing the ballots, noting that some absentee voters will be disenfranchised if ballot printing is delayed.
As for the ballots that are being printed, Kahn said "the court could still intervene in time to have the ballot corrected."
The earliest ballots are for out-of-country voters, and there probably won't be very many of those, he said.
He predicted that even if those voters do not get the two questions on their ballots, their votes would not make a difference in the outcome.
Bridges said she expects to approve the ballot today and send it to a print shop.
Ballots for absentee voters should be available by the first week in May, she said.
The only race on the ballot is the Ward 4 contest between Stavros Anthony and Glenn Trowbridge. Other offices up this year were decided in the primary or were uncontested.
Culinary Local 226 organized a petition drive to put two measures before voters on June 2.
One sought to give voters control over a type of financing proposed to fund a planned city hall.
The other asked voters to repeal the existing redevelopment plan, which provides a framework for Las Vegas to encourage development in and around downtown.
The City Council decided that the measures were legally unsound and voted not to put them on the ballot.
The union went to court to fight that decision: first in the Nevada Supreme Court, which referred the case to District Court. There, a judge sided with the city, saying the measures failed to meet several requirements in state law.
The union filed a notice of appeal on Monday in District Court but not with the Supreme Court.
Mayor Oscar Goodman said Wednesday that if the union were serious about an appeal, it would have asked the judge's decision to be halted temporarily or requested a fast-track hearing with the Supreme Court.
"They're dumb," Goodman said. "They went to the wrong court. They got kicked out. Then they went to the right court and got kicked out.
"You don't file something and then blame it on the Supreme Court for not acting. They're trying to wiggle out of it."
Kahn said that a request for a stay "isn't applicable" and that it has not been decided yet whether an expedited hearing will be requested.
"They have a lot of important matters already clogging their docket," he said of the Supreme Court.
Goodman, who made his remarks at a Las Vegas Chamber of Commerce luncheon, called Culinary's leadership "sociopathic" for trying to dismantle a redevelopment plan he says is responsible for reinvigorating a downtown that was decaying.
"That's what we would have if we didn't do the redevelopment that we're doing," Goodman said. "For reasons which are beyond me, the leadership has gone out of its way to scuttle redevelopment and send us back, not just 10 years, but to oblivion."
Contact reporter Alan Choate at achoate@reviewjournal.com or 702-229-6435.