December 2, 2009 - 10:00 pm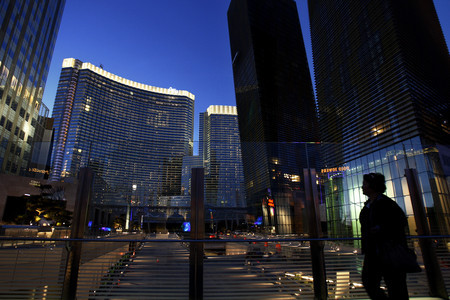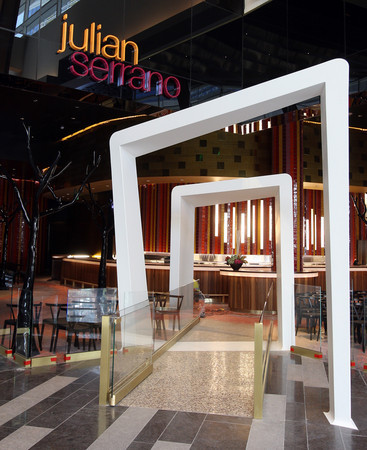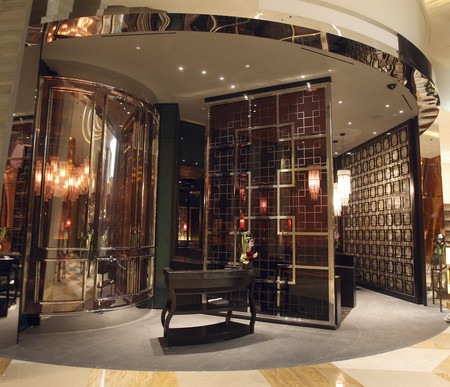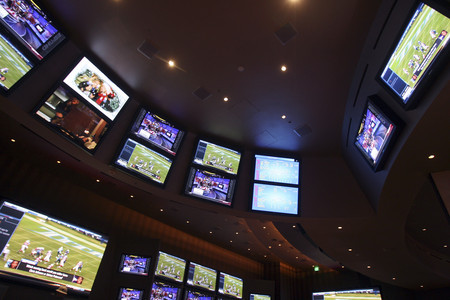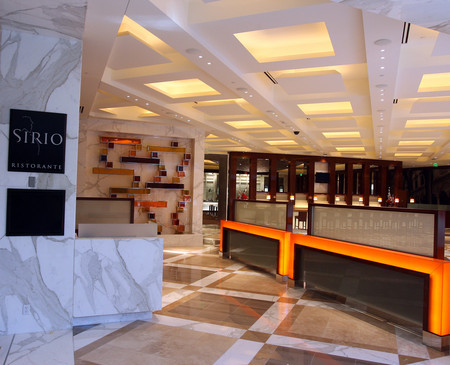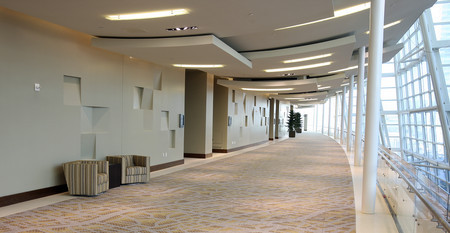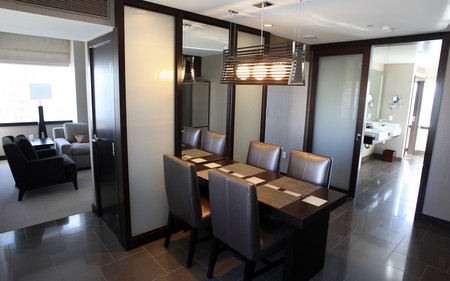 Wow.
C'mon. Practice saying it with us.
Wow.
It's the syllable that crossed our lips most often as we toured MGM Mirage's CityCenter just before Thanksgiving. And we bet you'll drop more than a few "wows" on your way through as well once the resort is mostly open, after Dec. 16. From a contemporary design that gives it a distinct big-city skyline look to an endless roster of interior finishes ranging from walnut and cherry woods to marble and gold, CityCenter makes even some of the Strip's newest luxury resorts look dated, timeworn and passé.
It wasn't easy making CityCenter happen. Finishing it took five years, 9,000 construction workers, $8.5 billion, a partnership with a Middle Eastern oil sheikdom and — according to a campaign ad — some help from our senior U.S. senator to avert bankruptcy for MGM Mirage. As most of CityCenter opens in phases over the next two weeks, we wanted to give you a first look inside at what you'll see now that it has arrived.
First, we should note that if you're one of those people who laments the fading of Old Vegas, with its $3 steak-and-egg breakfasts and its $6 buffets, well, CityCenter probably won't satisfy you. Sure, there's the casual Café Vettro, a delicatessen and $40 million in free public art for you to scope out. But CityCenter is decidedly upscale, with high-end retail ($15,000 men's suits!) and at least a couple of restaurants where a single dinner might consume your car payment.
Still, CityCenter's emphasis isn't on luxury so much as walkability. MGM Mirage officials say their primary purpose with the 67-acre resort was to create a pedestrian-friendly, self-contained urban core complete with residential condominiums, hotels, restaurants, shops, entertainment, art-anchored gathering spots and space for business meetings both big and small.
So we decided to test CityCenter's pedestrian orientation for ourselves, and profile the highlights along the way.
Our biggest surprise: Despite CityCenter's intimidating mass, it really is easy to get around once you're inside. Most restaurants and attractions are within a couple of minutes of each other. A comprehensive, four-hour tour with lots of stopping, discussing and photographing took less than an hour of actual walking time.
And it's great exercise: A small-framed, 5-foot-1-inch woman will burn about 250 calories walking through the whole project, though huskier people will expend more. That's good enough for an extra pastry at the buffet for us, or an order of fried mozzarella sticks at the Skybox Sports Bar and Grill if you're one of the burly construction workers who built the place. Or you could eat about 100 carrot sticks. But where's the fun in that?
So, do a few hamstring stretches, slip on your virtual walking shoes and come with us as we step inside CityCenter, beginning our tour from the driveway entrance at the Strip.
Crystals
Mileage from the driveway entrance: 0.14
Minutes: 2:22
Steps: 308
Calories burned: 8.6
First impression: Sunny, airy, contemporary
1. When you look to the heavens inside this shopping center, you'll see real sky, genuine clouds and actual sunlight, not the painted-on, theme-mall skies that grace other Strip malls. Massive curved and angled banks of windows on the second and third floors flood the entire 500,000-square-foot Crystals with loads of natural light, giving us our first major experience with the resort's let-the-sun-shine-in design credo.
Stepping inside the west entrance next to Aria, with Todd English's T.E. Pub on the left and Eva Longoria Parker's Beso Vegas on the right, our eyes don't know where to land first: to the soaring glass above or to the giant rattan shells popping up from below, where Wolfgang Puck's American-Mediterranean eatery The Pods sits. Above The Pods, on the third floor, we spot one of three stops on the CityCenter tram (find the others near the self-parking garage behind Mandarin Oriental and behind Vdara, next to Bellagio).
Looking back from midway through the center, close to Crystals' east entrance on the Strip, The Pods dominates the view, with its position above a long staircase and on top of a tiered wood platform. On the first floor, we spy a seasonal blanket of blooms, an homage to the Flower Carpet outside the Grand Place in Brussels, Belgium. A slanted, three-story "treehouse" towers from the first to the third floor, and will provide "outdoor" dining for steak and seafood restaurant Mastro's Ocean Club.
Once Crystals opens Thursday, it also will feature tree leaves projected on the ceiling. If there's a theme at Crystals, with its natural light, treehouse, flower beds and tree canopy, then it's "contemporary park."
Crystals is 70 percent leased but will open with just 40 percent of its tenants; so don't expect maximum synergy and energy yet. Tenants who do open at Crystals will launch one-of-a-kind or first-of-their-kind stores. Jewelers H. Stern and Roberto Coin are new to Las Vegas. Fashion designer Tom Ford will unveil his second store outside New York. Men's clothier Kiton, which sells suits for as much as $15,000, and Miu Miu, which has sold limited-edition purses and handbags for as much as $15,000, will make their Las Vegas debuts inside Crystals. Kiton and other luxury heavyweights, including Louis Vuitton, Tiffany, Gucci, Prada, Tom Ford and Carolina Herrera, will line the center's Strip frontage.
We'll definitely return to Crystals to indulge in the moderately priced restaurants and enjoy the vivid, vibrant nature-indoors setting. But we won't be shopping there unless we ditch this writing thing, go back to law school and start chasing ambulances for a living.
Pocket park
Mileage from inside Crystals: 0.01
Minutes: about 20 seconds
Steps: 40
Calories burned: 1.2
First impression: Urban and intimate
2. This cozy outdoor space isn't sizable, and it doesn't even have an official title ("pocket park" is the working name MGM Mirage has conferred on it). But the courtyard, which harbors a reflecting pool, outdoor seating for Beso Vegas, mature trees and a big Henry Moore sculpture titled "Reclining Connected Forms," showcases MGM Mirage's mission to pepper CityCenter with unexpected spaces of more intimate, human scale, much like the random little parks you'll stumble upon in any big city. As we stand in the pocket park outside Beso, we enjoy sweeping views of Crystals' entrance, the traffic and valet roundabout and the Aria lobby.
Oh, and it's our second stop at this casino-resort, and we haven't seen or heard a single slot machine. It's refreshing if you're not a big gambler, and it's a pointed reminder that CityCenter is the latest, and by far the biggest, iteration of a modern-day Las Vegas in which entertainment, shopping and dining beat gaming hands-down in importance and even in revenue generation.
Aria lobby
Mileage from pocket park: 0.06
Minutes: 1
Steps: 132
Calories burned: 3.7
First impression: Important public gallery
3. Walking into Aria's hotel lobby is like stepping into a major contemporary art museum or other significant cultural building. As in Crystals, natural light abounds, with skylights and floor-to-ceiling windows welcoming in the sun. The ceiling arches up over the check-in desks and gently falls into a wave that impels our eyes to look west, toward a series of colorful restaurants (more on those in a minute).
The lobby's most striking element is a topographical sculpture of the Colorado River. The 84-foot sculpture, which Vietnam Memorial creator Maya Lin made and installed, runs behind the check-in desk. Made of silver reclaimed mostly from medical procedures and photographic uses, the artwork gives a nod to the importance of the Colorado River in the development of Las Vegas. Could those laborers who built Hoover Dam during the Great Depression have imagined a development such as CityCenter, or the world renown that would come to the city they helped create?
We snap out of our existential reverie and get back to considering important things, such as where we'll hang out with friends and people-watch. The best spot is likely to be the View Bar, which is across the lobby from the check-in desk and gives visitors a perch over a key CityCenter nexus where two major pieces of art — the Maya Lin and Henry Moore pieces — sit together, and where guests flit between Crystals and Aria for a gander at what kind of resort $8.5 billion will buy these days.
Lobby restaurants
Mileage from check-in desk: 0.02
Minutes: 25 seconds
Steps: 66
Calories burned: 1.7
First impression: Colorful, whimsical, eclectic
4. We head west toward the heart of Aria, and it's not casino floor that takes up our view.
The megaresort's only gaming area, inside Aria, simply refuses to fly in our faces, in keeping with another part of MGM Mirage's CityCenter philosophy: Everyone knows the casino exists. It doesn't need to dominate the resort. Guests who want to gamble can seek out tables and slots easily.
So, after we leave the front desk, we stumble not upon Wheel of Fortune slots, but on a small cluster of restaurants: on the right, Julian Serrano, a casual, colorful eatery that will offer a big tapas menu and seafood bar with fresh shellfish and ceviches; in the center, Japanese restaurant Bar Masa and its exclusive, high-end companion, Shaboo; and left, Sage, the first restaurant outside Chicago for chef Shawn McClain, the James Beard Foundation's Best Chef Midwest. Sage's menu will emphasize fresh produce, artisanal meats and eco-friendly seafood.
Because they are at the cluster's center, and thanks to a striking design that includes a dramatic tiered and lighted entry and 35-foot ceilings, Bar Masa and Shaboo should snag major attention from passers-by. But Shaboo, at least, won't be for the casual diner, with price points that put it out of reach for many tourists. Its price structure will resemble costs at MGM Grand's posh Joël Robuchon, where three-course tasting menus start at $89 and prix-fixe dinners can go for $360 or more.
Buffering the casino from the front desk with these restaurants provides an eye-catching initiation into the hotel. (Er, hotel-casino, let's not forget.) Like the pocket park, this floor-plan conceit imparts a sense of CityCenter's focus on distinct "neighborhoods." Rather than having to hunt down Restaurant Row or trudge past columns of Megabucks machines, guests will see well-defined communities of restaurants and entertainment unfold as they ply their way through the resort.
Aria casino
Mileage from restaurants: 0.02
Minutes: 22 seconds
Steps: 60
Calories burned: 1.7
First impression: Opulent finishes and an easy-to-maneuver floor plan
5. A casino is a casino, and at first glance, Aria's casino isn't any more exceptional than any other on the Strip. At 150,000 square feet, it's not especially big; it roughly matches the footprint of the casino at Bellagio next door. The traditional poker room, bars, 24-hour cafes and delis punctuate its margins.
But we looked a little harder and found a few key innovations.
First, the casino has several big pockets of natural light (and all this time, you thought these resort operators didn't want you to know you'd been gambling from sunset to sundown!). At its edges, Aria's casino has big sets of windows, and areas such as the VIP gaming salon feature skylights.
And even if Aria doesn't have an overt theme, the casino's ceilings do. As we walk, three major motifs guide us across the floor: Undulating wood beams help us find table games, while rectangles of hanging wire twigs point us to the slots. Leafy ceiling trellises direct us along walkways and corridors. It's like those nifty green arrows that show investors in Fidelity Investments commercials where to head for the best potential return, only following Aria's "arrows" will probably leave you with less money for retirement.
We couldn't help but notice air-conditioning vents underneath the slots and embedded in pillars at face level. MGM Mirage wanted an HVAC design without ceiling vents because ceiling configurations force air systems to work harder and run less efficiently. We (occasional) skirt-wearing types ask if our legs will feel arctic blasts walking through or sitting in the summer, but the CityCenter folks assure us that airflow will waft gently rather than blast through at full speed. It'll be just enough to force any stale or smoky casino air upward and away from patrons, they say.
VIP/international gaming area
Mileage from our casino entrance: 0.3
Minutes: 5
Steps: 651
Calories burned: 18.5
First impression: A surreal fantasyland
6. The private gaming salon and baccarat lounge that compose Aria's high-end gambling space offer one of CityCenter's many "Alice in Wonderland" moments, those fantastical spots that make us stop and stare, slack-jawed, thinking, "What is that?"
That, in this case, is a broad doorway through which we view a surreal forest of massive, dark-brown pillars of curved wood and an entry studded with desert-friendly succulent plants.
We continue deeper into the salon to check out walls literally painted with gold.
The entry into the VIP gaming section also houses high-end jewelry store Radiance and two of Aria's more distinctive restaurants: Chinese eatery Blossom and Thai dining room Lemongrass.
The gorgeous and intimate Blossom features appliques of delicate, mirrored leaves and branches on the walls and ceilings, evoking the feeling of sitting in a birdcage. And MGM Mirage officials say Lemongrass will stand out as the Strip's first Thai restaurant.
To grab a cocktail near the high-end blackjack area, step into Carta Privada and watch the high rollers come and go (and pay for those gold walls).
Race and sports book
Mileage from inside VIP area: 0.16
Minutes: 2:36
Steps: 337
Calories burned: 8.7
First impression: Plush, contained and comfortable
7. The sports book's most striking characteristic is its distance from the casino floor. The book itself rests at the end of a hallway, with the first sit-down restaurant integrated fully into a local sports book on one side, and stairs to the second-floor Promenade level on the other. A Wall of Heroes, with soft, shadowy images of sports figures and moments, lines the way.
The race and sports book also emphasizes sports over horse racing. Its design acknowledges today's ascendancy of human sports over equine ones, so sports consume the bulk of the book, which features Aria's familiar earth tones and undulating walls studded with countless flat-screen TVs. Though it's as public as any area of the casino, its luxury and relative isolation bespeak an exclusive, secluded spot, almost like a private gaming salon.
Secreting the sports book away from the casino initially seems to elevate the sports-betting concept, giving the book heft and importance and allowing Aria to offer a full-on betting complex replete with a major sit-down bar and grill. But we wonder if separating gaming floor from sports book curbs some of the hubbub and the din that make sports books exciting and fun. We'll have to come back during March Madness to see if sports bettors and fans can generate enough hustle and bustle by themselves to make the place hum. And when we return, we'll pick the Kansas Jayhawks to win it all. We might even yell a bit during the games to liven up the place.
Aria hotel rooms
Mileage from check-in desk to elevator: 0.06
Minutes: 1:18
Steps: 253
Calories burned: 6.8
First impression: Chic, luxurious and high-tech
8. Thanks to architect Cesar Pelli's staggered design, all of Aria's 4,004 rooms and Sky Suites essentially offer a corner view, as well as floor-to-ceiling, wall-to-wall windows. Wood panels grace walls behind and in front of beds. Every room also includes live plants, curio shelves with objets d'art, 42-inch flat-screen televisions and mini-bars stocked with cookies, nuts, energy drinks, water, a martini kit and a "romance" kit (this is a family newspaper, so we'll let you imagine what that entails). Bathrooms in the entry-level 500-square-foot deluxe suite, with their granite vanity counters, walk-in water closets and walk-in showers with big bathtubs and benches, are nicer than the bathrooms in many single-family homes.
Inside Aria's 568 Sky Suites, the finishes get fancier still, and include white marble floors, heavy doses of artwork and brightly colored upholstery, with bright green accenting the themes of brown, black and white in the suite we tour.
But it's the in-room technology that grabs most of our attention. Aria is the first hotel in the world to deploy Control4 smart-home automation systems that allow guests to fix room temperatures, lighting and other environmental settings according to their preferences. Your Aria room will know from your room card that it's your first time staying at the resort. As soon as you enter, the curtains will open, the lights will come on and the television will greet you by name. Once you're in, adjust the temperature and lights to your desire, and a swipe of your room card will return the room to your settings each time you come back at the end of the day or night. Eventually, Aria will save your preferences in a database; when you return a few months or years later, the next room you stay in will remember you. Swipe your card, and the settings will adjust automatically.
At times, though, the high-tech controls seem a little overwhelming. Take the curtains, which have six (!) operating buttons. We don't advocate besmirching these otherwise beautiful rooms with those plastic pull rods you see on window treatments at Holiday Inn, but should it take half a dozen buttons to operate a curtain?
Or maybe we're just crotchety, old Gen Xers. The Millennials will surely figure it all out in a snap. Or, if you don't care for all the technology, you can ignore the wizardry and run the room conventionally.
The convention center
Mileage from Aria lobby: 0.12
Minutes: 2
Steps: 300
Calories burned: 7.4
First impression: An airy public garden or conservatory
9. MGM Mirage situated Aria's 300,000 square feet of convention space on the second-floor Promenade level, next to Cirque du Soleil's "Viva Elvis" Theater. We have to walk past the venue to get to the meeting space. Though Cirque won't let us show you the space yet, we can tell you we've set an over-under at the office on how long it'll take for the first tourist to run up to the gift shop window's giant Elvis silhouette, with the shadow's arms flailing and jacket flying, and mimic the pose for a staged photo.
Walking into the convention center, we first see the largest glass wall of its type in any public building. The three-story, 400-foot long wall guarantees natural light even on the bottom floor, and it lets us enjoy a garden of desert-tolerant succulents rolling downhill in a wave from outside, through the glass wall and into the convention center. Even the sound of last-minute construction work can't mar the peaceful, contemplative atmosphere.
Maze and three restaurants
Mileage: 0.09
Minutes: 1:18
Steps: 200
Calories burned: 5.5
First impression: Quirky and playful
10. Also on the Promenade level, down the hall from the convention center, lies a small maze of jagged, mirrored peaks studded with tiny barrel cactuses. It sounds dangerous, but it's perfectly safe — unless you sit down. Don't.
The maze anchors another cluster of three signature CityCenter restaurants, all of them high-end and all of them led by restaurateurs with heavy presences at other MGM Mirage properties.
Facing the restaurants, look to the left for the Alfred Hitchcock-esque silhouette and the colored glass-block water feature. That's Italian restaurant Sirio, named for founder Sirio Maccioni (it's his shadow on the sign, too).
Straight ahead is Jean-Georges Vongerichten's Jean-Georges Steakhouse, where standalone sinks in the middle of the men's room are among the edgiest design features. And on the right, Michael Mina's American Fish looks like a lodge, with its warm wood facade and interior.
The buffet
Mileage: 0.02
Minutes: 40 seconds
Steps: 80
Calories burned: 2
First impression: Tropical resort dining room
11. The buffet is just steps from the maze. It's not exceptionally big — about the size of Bellagio's — and the food selections should encompass the standard international culinary tour that most buffets offer. Where the buffet got high marks for uniqueness on our tour was in its design and ambience. Two of the room's four walls have floor-to-ceiling glass, with mature palm, acacia, pine and bottle trees outside the window. Through the vegetation, we caught glimpses of the pool deck. The clean design features small, rectangular green and blue glass blocks on interior walls and delicate, clear cylinder chandeliers. Outside, as you wait in line, televisions and artwork will keep you entertained.
Vdara's Silk Road restaurant
Mileage from Aria's north lobby: 0.12
Minutes: 2:07
Steps: 265
Calories burned: 7.5
First impression: Vivid in morning, sultry at night
12. To cross over to Vdara Hotel & Spa, we head back downstairs and take the pedestrian walkway over Harmon Avenue. We work our way past a massive, spikey boat sculpture, a colorful and fun Nancy Rubins piece that brings out everybody's inner goofball (not that ours hides away much). Our photographer and graphics guy muse about the pigeons that might nest inside the boats, while a reporter asks if resort supervisors worry that some pickled patron might climb into one of the gently curved rowboats to nod off after tying one on. Because we ask — for, um, our wild friends from Wichita who party hard when they visit — our MGM Mirage tour guide assures us the sculpture is "structurally sound." But security will be on hand to monitor the boats.
Our first experience with Silk Road is a fat, purple amoeba of a plastic sign emerging from the window to announce the eatery's presence to guests approaching Vdara's entrance. Inside, Silk Road's front door is at the end of a walkway from Bellagio, which is 90 seconds down the hall.
MGM Mirage describes Silk Road as a "trans-ethnic" eatery, which means it will carry dishes from around the world. The interior is bright, colorful and open in the daytime, with purple banquettes and gold-colored walls. We can easily picture some mussy-haired, puffy-eyed Hollywood celebutante sitting in the morning light, enjoying bacon and eggs. Or watching her friends enjoy bacon and eggs while she diets.
Silk Road also boasts a private dining room that, at 14 seats, mirrors the capacity of the boardrooms in the conference area. The idea is to allow serious business meetings to transform quickly into meal-time socializing.
Vdara Health & Beauty
Mileage from Vdara lobby: 0.07
Minutes: 1:05
Steps: 140
Calories burned: 3.8
First impression: Tranquil and secluded
13. Vdara's 18,000-square-foot spa is one of only two CityCenter spas open to people not staying overnight at the megaresort (the other is in Mandarin Oriental). MGM Mirage officials expect high demand for Aria's 80,000-square-foot spa, so they plan to reserve it for hotel guests.
Rich woods, cool marbles, river stones set in concrete and a two-story waterfall greet us; additional waterfalls pour into hot tubs in the men's and women's areas. A meditation room with yet another water feature can hold four to five guests. The spa has 11 treatment rooms, and its operators won't use beauty products tested on animals.
We're about two-thirds of the way through our tour. Though CityCenter is highly walkable, with little distance between major points of interest, we've been on site and on foot for roughly three hours, stopping and talking about points of interest in fair detail. So we can't help but daydream about grabbing a quick foot massage. And would one of those Segway scooters be out of the question inside CityCenter? (Yes.)
Outside Vdara Health & Beauty, we stop by the pool deck and check out a row of six private cabanas reserved for spa guests. The spa has banned cell phones and smoking in the cabanas, thus reducing exponentially the possibility of any Lindsay Lohan or Britney Spears sightings.
Vdara suites
Mileage to guest elevators from lobby: 0.01
Minutes: 22 seconds
Steps: 45
Calories burned: 1
First impression: Clean, simple design, interior decor
14. The finishes in Vdara's 1,495 condo-hotel suites are even earthier than the details in Aria's rooms, if that's possible. Dining tables have deep brown wood and glass blocks, leather seats, furniture and window coverings with neutral tones and stainless-steel appliances. The only real color in the suites we visit comes in the vivid artwork hanging on the walls. It's either soothing or bland, depending on your take (we vote for soothing).
The 500-square-foot deluxe suite, Vdara's smallest, features a kitchen with a small refrigerator and a dining nook that seats two. It has a dividing wall down its middle to separate a cozy living room from the bedroom.
But the panoramic suite is the room we're BEGGING our boss to rent for the department. We walk into the entrance hall of the end unit, and as we go down the long entrance corridor, windows surround our left and front. The windows continued throughout the unit, on almost every wall, giving us 270-degree views of Las Vegas. The suite also has a full-size fridge and dishwasher, a dining table for four and opaque glass doors to hide the master bath and bedroom when guests or residents entertain.
Mandarin Oriental
Mileage from Aria lobby: 0.2
Minutes: 3:40
Steps: 480
Calories burned: 13.5
First impression: Sultry and luxurious, yet subtle
15. The high-end finishes inside this stunning combination hotel-condominium tower don't quit, from the giant wood-and-gold-leaf "kimono" feature in the ground-floor hotel lobby to the upholstered walls to the leather-lined counter inside Mandarin Bar. Everywhere we turn, there is a new texture or color scheme for our eyes to feast on. This is the CityCenter component we reach out and touch the most — running our hands down the walls to feel wallpapers, paints, fabrics and even gold-painted bricks. How luxe is this hotel? Even service landings at the back of the house have million-dollar Strip views.
Though the 392-unit Mandarin Oriental fronts the Strip and serves as a welcome point into CityCenter, it is decidedly targeted at the guests and residents who stay there. It's not that you're unwelcome if you're not staying; it's just that the escorts who roam the property will want to know what destination you had in mind when you stepped inside. We recommend heading straight for the 23rd floor, where the check-in lobby, the Mandarin Bar, the Tea Lounge and French fusion restaurant Twist all reside, with their jaw-dropping Strip views.
Contact reporter Jennifer Robison at jrobison@reviewjournal.com or 702-380-4512.
Guide to CityCenter
Vdara ribbon cutting
VDARA HOTEL
57-story nongaming hotel and condominium tower, opened Tuesday. Has 1,495 deluxe, one- and two-bedroom suites.
CRYSTALS
CityCenter's retail, dining and entertainment district, opens Thursday. Will have 500,000 square feet with 75 tenants.
MANDARIN ORIENTAL
47-story nongaming luxury hotel and condominum tower, opens Friday. Has 392 hotel rooms and 225 condominium residences.
ARIA
60-story hotel-casino and centerpiece of the CityCenter complex, opens Dec. 16. Has 4,004 hotel rooms, including 568 suites.
VEER TOWERS
Two 37-story residential towers, opens in January. Has 335 residences in each tower.
HARMON
27-story hotel tower, opens next year. Will have 400 rooms.