Clark County Commission rejects More Cops sales tax hike
January 21, 2014 - 7:48 pm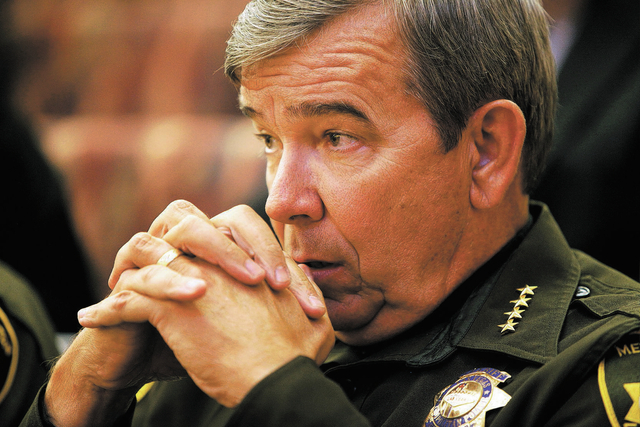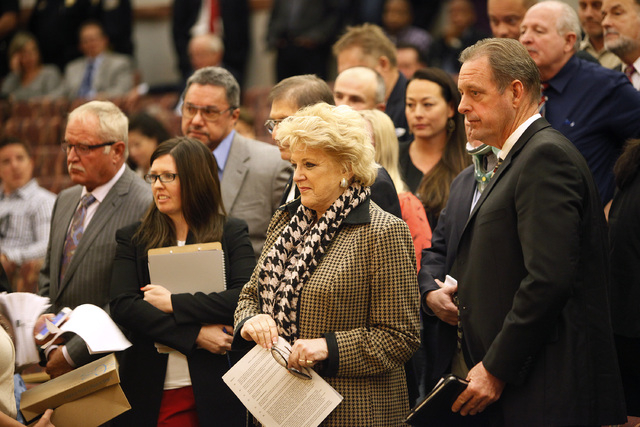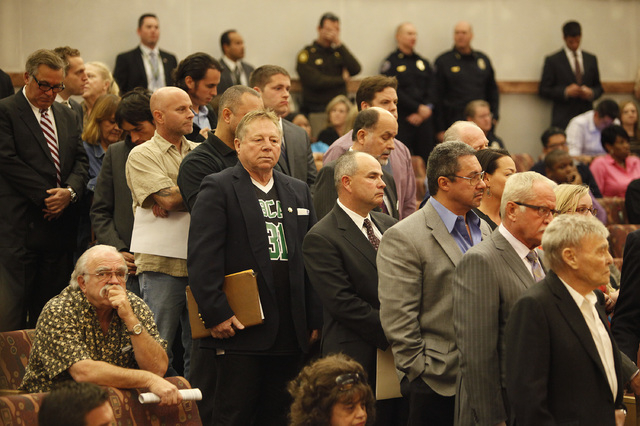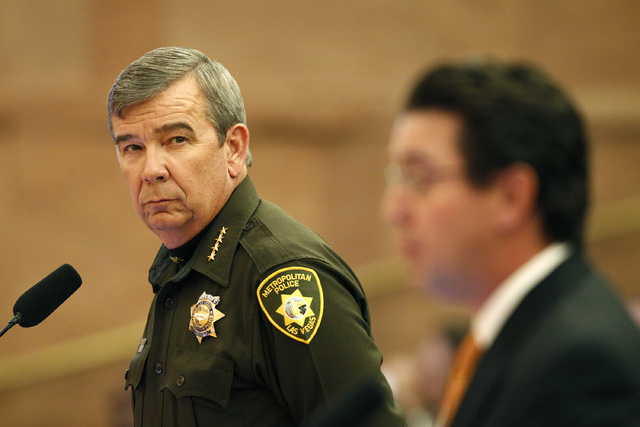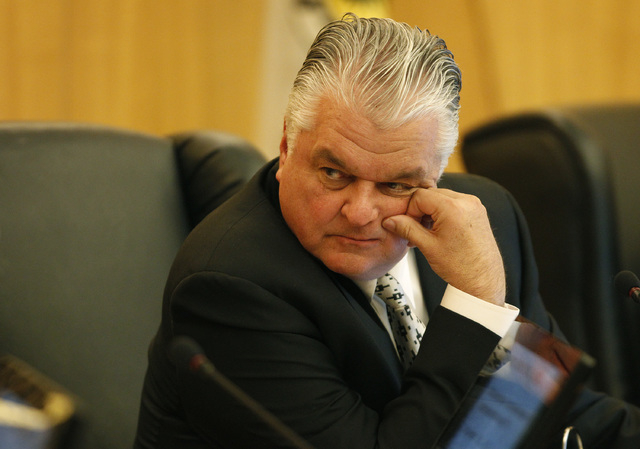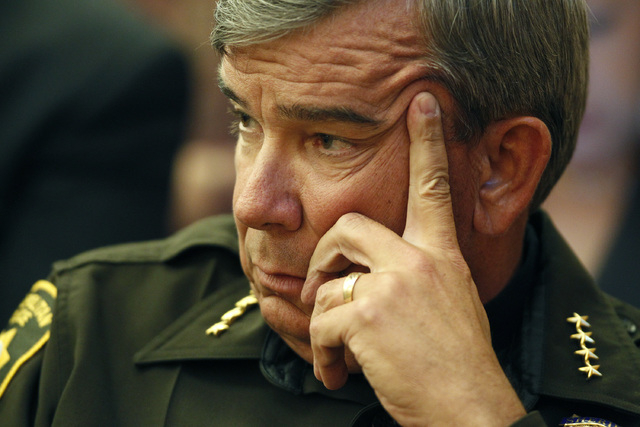 Clark County commissioners defeated the More Cops sales tax proposal Tuesday.
The measure died 4-3, failing to garner the five-vote supermajority of the seven-member body required by the Legislature for passage.
Commissioner Susan Brager, who had delayed a vote on the increase in August because of unanswered questions, helped defeat the measure Tuesday. But she unsuccessfully tried Tuesday to get a proposal for half the increase through.
Had the full increase passed, the proposal would have upped the 8.1 percent sales tax to 8.25 percent in two parts to pay for additional police officers at the Metropolitan Police Department and all of the municipal police departments in the county.
The vote against the proposal was a blow to Sheriff Doug Gillespie, who spent the better part of 2013 trying to get a sales tax increase through. His efforts started with the state Legislature, which authorized the county to increase the sales tax rate by up to 0.15 percentage points to pay for officers.
That would have paid for 101 additional officers at the Metropolitan Police Department and another 60 to 70 total for departments in North Las Vegas, Henderson, Mesquite and Boulder City.
"It causes me concern," Gillespie said at a hastily arranged news conference at police headquarters after the vote. "Crime is going up, and the main reason is because officers are going from call to call instead of being proactive."
The department has 2,483 officer positions, a figure that the department estimates will drop to 1,871 positions in 2020 without the sales tax increase.
The endgame for the More Cops saga is unclear. The measure could come back for a vote again — the state law doesn't prevent commissioners from reconsidering, as they have in recent months. But neither commissioners nor the sheriff gave any indication that a specific alternative plan is on the horizon, as they have in the past.
However, they didn't rule it out.
"Anything's possible," Commissioner Larry Brown said when asked if it might come up again.
Brown, who had supported the proposal, said he was disappointed that it failed.
Commissioners Chris Giunchigliani, Steve Sisolak and Brager voted against the proposal on Tuesday. Brager proposed a follow-up measure for a 0.075 percentage point increase — half the amount sought earlier — that died.
During that proposal, Commissioners Tom Collins and Brown stepped away, leaving five commissioners to vote. It died with a 3-2 vote, with Sisolak and Giunchigliani opposed.
Brager told reporters afterward that it was a "difficult decision."
During the meeting, she indicated some discomfort with the idea of the second half of the tax increase kicking in unless the commission manages to muster a future vote to rescind it.
"It will not get rescinded because we can't even get this today," Brager said.
The More Cops outcome holds true to past struggles that the commissioners have shown with getting anything passed.
In August, commissioners were set to vote on a sales tax increase, but that plan was delayed when Brager had questions about the funding and budget.
Commissioners in October were unable to pass either of two versions of the More Cops tax proposalage, one for the full 0.15 percentage point increase and the other one a scaled-down proposal from Brager for half that amount, a 0.075 percentage point increase.
On the flip side to Brager voting against the full increase is Collins. He voted against her scaled-down proposal in October, saying he doesn't compromise and that police departments need the full increase.
On Tuesday, Collins held up a piece of paper with a $100 bill, a dime and a nickel taped to it. That was his way of illustrating the effect of the increase on a purchase of $100.
Gillespie's current budget practices came under scrutiny.
Giunchigliani, for example, questioned the department's practice of leaving vacant, funded positions unfilled.
"It's almost in my mind that was a creation of an additional shortage on top of a need for more police officers," she said.
Gillespie defended that practice, saying it's a way to pay toward anticipated deficits without laying off officers.
This effort was an attempt at compromise on Gillespie's part. He has faced criticism and questions for not tapping that fund to bridge the department's budget deficit, which has a $30 million hole that will only grow in the years ahead.
It would have required the department to have a budget that spends the More Cops account down to $100 million or less in the upcoming fiscal year, then drop to $75 million or under in 2015.
If the proposal had passed, it would started with a 0.075 percentage point increase in the sales tax rate on Oct. 1 and been followed with another 0.075 percentage point increase a year later.
The sales tax increase would have been conditional on the department adopting a budget that spends down the $140 million accumulated in the existing More Cops account. That account pays police officers through a quarter-cent increase in the sales tax rate that started in 2005.
Gillespie appeared surprised at the outcome.
"This is definitely a challenge," he said to reporters. "The original feedback I received was a 'yes' on More Cops."
Dozens of people lined up to make their voice heard about proposal Tuesday and had more than two hours to speak. There was much opposition, but it was leavened with support for more officers.
Tasha Heath, a founder of Southern Nevada Watchdogs, presented commissioners with a petition with more than 400 signatures of opponents.
She encouraged commissioners to delay making a decision, noting that Gillespie isn't seeking another term and retires after the November election.
Ted Moody, a former assistant sheriff running for sheriff, criticized the proposal, saying it puts improper triggers that require spending money.
"This plan creates a false sense of urgency focused on quantity, not quality," Moody said.
Chris Collins, executive director of the Las Vegas Police Protective Association, said the union supports the measure, but stressed that officers need to be replaced as they retire.
He said 101 new officers is not enough, but a step in the right direction.
Contact reporter Ben Botkin at bbotkin@reviewjournal.com or 702-405-9781. Follow him on Twitter @BenBotkin1.