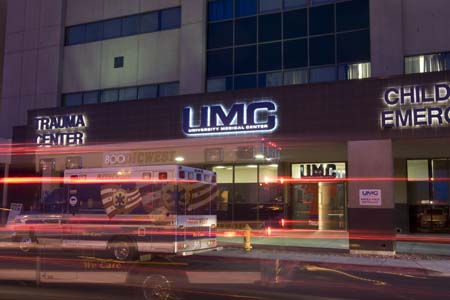 University Medical Center's relentless financial drain on Clark County government has prompted county commissioners to take a closer look at whether they should privatize the public hospital.
But commissioners, while agreeing that a drastic change is needed, are shying away from the idea of selling UMC to a private entity.
Commissioners this week discussed for the first time how privatization might work for the hospital. They heard a report on how a hospital in Northern Nevada changed from public to private.
An audit presented Tuesday to the commission showed that UMC lost $83 million last fiscal year. Most commissioners bemoaned the loss but said the county has a duty to treat patients who cannot afford health insurance, a service that many private hospitals do not offer.
"We have an obligation to assist residents with medical care," Commissioner Chris Giunchigliani said. "If we had universal health care in this country, we wouldn't be having this problem."
But Commissioner Steve Sisolak said the county-run system is failing and must be overhauled.
"The county can't continually provide a blank check to UMC," Sisolak said.
Commissioners conducted a question-and-answer session Wednesday with the chief executive of the nonprofit Renown Regional Medical Center in Reno. The parent company, based in Reno, bought the Washoe County hospital in the mid-1980s.
County Manager Virginia Valentine later said she was encouraged that the board was discussing how to make UMC financially sound.
"We want to determine if it's possible under the current structure or some other to make UMC a sustainable safety-net hospital and maintain some of its important and unique community services like the trauma and burn centers," Valentine wrote in an e-mail.
Sisolak suggested merging the University of Nevada School of Medicine, which is based in Reno but has operations in Las Vegas, with UMC and making them part of the state university system. That would create a research and teaching hospital in the same vein as Johns Hopkins Hospital, he said.
The School of Medicine and UMC are underachieving, he said. "Why not put them both together?"
This hospital would stand apart, as opposed to becoming private and joining a gaggle of nondescript local hospitals, Sisolak said.
The medical school could receive state funding, he said. Also, philanthropists donate money to research hospitals, whereas they will not give a cent to a county hospital because it's already getting local tax dollars, he added.
Commissioner Lawrence Weekly said converting UMC to a teaching hospital would be a great idea if Nevadans as a whole valued education.
"I would be leery that it would not get that type of support," Weekly said.
Weekly said he opposed privatizing the hospital. He said he would prefer to make it more efficient while forming more partnerships between the hospital and other medical bodies.
Renown's chief executive, Jim Miller, told commissioners Wednesday that Washoe County's hospital was losing money before the nonprofit company took it over.
Officials spent three years discussing whether to switch from the county-run model, Miller said. When they decided to go through with it, the transition took nine months.
Renown gets a mixture of local, state and federal funding, including about $5 million for indigent care, Miller said. The hospital's cash flow improved after the change, allowing it to expand patient services, he said.
But several commissioners said Clark County has more hospitals competing for patients than Washoe County does. That would make it harder for UMC to prosper if it went private, Giunchigliani said.
Renown has a much higher proportion of paying patients than UMC, which serves a large number of indigent patients and illegal immigrants, she said.
Paying patients go to the for-profit hospitals, while those who cannot or will not pay end up at UMC, Sisolak said.
Giunchigliani and Weekly suggested forming a panel of doctors, patients, insurers, public officials and hospital workers to discuss options.
She also said any discussions about changing the hospital's ownership must involve the county employees union.
A union representative said anyone who took over the hospital would have to provide comparable pay and retirement benefits for existing workers.
"We wouldn't come to the table unless it (pension plan) was comparable," said Mike Ward of the Service Employees International Union 1107. "We understand that whatever they want to do, it's a long process."
County Commissioner Larry Brown agreed that any conversion would require more than "flipping a light switch and it's private."
He said county hospitals throughout the country are financially ailing, adding that many of them have been closed or sold.
UMC's current business model isn't working and must be changed, but not at the expense of serving those in need, Brown said.
"The hospital must survive in order to continue that service," Brown said.
Contact reporter Scott Wyland at swyland@reviewjournal.com or 702-455-4519.