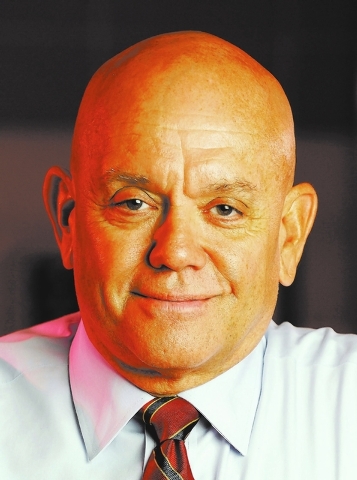 The Clark County coroner and medical examiner's office wants to tell its story.
Usually, when the public sees its staff, a vehicle is responding to a death and removing a body. But the office does much more. Forensic investigations, autopsies, tracking down families of victims and identifying bodies are all part of the job.
Some of that work — along with re-enactments and the perspectives of staff — could make their way onto television screens.
The coroner's office has an agreement with a producer to videotape a pilot and potentially up to 12 episodes of a reality-based television program by Jan. 7, 2014.
If all goes well with the pilot, the show could be purchased for broadcast by A&E Television Networks.
Coroner P. Michael Murphy said he avoids calling the program a "reality show." In his view, it's more of a docudrama.
"Reality shows have a connotation that can be somewhat whimsical and we're going to look more at the working operations of our organization and things that we're doing," he said.
Don't expect a grisly show, even though the coroner deals with death. Murphy's office will have full editorial control over the content, under the agreement.
The office, which has a staff of 71 full-time and part-time people, accepted more than 3,000 cases for additional examination in 2012.
Of those, about half got a full autopsy. On a typical day, the office, a 24-hour operation at 1704 Pinto Lane in Las Vegas, gets between 10 and 12 cases sent its way each day.
Murphy said maintaining editorial control is crucial, given the sensitive nature of the work. For example, the show won't film the deceased or show staff members notifying family members of a loved one's death.
"You will not see dead bodies," he said.
Instead, the show will be about what the office does and how it's accomplished, Murphy said. That might include staffers talking about the emotions they experience, he said, adding that they have the choice of participating in the show.
The show also can shed light on lesser visible parts of the office, such as its program dedicated to finding the identities of unnamed deceased people.
The shooting schedule is still in the works, Murphy said.
He said he's confident the filming can happen in a way that doesn't interfere with the office's operation. Those details are still in the works, but a combination of re-enactments and filming staffers on the job is expected.
Marklen Kennedy, the executive producer, called the show a very "collective creating process" where nothing is forced on anyone.
His Las Vegas production company, MBK Productions, has partnered with NorthSouth Productions to create the show.
"We're not going in and trying to show some crazy reality show people will look at and kind of turn their noses up to," said Kennedy, who will work on the show with his business partner, Matthew Borlenghi.
A date for broadcasting the first show isn't scheduled yet.
Kennedy said the show isn't about hidden cameras. Instead, the goal is to show the work of the office's employees.
"It's ordinary people doing extraordinary things," he said.
Las Vegas is already home to plenty of reality shows. It's not the first government agency for producers to eyeball either. In August, the Las Vegas City Council voted 4-3 to allow Discovery Studios to access behind-the-scenes areas of City Hall to film video needed to make a reality show pitch.
The council was split partly due to concerns over lack of editorial control, which wasn't an issue for Clark County.
Contact reporter Ben Botkin at bbotkin@reviewjournal.com or 702-405-9781. Follow him on Twitter @BenBotkin1.