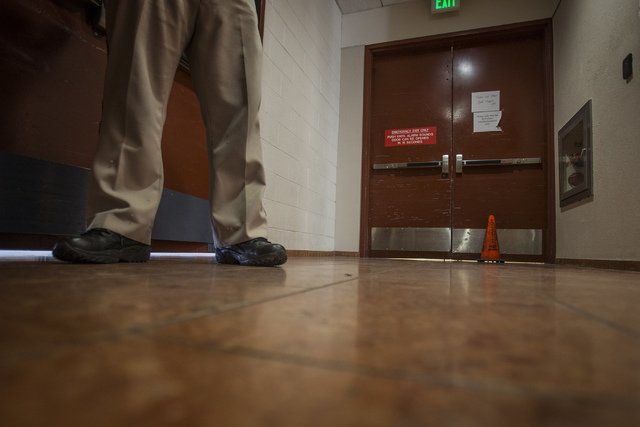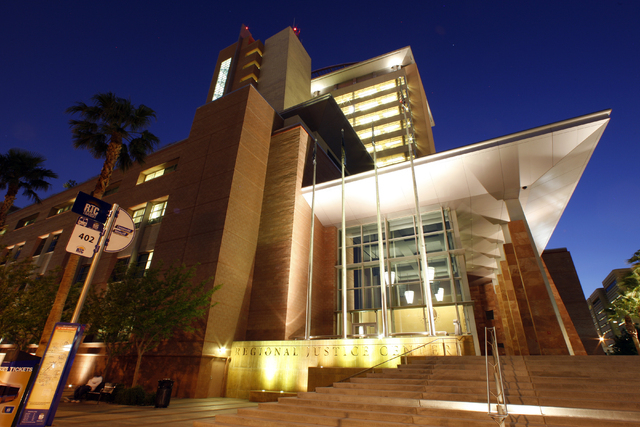 Broken secured doors leading to judges' chambers at the busy Regional Justice Center have been fixed, just days after a Las Vegas Review-Journal report on the security breach.
District Court spokeswoman Mary Ann Price said the double doors were repaired on Monday, but officials are looking to replace them because of "wear and tear."
Security officers will continue to monitor the doors, at the south end of the Regional Justice Center, until they are replaced, Price said.
The Review-Journal reported last Friday that the doors had been broken for months, allowing unfettered access to judges' chambers throughout the 17-story courthouse.
The doors opened and closed properly, but an alarm that was supposed to sound when they were opened without authorization from a security card was not working.
Each day, some 8,000 people visit the courthouse, which houses Clark County District Court, Las Vegas Justice Court, Las Vegas Municipal Court and the Nevada Supreme Court.
Court administrators acknowledged that they had known about the problem for three months.
The doors lead to the chambers of two Las Vegas justices of the peace, William Kephart and Janiece Marshall. The doors also lead to an elevator that goes to secured levels of the courthouse for all of the judges and their staffs. While the elevator is also protected by a functioning secured door, that door is often left open, as observed by a Review-Journal reporter.
Security concerns have been an ongoing issue at the Regional Justice Center in recent years.
In 2010, the Clark County Commission approved spending $60,000 to correct flaws in the camera system at the Regional Justice Center. The money was used to install nine exterior cameras to make up for blind spots.
The camera issue came to light after a Review-Journal story revealed obstructions to cameras outside the main entrance and at a parking lot across the street from a private rear entrance.
In 2012, the County Commission authorized the hiring of eight new court marshals because there were not enough to staff security scanners at the entrances to the courthouse, creating lengthy lines for courthouse visitors, jurors and lawyers.