Clark County hearings start on medical marijuana dispensaries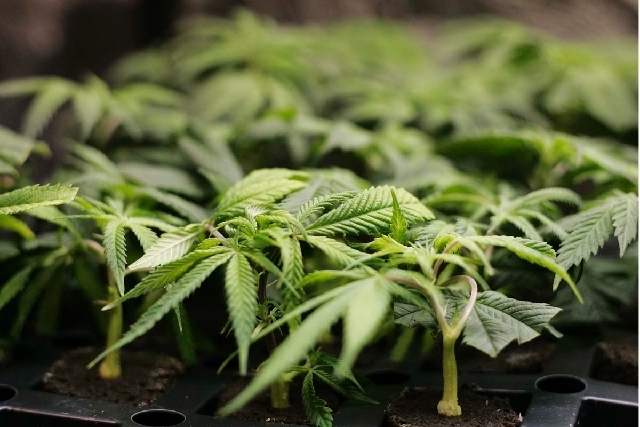 Clark County's new medical marijuana industry is still in the making, and those wishing to enter it face a formidable task: Telling county commissioners in six minutes or less what sets them apart from 80 other applications.
Commissioners made history Wednesday when they launched public hearings for medical marijuana dispensaries.
They heard from 19 applicants Wednesday and will hear from 81 by the end of the week. From those applicants for dispensaries, commissioners will pick 18 for unincorporated areas of the county. Decisions on who receives a special use permit won't come until Friday at the earliest, after officials have heard from all applicants.
Applicants stressed a variety of points to stand out from their competitors Wednesday. Location, expertise and specialty products were all part of the sales pitches that commissioners heard.
For example, Randy Black, who retired last year as chief operating officer at Mesquite Gaming, had one advantage: He's the only applicant hoping to open a dispensary in Laughlin.
Black said Laughlin is a good location, with a good demographic of older people and a population base that includes neighboring regions in California and Arizona.
Commissioners played it close to the vest and didn't talk at the meeting about what dispensaries might have the best chance.
Dispensary supporters shared stories of medical plights.
Jed and Lili Snyder said they have a 9-year-old son with a seizure disorder. They supported an application for a dispensary on Blue Diamond Road, east of Rainbow Boulevard. The business would sell "Charlotte's Web," a strain of medical marijuana that began in Colorado and stops seizures.
CW Nevada, a limited liability company, has three proposed dispensary sites that would offer that product. Brian Padgett, a part-owner of the company, said he intends for the business to give the product to those who cannot afford it.
"I think we really have an opportunity to help people," said Padgett, also a Las Vegas attorney.
The 41-year-old, who survived a bone marrow transplant to treat leukemia 11 years ago, said he feels fortunate and wants to give back to the community.
"I'm very lucky to be here," he said. He's consulting with Stanley Brothers Social Enterprises, a Colorado firm that developed the product.
Commissioners heard presentations in a three-hour meeting Wednesday. The rapid-fire presentations included a chance for public comment, with rigorous time-keeping from commission Chairman Steve Sisolak and a buzzer.
"You will be gaveled down after six minutes," Sisolak cautioned the applicants seated in a packed auditorium.
Sisolak didn't need to pick up his gavel, and applicants stuck to the rules without misbehavior.
Commissioners don't know how long each applicant will take to hear because the public can comment on each dispensary, too — with a limit of two minutes per person.
At Wednesday's clip, each presentation averaged just under 10 minutes.
Meetings on Thursday and Friday will start at 8 a.m. Forty-eight applicant presentations are planned for Thursday, all from Paradise Township.
Another 14 are scheduled for Friday, which will be followed by deliberations and action.
Commissioners expect them to last all day.
Applicants picked by the county will need approval from the state's Division of Public and Behavioral Health before they can go into the medical marijuana business.
Contact Ben Botkin at bbotkin@reviewjournal.com or 702-405-9781. Find him on Twitter: @BenBotkin1.