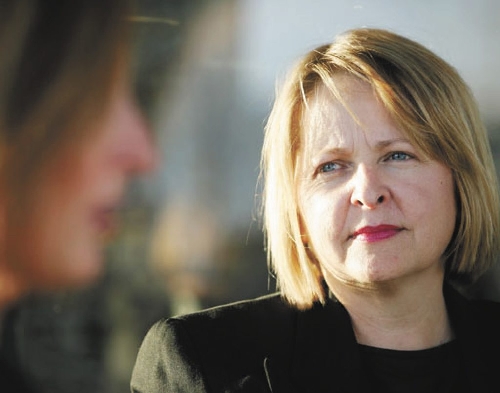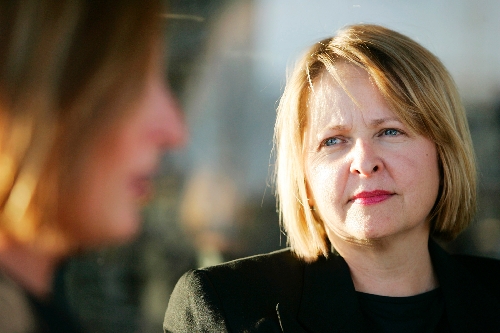 Kristine Kuzemka and her partner, Nancie O'Neill, have been together for 15 years.
When O'Neill lost her job in June with a small gaming company, the 62-year-old started relying on a severance package to help pay the bills. The money will run out Dec. 1.
A new employee health insurance contract approved Tuesday by the County Commission will allow Kuzemka, a senior attorney in the Clark County public defender's office, to add O'Neill to her plan because the same-sex couple is registered with the secretary of state.
In fact, they were the third Nevada couple to register in 2009 as part of the domestic partnership act that gave domestic partners, gay or straight, rights available to married couples.
Registered partners are entitled to receive hospital visitation, funeral planning and community rights, among other benefits.
Though the act does not require employers to offer medical and other benefits to domestic partners, the county decided to extend benefits to same-sex domestic partners and their dependents who had no other legal opportunities for coverage, unlike other groups.
"This is recognition and validity of who we are," said Kuzemka, 49. "As a Clark County employee, this means fair and equitable treatment just like my colleagues. It's a tremendous stress reliever. With the economy the way it is today, I don't know when Nancie's going to find another job."
The county's yearlong agreement, which starts Jan. 1, will provide medical and dental policies for employees and retirees from University Medical Center, the Clark County Water Reclamation District, Las Vegas Convention and Visitors Authority, Regional Flood Control District, Regional Transportation Commission, Henderson District Public Library, the Southern Nevada Health District and the Las Vegas Valley Water District.
QUIETLY APPROVED
There was no public discussion at Tuesday's meeting among commissioners about adding same-sex domestic partnerships to the county insurance plan.
The plan's approval was quiet and swift. The agenda item was tucked away in the consent portion of the agenda, which allows the commission to approve a large number of routine items with one motion.
Commissioner Chris Giunchigliani, who championed the inclusion of registered same-sex domestic partners on the plan, said the seemingly controversial item generated public discussion a year ago.
"It was not hidden," Giunchigliani said. "It was read into the record. Some individuals might not be as passionate about it as I am or might be concerned about any public fallout."
Giunchigliani said the plan's addition was "huge."
"We have a lot of employees in same-sex relationships that have been calling us," she said. "In these economic times, you don't think of the consequences and impacts on families. Many of these individuals adopted children, and there's a domino effect.
"You do it because it's the right thing to do, to care about your employees."
COST AND IMPACT
There are 13,829 county employees covered by a health insurance plan. It's unclear how many will be affected by this plan.
County officials said they will have a clearer number of how many employees take advantage of the same-sex domestic partnership change and what its associated annual costs will be once enrollment starts in November. Anecdotally, the number could be as low as a few dozen employees.
"This gives credence to who we are and what we've built over the past 15 years," Kuzemka said. "That we pay taxes, we volunteer in the community, that we're part of the community and that Clark County is now inclusive and progressive."
Under the plan approved Tuesday, which affects all employees, monthly premium rates are $381 for an individual employee, $713 for an employee and spouse, $698 for employee and children and $996 for an employee and family.
The county pays about 90 percent of premiums. Employees pay for the other 10 percent and are responsible for copayments, deductibles and coinsurances, all of which will increase slightly next year under the plan approved by county officials.
The increases were not influenced by adding same-sex couples to the plan, Giunchigliani said.
Retirees still pay the full amount. The changes are estimated to save the plan about $1.1 million per year, said Ed Finger, assistant county manager.
"At my age, it's a relief," O'Neill said. "I have the option to continue medical coverage and not have to stress about extreme costs."
O'Neill said the policy change is a smart business move by the county that will not only provide an incentive for employees to stay but will make the area more attractive to potential candidates seeking employment.
Other areas in the valley already have included same-sex domestic partner benefits in their employee insurance packages.
The city of Las Vegas began offering similar employee benefits in 2006, and Henderson officials said they've provided same-sex domestic partnership benefits to their employees since 2008.
"While we could have gone further, this is the more responsible way, doing what state law allows us to do," Giunchigliani said. "Then we give people time to see how it's working, monitor the cost benefit and expand it later on. But we've got to start somewhere. You need to recognize that all humans are created equally."
Contact reporter Kristi Jourdan at kjourdan@reviewjournal.com or 702-455-4519. Review-Journal writer Doug McMurdo contributed to this report.