Clark County School Board postpones property tax question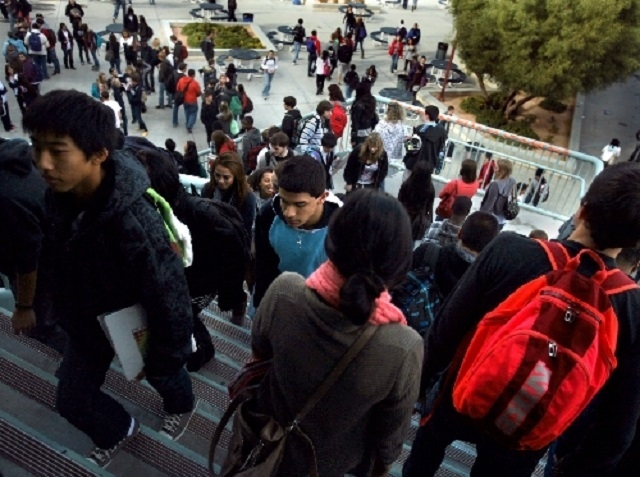 Voters won't be asked for a 10-year extension to the Clark County School District's property tax rate increase, which dates back to 1998, when they go to the polls in November.
The School Board unanimously decided Wednesday morning to wait until probably 2016, making the request when the answer might more likely be a yes.
That means a new school won't be opened until 2020 at the earliest in the district already teaching 16 percent more students than it has room for in its 217 elementary schools, assuming a bond passes in 2016. And officials are predicting development to bring in many more students over the next few years.
"We're going to be in a world of hurt until 2020," said board member Carolyn Edwards. "We'll be looking at making many year-round and double-session schools if the growth continues."
District leaders decided in February to switch 10 schools to year-round schedules in 2014-15, a change that allows schools to enroll 20 percent more students because a fifth of students are always on break. That makes 13 year-round schools total with officials claiming more to come in 2015-16.
Double-session schools have one round of students in the morning and take another in the afternoon after the first round leave. None of these currently exist.
Edwards and board member Linda Young said the district will also have to look at rezoning all 357 schools in the nation's fifth-largest district, not just a handful, re-drawing attendance boundaries because some schools have empty seats while others are relying on upwards of 20 portable classrooms.
"I know people don't want to hear districtwide rezoning," said Young, acknowledging families buy their homes largely for the schools their children will attend. "But we are in a crisis."
The new bond initiative, whether requested in 2014 or 2016, would extend the tax increase from the district's 1998 bond. That 10-year school-construction plan raised property taxes by 55 cents per $100 of assessed valuation and is still in effect because the district continues to pay off debt accrued under the 1998 bond.
Voter approval would allow the district to extend the tax increase for another 10 years and bond against it, generating an estimated $1.3 billion if approved in 2014 and $2.1 billion if approved in 2016. That is on top of the revenue generated by a separate 75 cents per $100 of assessed valuation now earmarked for school maintenance and operations in Clark County.
The county's average property tax rate is now $3.06 per $100 of assessed valuation.
Superintendent Pat Skorkowsky agreed that waiting will create a dire situation, asserting that the district will have to "think outside the box," including possibly putting fifth-grade students in middle schools, where classrooms are available.
Edwards asked district staff if there are any other revenue sources available to build schools for the expected influx of students. District enrollment is already at an all-time high of about 315,000 students, not including the 2,000-student increase to elementary school enrollment since the start of the academic year, providing enough students to fill a school and require portable classrooms.
Jim McIntosh, district chief financial officer, said the district also receives portions of the real estate transfer and hotel room taxes amounting to about $87 million every year, which it can also bond against. However, all but $10 million of that annual revenue is being used to pay off district debt. Therefore, these revenue sources won't be generating enough money to bond against until 2023, he said.
"That's very discouraging news," said Edwards, pushing for the district to appeal to city governments, requesting they deny building permits in areas where schools are far past their capacities. City governments could also impose a fee for construction to pay for schools in these areas. "We can't be doing this all by ourselves. This is a community issue."
A new elementary school costs $25 million. A middle school costs $45 million, and comprehensive high schools run about $105 million, district officials have said.
Despite the School Board agreeing on the need for a bond, they and district department heads said they're wary of going up against another statewide tax initiative for education already on the ballot. They also wouldn't have much time to convince voters of the district's need.
The district made a similar request in 2012 that was defeated 2-1.
"We did not inform the public well last time," said Edwards, referring to the 2012 ballot question that would have raised the property tax by 21 cents per $100 of assessed valuation, generating an estimated $669 million over six years. "We need to do it right, do it legally."
The question of legality came up in the 2012 campaign after all seven School Board members and district lobbyist Joyce Haldeman were found to have broken state law by spending taxpayer resources on campaigning, according to settlements reached with the Nevada Commission on Ethics admitting guilt but receiving no punishment.
State law prohibits public employees from "requesting" or causing a governmental entity "to incur expense or make expenditure to support or oppose a ballot question." Board members had district staff send mass emails seeking volunteers to campaign for the 2012 ballot question. Haldeman used district staff, trucks and warehouses to transport, store and disperse "Vote Yes" campaign materials.
Carlos McDade, the district's head attorney, recommended not pursuing a ballot initiative this November so the district can receive more clarification from the Ethics Commission and possibly the state Legislature on how it can legally inform the public of its ballot question.
Now that efforts won't be made to win voter support by November, district leaders will be absorbed by efforts to provide enough room for the students it already has in schools, and those to come.
"How do we manage?" Edwards asked.
Contact reporter Trevon Milliard at tmilliard@reviewjournal.com or 702-383-0279.