Clark County School Board vetting 4 applicants for open seat
December 1, 2013 - 8:54 pm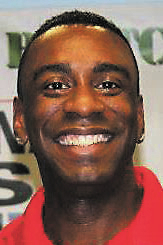 A member of the Nevada State Board of Education is willing to step down from his governor-appointed post to join the Clark County School Board.
The owner of a personal training business also wants the job.
So does a University of Nevada, Las Vegas assistant professor of educational psychology.
And a former Las Vegas postal worker of 19 years eager to come out of retirement.
The job as a replacement Clark County School Board member, which pays $750 a month, has attracted a variety of applicants.
But choosing the public official who will represent 49,000 students in south-central Las Vegas won't be up to voters in District D. The School Board's current six members will interview the applicants on Thursday and select someone to finish the last year of Lorraine Alderman's term. Alderman abruptly resigned in October with six days' notice and little explanation, writing to her fellow board members that, "God has opened a new door of opportunity for me that I simply cannot let pass."
The coming year will require at least one big decision from the School Board of the nation's fifth-largest school district: whether to ask voters for a large investment in school construction and maintenance in the 2014 general election.
The School Board un­animously decided last year to seek a $669 million property tax increase. Clark County voters overwhelmingly rejected the request, but school officials assert the need is urgent to repair aging facilities and build new schools to relieve increasingly crowded campuses.
Stavan Corbett is probably the only applicant familiar to all six School Board members, having served on the State Board of Education since 2010.
While he has been part of sweeping policy changes at the state level concerning graduation requirements, academic standards and a first-ever statewide evaluation system for all teachers and school administrators, Corbett said he wants to have a direct effect on local schools.
Corbett, 39, was born and raised in Las Vegas and has three children attending Clark County public schools. The former elementary school teacher also serves on the Board of Education's consulting firm WestEd and is vice president of programs for the Nevada Parent Teachers Association.
One of his largest concerns is the lagging academic performance of blacks and Hispanics, often called the achievement gap. Being Hispanic himself, Corbett said he is an example of the gap. He didn't do well in school, and no one talked to him about college until his last two weeks at Eldorado High School in east Las Vegas.
Before leaving, Alderman said her district needs someone who can speak for the high Hispanic population.
While he fits the bill, "It's not something that I want to define me, that I'm Latino or bilingual," Corbett said.
When asked whether he would go back to voters in 2014 seeking a tax increase, Corbett said he supports "any opportunity" that would provide the "best facilities and learning environments."
Saying the School Board shouldn't keep the question off the ballot fearing another defeat, Corbett said the "final decision" should be left to the public.
If chosen, Corbett is "not conflicted" about leaving his state board position.
"Either way, I would definitely file for election in March," to represent District D on the School Board, he said.
Applicant Charles Ware, president of the Professional Fitness Institute and a five-year Las Vegas resident, also plans to run for the seat in 2014, regardless of whether he lands the appointment.
Ware, 39, owns a private health education consulting firm and has worked with several nonprofits associated with providing healthy living and training for public school physical education teachers. He received bachelor's and master's degrees from the University of Central Missouri, and has a doctorate in health education from A.T. Still University in Missouri.
Ware realizes the argument against his appointment will be that he doesn't have children, but he said he is well aware of the district's current issues. Ware and his wife are planning to have a child, he said.
"I was a little hesitant, honestly, because of what you hear about the School District here," said Ware, who learned the district is better than gossip would have people believe and is producing some remarkable students.
Whether he would support asking voters for another tax increase or bond in 2014, Ware said he would need to see the data to show that the "need calls for it."
Retired U.S. Postal Service worker William Lucas, 72, also hasn't had children enrolled in district schools.
"I don't feel apologetic for being a single guy, never married, never having kids," said Lucas, adding that it is more important that he has been closely following the district since moving here in 1990 for work.
His connection to Las Vegas extends back to 1960, when his family moved here four years after the district was formed. His two youngest sisters graduated from Basic High School in Henderson, and two of his nephews were Boulder City High School valedictorians.
Lucas also has been a spokesman for the Garden Grove Unified School District in California, graduated with a bachelor's degree from California State University, Los Angeles, and a master's degree from UCLA, and has taken continuing education courses in computer training at UNLV.
Lucas said he is not ready to retire entirely, but wants to give back.
"These are very troubling times for anybody's school district, anybody's family, anybody's child," he said, noting the most pressing issue facing Clark County schools is crowding and the need for additional schools.
The School Board will need to ask voters for some help, he said.
"What choice do you have? You have to do something," said Lucas, who also plans to run for the seat in November if he is appointed and it goes well. "There's a bit of a politician in me."
Tara Raines, a Lincy Institute-funded assistant professor of school psychology at UNLV, is another applicant. She has experience as a special education teacher, working with medically fragile and emotionally disturbed children in Florida. She also has been involved in Clark County schools by helping the district pilot a Legislature-mandated program screening the mental health of public school students. Raines also is lending her expertise to the district's committee for equity and diversity.
"I see Clark County as being poised for major change in its education system," said Raines, who received bachelor's and master's degrees in special education from Florida State University and a doctorate in school psychology from Georgia State University.
Before she supports another ballot question for a tax increase, Raines said the School Board needs to evaluate why voters overwhelmingly turned them down in 2012. Did voters think there was no need, or did they think the district would be unwise in its use of the money?
She will then see for herself if the district can present a case to change their minds.
"Is it necessary to change their minds?" Raines said.
Like the other candidates, she's not taking one stab at the job.
"Even if I'm not appointed, I'm absolutely interested in running for election."
Contact reporter Trevon Milliard at tmilliard@reviewjournal.com or 702-383-0279.